It's almost a testament to the power of comics that it has taken nearly 80 years of film technology to "catch up" to the scope and grandeur of the printed medium, finally able to capture a crossover as large and ever-reaching as Infinity War, an epic that pits the well-known heroes from the mega successful Avengers franchise, the underdogs from Guardians of the Galaxy, as well as some of those from Marvel's B roster, such as Dr. Strange, against an all-powerful god-like foe.
Based on the 1992 comic miniseries of the same name, Infinity War is a culmination of concepts, characters and themes that can all be traced back to a single source, a massively creative individual who is perhaps the most influential figure in all of comicdom.
Marvel Comics is a company whose characters have become intertwined into our every day culture and have effectively become part of our collective conscious. But, to whom is Marvel's overwhelming success and enduring legacy owed? Some will say Stan Lee, the man known to be the company's public face for decades, but behind all of Lee's business know-how, it's the artistry and ambition of none other than Jack Kirby that has truly shaped Marvel into what it is today.
Jack "the King" Kirby was born Jacob Kurtzberg in 1917 in the lower east side of Manhattan. At 14, Kirby attended the Pratt Institute in Brooklyn, though he dropped out after a week and essentially taught himself to draw by studying the works of his favorite artists in the comic industry- an industry still in its relative infancy. Milton Caniff (Terry and the Pirates, Steve Canyon) Hal Foster (Prince Valiant, Tarzan) and Alex Raymond (Flash Gordon) were his most oft-cited influences, a trio of artists who were major innovators of their day. Though Kirby's artistic career started with single-panel editorial strips and completing animation frames for classic Popeye cartoons, it wasn't until 1939 that his foray into superhero comics would begin.
Fox Feature Syndicate was Kirby's next stop, a job that led to working on The Blue Beetle and meeting with Fox editor, Joe Simon. After both leaving Fox, the pair landed at Martin Goodman's Timely Comics, the publisher that would later become Marvel. In late 1940, Simon and Kirby created Captain America and the comic's enormous success cemented them as industry giants.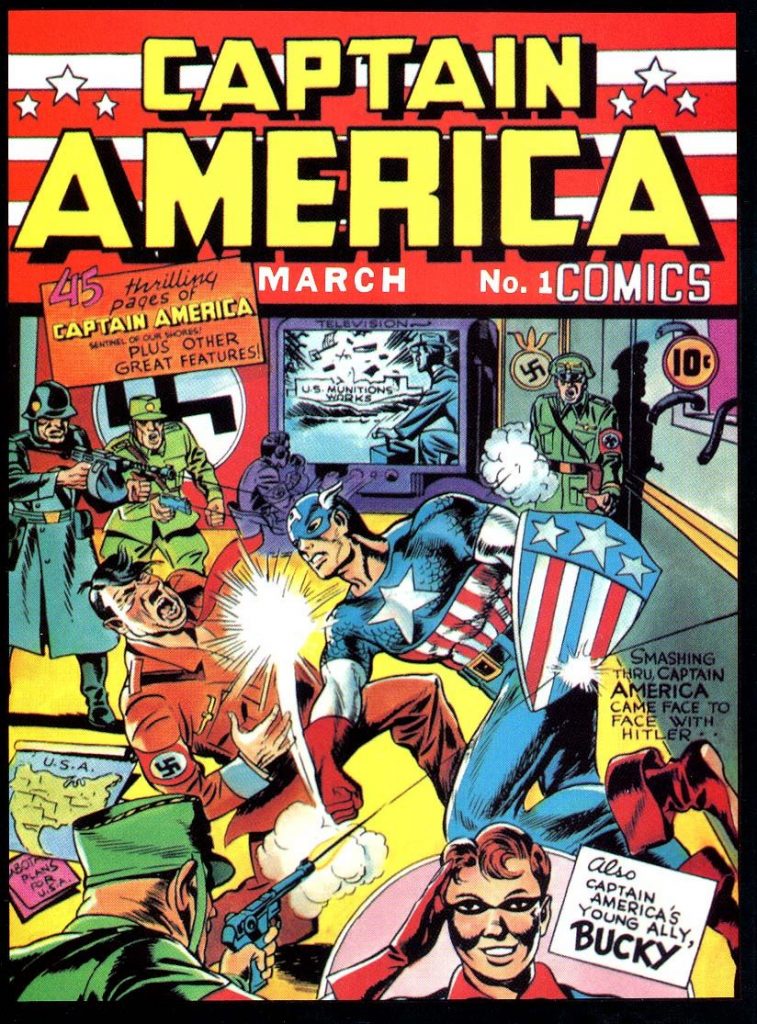 Though one would think that the success brought to Timely Comics would ensure a long-lasting and stable partnership with the company, Simon, and Kirby, the duo found that Goodman was not paying them their promised percentages of the profit generated from Captain America. Negotiating a better pay deal with rival, National Comics Publications (later known as DC) Simon and Kirby's plans to move was something many employees were aware of, including that of a young assistant… Stan Lee. Their plans were discovered by Goodman and they were told to leave, starting a slew of very rocky relationships between Kirby and the companies he helped establish; something that would ultimately and repeatedly permeate his entire career.
Simon and Kirby's partnership concluded in the mid 1950s, while Kirby was regularly freelancing for DC. Splitting with DC, Kirby returned to Timely in the late 1950s, which was then renamed Atlas before it's full turn into Marvel. However, this return was a disgruntled one; Kirby had resented Lee since the 1940s, as he was sure that Lee was the one that had disclosed his and Simon's moving plan to Goodman. Poor compensation was still an issue, as Kirby was often spending anywhere between 12 and 14 hours to produce a staggering 5 pages of artwork in a given day on average for very meager pay. Finally, in 1961, with Stan Lee as editor, Marvel had trouble competing with DC's popularity, and based on the growing sales of The Justice League, Lee figured their next move was to forge a team of superheroes. In response, Kirby created the Fantastic Four, breaking new ground and shaking up the industry almost instantly. Kirby's stylization proved to be a huge influence on Marvel and the rest of the industry from that point onward.
"Jack was the single most influential figure in the turnaround in Marvel's fortunes from the time he rejoined the company … It wasn't merely that Jack conceived most of the characters that are being done, but … Jack's point of view and philosophy of drawing became the governing philosophy of the entire publishing company and, beyond the publishing company, of the entire field, " said regular Marvel and DC contributing artist, Gil Kane, in The Comics Journal Volume 1: Jack Kirby.
Not only did Jack Kirby's art revitalize the superhero genre, it was his endless story-driven imagination that captured the attention of young readers (and increasingly in adults for the first time) everywhere, an endless imagination with a penchant for the strange, the cosmic, and the thought provoking.
Fantastic Four, while a direct mix of B-movies, creature features and cold-war era science and politics, felt incredibly new and fresh because of the enigmatic and abstract 'big ideas' the stories visually presented. Characters were seen exploring the outer reaches of space and time, of alternate dimensions and realities, questioning their own existence and expanding their conscious, meeting bizarre and paranormal entities and gods in the process… It's these grandiose themes and images that would become synonymous with much of Kirby's future work.
Though Lee served as a writer for much of the characters he's credited with co-creating, his involvement was often very little or vague. In a particularly well-known example, Lee's direction to Kirby was to "have the Fantastic Four fight God" and in return, Kirby birthed an entire saga, resulting in the creation of Galactus and the Silver Surfer, two of Marvel's most iconic and timeless characters.
Pushing the boundaries of the medium and gaining more confidence as a writer, Kirby's affinity for heady and lofty ideas were manifesting in the design of his pages, using mixed media and collaging techniques to bring forth visuals never before seen in comics. By injecting fine-art methods into the medium, Kirby would be the 'test pilot' for techniques that would come to push the envelope and serve as the progenitor for other mixed-media artists that would follow, such as Bill Sienkiewicz (The New Mutants, Elektra, Moon Knight) Dave McKean (Hellblazer, Sandman) and Howard Chaykin (American Flagg). The metaphysically-tinged images and fascination with deities would never stop for Kirby and in turn, Marvel, as these same motifs would be prominently featured in other mainstay series like Thor, but also of non-Kirby driven titles such as the Steve Ditko-led Dr. Strange.
"Stan Lee wouldn't let me put in the dialogue. But I wrote the entire story under the panels…In other words, he didn't know what the story was about and he didn't care because he was busy being an editor… He left me alone," said Jack Kirby, on the extent of his collaboration with Lee in Will Eisner's Shop Talk ( Reprinted 2001).
As the decade rolled by, Kirby became increasingly aware of and frustrated by Marvel's practices; Stan Lee's prominence in the media was leading the public to believe that Lee had created the characters Kirby was responsible for (something Lee seemed to relish), promises and rights were being broken, a lack of total creative control despite being the most prominent voice in the studio, and most egregious of all, willful failure to even credit him as creator or co-creator of his own characters and withholding his original artwork from him. After rejecting an unfavorable contract (that would prohibit any legal action against the company) Kirby left for DC again in 1970.
Before 1970, comics were dependent on newsstand distribution, and foreseeing a need for alternative ways to sell comics, Kirby came up with the idea to craft a limited and connected series that could be collected in book format when it was finished- essentially a shared universe, linked by familiar and new characters alike that would cross-promote and collide.
Back at DC, Kirby's first move was a series enveloped by the title "The Fourth World", containing a trilogy of new magazines: The Forever People, Mister Miracle and most notably, The New Gods. Among the chief characters created for the Fourth World was Darkseid, a malevolent god-like being hailing from the planet Apokolips, hell-bent on destroying free will among his inferiors. With the trio of new titles designed to be a finite story, the Fourth World ran for three years, though characters like Darkseid proved to be fan favorites and found their way back into the collected DC universe as recurring enemies and linking elements to connect the company's franchises together. The New Gods was a big hit for DC and as history often repeats itself, Marvel was eager to mimic that success. In February of 1973, young Detroit-born artist Jim Starlin concocted the character of Thanos, a character directly influenced by Darkseid:
"Kirby had done the New Gods, which I thought was terrific. He was over at DC at the time. I came up with some things that were inspired by that… Roy [Thomas] took one look at the guy…and said: "Beef him up! If you're going to steal one of the New Gods, at least rip off Darkseid, the really good one!" said Starlin in "Comic Book Legends Revealed #266". 
Thanos became a Marvel regular, and was instrumental to a string of crossover miniseries released in the early 1990s involving the Infinity Gauntlet; a glove befitted with the Infinity Gems, granting its wearer omnipresence, omnipotence and omniscience… concepts not only reminiscent of Kirby's fascination with gods and universe-sprawling epics, but of his notion of cross-promoting heroes and intertwining franchises. Infinity Gauntlet, like The New Gods before it, was a big hit and had two sequel series: Infinity War and Infinity Crusade.
Though at his most prolific in the 60s and 70s, Kirby championed for independent and creator-owned comics in the 80s, even going so far as to co-create the satirical Destroyer Duck, a benefit comic published to help writer Steve Gerber (Howard the Duck) in a legal battle with Marvel concerning the rights to his own characters. The passing of the Copyright Act of 1976 did help secure artists' copyrights to a degree and publishers were forced to return much of the original artwork back to their artists. However, toward the end of his career, Kirby would never stop fighting with Marvel; even to this day, the company is estimated to be holding onto more than 10,000 pages of Kirby's artwork and property. Though the Kirby family famously settled with Marvel in 2014, the rights of comic artists and writers are still being fought.
Jack Kirby passed away in 1994, but not without owning and wholly deserving the title "The King of Comics". He was one of the medium's major innovators and much of today's pop culture-driven landscape is in complete debt to his gargantuan body of work. The Jack Kirby Awards and Jack Kirby Hall of Fame were named in his honor, and his art, his ideas, and his characters continue to influence and inspire both old and new generations of readers.
With Marvel's release of the Infinity War movie it goes without saying just how much Marvel directly and indirectly owes to Jack Kirby. As art often imitates reality, during his lifetime, Kirby was waging a bit of a war of his own. And, coming full circle, Thanos' creator, Jim Starlin has recently cut ties with the publisher, concerning creative control over his own characters. As Marvel's ugly history with their most iconic creator is repeatedly swept under the rug, while Lee is continually propped up in the media, the public is growing steadily curious and more aware of the less than stellar treatment of their artists and writers.
feature Images from Jack Kirby by Susan Skaar, and licensed under CC BY-SA 3.0.