HOMMES
By Matt Counts
The force of testosterone is inherent in all men, that burning fire within the first chakra that ignites the following six into the Kundalini energy system, bringing full life and vitality. There are many ways to harness and direct this power, some may lift heavy weights and take ice baths, while others may participate in extreme sport, or enjoy spending time with the fairer sex. However, there exists more unorthodox ways of focusing one's primal fire, all of which may be used individually, or in unison, for maximum enjoyment; not just for man, but for all parties involved.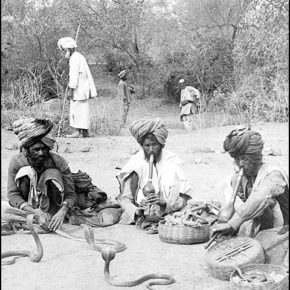 SNAKE WINE | A difficult spirit to find in the west, snake wine has a long history of being used in south China, Vietnam, and other parts of southeast Asia. Typically, a venomous cobra is inserted into a bottle of rice wine or grain alcohol and allowed to steep for a few months. This elixir is than taken by shot glass whenever one needs to cure anything from balding, farsightedness, or low energy. It is also a strong aphrodisiac and is said to enhance a man's vitality and virility. Usually, an endangered species of cobra is used in bottle and, therefore, may prove elusive in the states.
KAMA SU
TRA | Now that you possess burning energy and desire, what to do? Thankfully, there is a manuscript that has existed since 400BCE should you have no creative ideas. The Kama Sutra is a Hindu religious text, and one of many in a collection known as the Kama Shastra. Containing numerous sexual positions, techniques, and gymnastics, Kama Sutra also is a text about desire, seduction, and how to "deal" should one have many wives. Procure it.
KIIROO | Now, the above suggestions may be wonderful with your significant other in tow, but what is the traveling businessman supposed to do when the better half cannot accompany? Kiiroo has a solution, with its own "teledildonic" inventions. This Amsterdam based company is leading the way in long distance relationships with its inventions. The Onyx, for him, and the Pearl, for her are both designed to simulate pleasure across the internet, allowing each partner to control the other, What one does, the other feels, all via the Interweb! There are also apps that help to control pleasure for certain situations. The Kiiroo platform also features full streaming video so you can see, hear, and feel interactions.