"Ohayō gozaimasu!"
Good Morning "Hello" in Japanese.
Phonetically: O Ha Yo U Go Za I Ma Su
Each time we were greeted by the small group of hosts in Kura Revolving Sushi Bar (Novi) my young nephew, Andalò repeated the greeting, much to the surprise and smiles of the welcoming staff. 
Once we stepped further inside the Kura we were surrounded by color. The walls, tables, and booths are a bright black, yellow, red, and white. Conveyor belts, flowing with a nearly endless amount of melons, desserts, pastries, and sushi, carry pops of color by each table at a leisurely pace, letting the eyes of customers do the ordering in real time.
It was lunchtime and the busy little Sushi Bar was alive with sight and sound.
Our hosts escorted Andalò and I to table, where we were immediately greeted with lemon and green tea – brought to us by a robot named, Kur-B. At 5 years of age, this marked the first time Andalò was served by a robot. I think this was a first for me, as well. We took our drinks and Kur-B politely exited.
It should be said that the human staff was also very polite and attentive, happy to take care of our every need.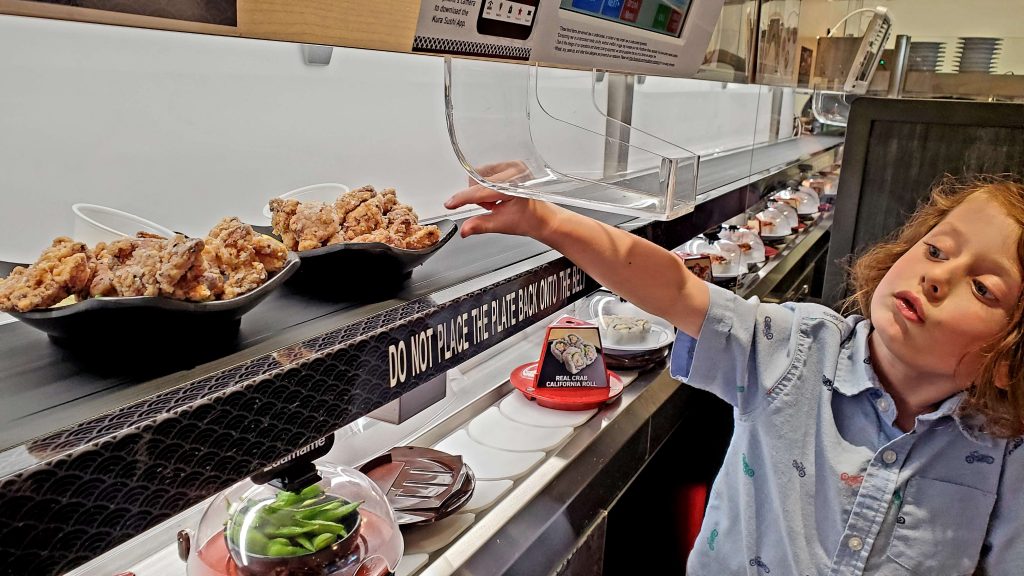 Andalò was intrigued by Kur-B, but particularly interested in the tablet at our booth used for ordering food, as well as the mechanism that moved all the colorful plates slowly along the conveyor belt. Sushi was $3.30 per item, with other plates varying in price.
We started with the Harajuku Summer Salad, which consisted of fresh cucumber and watermelon salad, black pepper, and a drizzle of Ishizawa dressing – very refreshing. Andalò used beginner chopsticks and did quite well.  He then attempted Edamame, Crispy Chicken, and Premium American Seared Beef Sushi – each order an exciting exploration for the young man. In fact, Andalò called the Crispy Chicken, "Delicious!" But, again, he was most impressed by the speed of the express conveyor that rushes your order from iPad to booth with great efficiency.
Due to a dream my nephew had earlier in the week his next order was a combination of Salmon Sushi and French Fries ( only here, the fries are known as Kura Crispy Fries), and neither dish disappointed. Perhaps, not too surprisingly, Andalò loved the fries. But, he also gave high marks to the Salmon. He seemed thrilled to be part of the whole process.
A team of six Sushi Chefs worked in concert to feed the constant flow of items. Freshness is top priority here. And, the place was very busy.
Soon, Kur-B rolled up to refill our beverages bringing smiles to our faces. About the same time, we were again greeted by our female hosts, who continued to bring Andalò pons throughout our meal. "Pons" are little prizes that come hidden inside plastic balls. When a booth of guests hits 15 menu items pons are transported to their table through vacuum tubes similar to those at banks (see website). But, when you're five and cute, and flirting with the ladies, you get special treatment.
In case anyone cares, Uncle Nick ordered Salmon, Premium American Beef, and Caterpillar Rolls – all of it fresh and tasty. As a Detroiter, who considers Noble Fish (Clawson) the best in the business, I am comfortable in recommending Kura as a fine addition to the Detroit metropolitan community. Every item was handled with care and the colors and flavors of each dish satisfied both the experienced and new diner in our party.
To finish, we ordered Strawberry Mochi Ice Cream. Andalò pressed two (2) ice creams on the tablet, thinking it meant two Mochi. But, it actually brought four (4). He learned Mochi means "sticky and gooey" – or, something like that – and confirmed that the dessert is aptly named. He enjoyed the texture and flavor and was again excited to be trying something new.
A floating stream brings your plates back to a machine where they are washed and sanitized. Again, my little nephew was intrigued by the technology involved in the process and was happy to participate. Each time he placed a plate in the slot he said, "I defeated you plate!" and moved on to the next dish.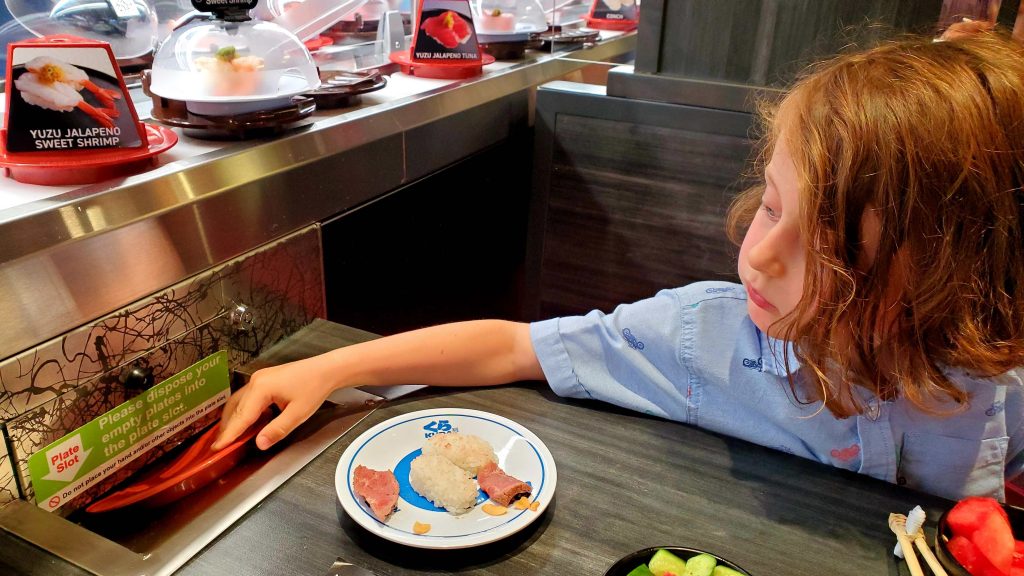 The whole establishment is very clean, including the restrooms, which feature touch sensors on all amenities. And, I probably don't need to tell you Andalò tried them all.
For sushi connoisseurs – straight Sashimi and Chirachi is on the menu. And, it's very good. But, the anime, robotics, pons, conveyor belts, and technology culminate in a J-pop explosion celebrating a different kind of authentic Japanese experience – one worth the drive.
What were the prizes, you ask?
For us, the entire Kura Revolving Sushi Bar experience was the prize.