By Alissa Demos
A raw, refreshing, and ingenious invitation to nature awaits you inside Lady Lazarus, the eco-rich shop full of plant life, organic beauty essentials, and geometric terrariums located at The Rust Belt Market.
Tiffany Best, owner of Lady Lazarus and co-owner of TRBM, exudes a combination of instinctive creativity, traditional femininity, toughness, and a passion for plant life. Simply put, Tiffany is Bad Ass. And, her independently owned and operated boutique explodes with the essence of life and art on a trinity of studio white walls.
With items designed and curated by Best, the boutique is filled with handmade works of natural, yet symmetrical satisfaction. Sun light reflects off an array of planters and glass terrariums stocked with succulents, air plants, and ferns. Various vines intertwine with metal fencing and a breathtaking collage of fuzzy green moss and grey tree bark enrich the space, as if the shop itself had been plucked from the market and placed into the forrest of a not so distant future.
Tiffany sources items from a variety of artists, describing her curation process as a very straightforward method of trial and error. Estate finds are also a big component to her retail and shop installations. Best's desire to sell one-of-a-kind pieces propels her to find new product, resulting in the shop's constant evolution.
"I don't want to be caught in the trap of pure trends," Best explains. "It's more or less things that I find interesting, or products that I use, or jewelry that I will actually wear, that make it to our shelves." Among the cacti and ferns Lady Lazarus also offers greeting cards and perpetual calendars, nestled snugly within her kingdom of greenery.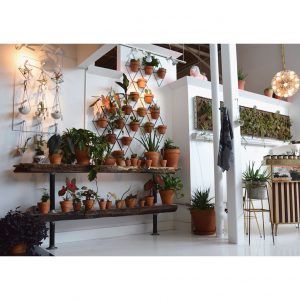 Husband and business partner Chris Best is credited for most of the large installations inside the shop, and his plant-filled fixtures certainly make for a captivating shopping experience. Together, the couple have refurbished large fittings such as a 1940's refrigerator, an antique cocktail bar, and a ginormous cactus garden, which was originally an enclosed terrarium filled with mosses and ferns. According to Tiffany, her partner is continually designing larger scale art installations and working to transform and improve TRBM for vendors and visitors alike.
"As far as the design concept I think it represents my inner conflict between traditional, feminine, classic, and my Zef side, which is very kind of punk, harsh lines, and black and white," says Best. "I think somewhere, partially by happenstance and partially by intention, we have kind of meshed those conflicting designs together in a way that somehow works for me."
Like her shop, Tiffany is good-natured and edgy. She relies on the vital quality of intuition, along with the perpetual desire to achieve feng shui, to realize her aesthetic.
"I am constantly nesting," says Best. "That's part of my stress relief, to take everything out of its place and find another. It is absolutely constant. I will rip my shop apart on a weekly basis. It's a creative release."
"Comeback in broad day / To the same place, the same face, the same brute" ~Sylvia Plath
Lady Lazarus pays homage to the famous Sylvia Plath poem, though the decision to use the alias was somewhat serendipitous.
"Someone dropped off a box of books outside the market, and all of the covers were ripped off. So, I just started looking through them and one was Lady Lazarus," explains Best.
That random event set off a spark. After researching the book online Tiffany discovered the title also belonged to a poem written by Sylvia Plath, one of the most admired poets of the 20th century. This further inspired the artist to research Plath's life, infamous death, and poetry.
"The poem Lady Lazarus is complicated, complex, and disturbing. But, it also talks about life and death, and being reborn," says Tiffany. "Some interpretations of the poem say it's analogous to female creativity, being stifled, and coming back stronger."
While reading about Plath the artist came upon a proverb, "They tried to bury her, but didn't know she was a seed." And, so there it was: the poet and the proverb would one year later walk hand in hand with the theme of the shop.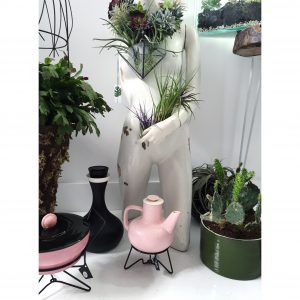 Before Lady Lazarus, even before the opening of The Rust Belt Market, Tiffany worked for a small company where she performed landscape and container gardening services, mostly outdoors with very little interior work.
"After a while, instead of solely ripping out grass, I decided to start my own side gig doing container gardening, and I called it Earthy Girl," she remembers.
From Earthy Girl to Lady Lazarus, Best's DIY approach to art and businesses eventually found success. But, it's not as if Tiffany didn't have her fair share of obstacles. "I even created handmade Earthy Girl flyers and personally posted them all around the metro Detroit area. But, I received little to no feedback for my efforts," she muses.
Thankfully, it takes much more than a few failed flyers to halt Tiffany's art, who considers the opening of Lady Lazarus a "rebirth" of her own creativity.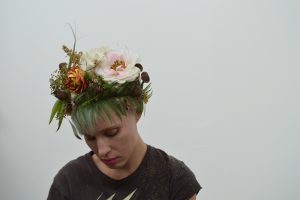 Aside from the usual business challenges of inventory and cash flow the mother of three admits that her family and professional life sometimes tend to clash. Balancing motherhood with art and commerce is a "constant shuffle of school, schedules, activities, and the Market," she explains.
Tiffany's eldest daughter can be found in the shop operating the POS system, often times with more proficiency than her Mom. "I witness her becoming more and more engrossed with creativity," says Best, laughing. "She brings her traveling art bag with her every chance she gets."
Amid all the "chaos" Tiffany takes on the challenges of everyday life as artist, entrepreneur, and mother, even when that means she must take her children to work or meetings, in stride.
"You just power through it. Sometimes, it is really rewarding. Other times, it is really stressful. It is what it is," she shrugs.
Tiffany claims that a large part of her business revolves around correcting the preconceived notions or misconceptions about plants. She and staff members, Tim and Brenda, take a good deal of care to make sure their clients feel informed. Products and designs are ever-changing, uninterruptedly reborn, and ready to grow.
"I want customers to walk away with something meaningful," says Best. "Whether it be a functional piece of pottery, or a personal care product that is sourced by pure, hand blended ingredients, my goal is to fit each of my guests with a unique addition to their living space."
Lady Lazarus | 22801 Woodward Ave. (enter through The Rust Belt Market) | Ferndale, MI