On March 20th Boris Johnson ordered all pubs and Restaurants to close due to the unfolding Covid 19 crisis. This along with the subsequent general lockdown immediately brought the question to thousands of businesses, 'what do we do now'? The unprecedented action endangered the livelihood of millions of people in the Uk and threatened to put at least 500,000 people out of work overnight in London alone.
As the doors were shuttered and the locks turned for the last time on a drab Friday night many restaurants and pubs around the Uk wondered if they would ever be unlocked again.
If one walks central London – or anywhere in London at the moment – one finds pub after pub, restaurant after restaurant closed, shuttered or boarded up. China town, once a bustling area is now deserted, left abandoned by shopkeepers, and this is echoed in any neighbourhood in the city.
So what happens to a restaurant that can't serve its customers, a pub that can't pull pints, or a supplier who has no one to supply? 
Desperate circumstances call for desperate measures – and inventive ideas – and Elliot Cunningham, head Chef at Lagom ("the perfect amount" in Swedish) in the trendy East End neighbourhood of Hackney, had many.
When the Pandemic hit, the restaurant based at Hackney Church Brewery furloughed its entire staff and shut down as a sit in establishment. Elliot wanted to keep working, however, keep pushing new ideas, and saw this as an opportunity to keep cooking, keep his restaurant going, and to continue serving his community. As restaurants were allowed to operate as "take-outs" the Chef thought he would try and convert what he used to do as a Dine-in to an "eat at home experience".
As soon as you walk down what were once the bustling railway arches of bars and breweries in Hackney Central, the sweet fragrant smell of smoke hits you. As we approach the arch in which Lagom is situated we can see Elliot at work tending to the succulent pork ribs and vegetables smoking in a Cabinet smoker placed outside the restaurant. His two dogs wait in anticipation in the off chance they will get to sample the meaty delights cooking inside.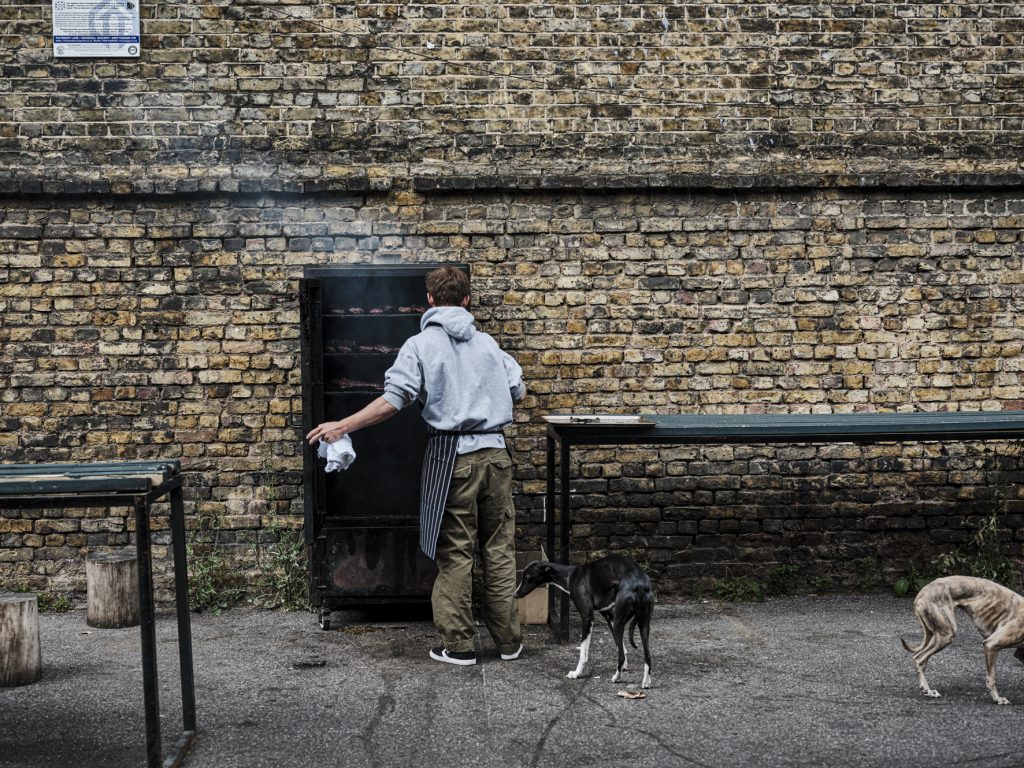 "I feel privileged that I am able to continue cooking and creating through these times, when a lot of chefs can't or are not allowed to work."
Once inside the restaurant Elliot is straight away tending to the luscious looking racks of chickens, pigs cheeks and feather blade beef smoking away in the small kitchen at the back of the restaurant. On the stove there is a large pot of stock made from chicken bubbling away and Elliot is onto making a Mop for the racks of Lamb in the smoker outside.
The Restaurant is an interesting sight its self with a slight feel of the Mary Celeste about it. There are chairs stacked on tables, beer pumps covered in plastic and vac packed orders of smoked meat and vegetables ready to be boxed up and delivered or picked up. Elliot has been working like this pretty much from the start of the lockdown. It is hard for the British Swedish chef to imagine not working, as his passion and knowledge for cooking prevented him from sitting back and letting this time pass him by.
"It has been an enjoyable challenge to convert what has been served in the restaurant normally to something you can take home and cook your self," says Elliot.
Customers can order such delights as Smoked lamb ribs, half a smoked chicken, hot smoked trout, smoked mushrooms and pit roasted celeriac. All come vac packed and with instructions on how to heat up and serve and are either delivered no contact or picked up from the Brewery.
As Elliot explains, diversifying the restaurant in these times was not just a way to keep himself busy and in business but mainly about bringing a little bit of joy and comfort to those customers old and new who will not be able to make it out to restaurants for some time.
Elliot says, "I feel privileged that I am able to continue cooking and creating through these times, when a lot of chefs can't or are not allowed to work."
One key factor to Elliot's new way of doing business is that he has been able to keep his supply lines going and thus making sure that he always has the same quality of produce that he did when the restaurant was open. This in turn benefits his suppliers who must also be finding it harder to run their business due to all the restaurant closures.
Social media has been vital to this, both with helping promote what Lagom has been doing and also in engaging customers and finding out what they might like delivered to their door. Elliot continuously posts on Instagram and Insta stories sharing how his day unfolds and what he is cooking at the restaurant all on his own.
In every neighbourhood in London one will find clever interesting people trying to hustle and keep their business' going by diversifying and catering to the present needs. Restaurants like The Camberwell Arms and 24 The Oval have set up general stores or farm shops at their restaurants to help the local community get great quality groceries from their suppliers, Bars like Scout are also in on the act sending out pre mixed bottled cocktails and wines.
Nobody knows where this is all going and when it is going to get back to something resembling normal life, so all we can do is ride it out the best we can. In the case of Elliot Cunningham, he has embraced the challenge and has continued to create conscientiously in an effort overcome these trying times.