By Ilka Scobie
Ki Smith Gallery is pleased to present Sono Kuwayama's third solo show with the gallery. The exhibition, Land(e)scapes focuses on the concept of impermanence. The show examines land and geology as a means of exploring the space between sameness and difference, real and imagined, empty and full.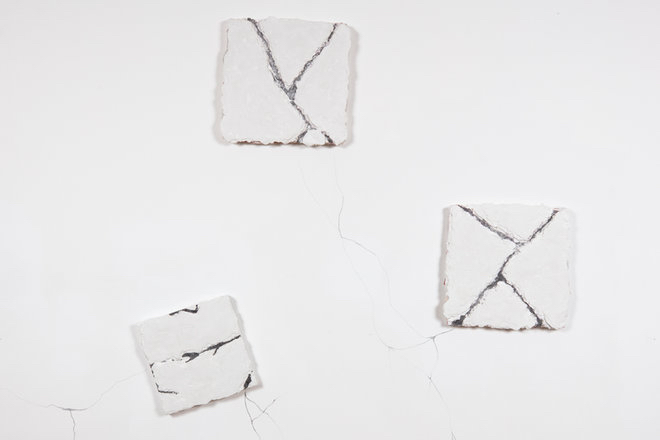 The premise of land(e)scapes begins with stones, the shifting landscapes of terra firma, language, and the envisioned threshold of abstraction in ancient limestone landscapes and NYC sidewalks. "Untitled" (hollow rubber rocks), a series of cast rubber rocks is a meditation on emptiness, the hollows that create a shape (not the other way around). Each stone protrudes from the middle of a square. The rounded, almost luminescent amber colored spheres can be read as minimal sculptures creating space through the absence of the subject.

 

The idea of sameness and difference is further explored in a series of encaustic paintings depicting stones floating in negative and positive space. A solitary stone floats on an obsidian background, or the reverse, appearing on an impasto white field. Handmade encaustic paint adds a dimensionality that  transmutes to a sculptural dreamscape.

 

Another series of over 150 exquisitely rendered watercolor rock and word paintings, portray  stones with a fragile endurance.  Like the encaustic paintings, all the stones are suspended in an emotive space. The word paintings in both Irish and English illuminate our relationship to our environments and how we perceive and understand the world we live in. These ideas are are again examined in "Fragments in the Memory of Place" a soundscape produced by Ivo Hanak, read by Sono Kuwayama, Bob Homan, Larry Kirwan and Kathy Keane.

Kuwayama's view of work as meditation melds beautifully with the tectonic shifts of  the earth. Celebrating the eternity and impermanence of stone, Sono bridges conceptualism and organic imagery with her singular and spectacular subtlety.