From the Russian investigations, to Trump's summit with North Korean leader Kim Jong-Un, to the detainment centers for "illegal immigrants", the country seems divided in half over every issue. America is in a Cold Civil War.
In an effort to promote thoughtful dialogue from both sides, The Metropolitician offers the following two perspectives over a complex, emotional, and often visceral subject.
Is this who we are? Are we not better than this? Honestly, 242 years in aren't we better than this? We're literally a country of immigrants. None of us, unless we are Native Americans were born here, or at least our ancestors weren't. Are we better than caging children? Are we better than pulling screaming children from the arms of mothers? America are we not better than this?
I'm not sure how to proceed telling people how to be better humans. All the battle slogans have been sung on both sides but in the end the bottom line is, humanity is the club we all belong to. There is nothing in my code that tells me caging children is "OK." Same goes for tearing children from parents arms, even if they only speak Spanish. This was a man-made catastrophe. It didn't have to happen. President Trump made this happen. He didn't create the immigration issues but he certainly lit it on fire.
Immigration is a complex issue and it can't be solved with sledge-hammer like tactics and let's be honest, Trump isn't trying to solve the immigration issue, his only goal is to assuage the darkest elements in his base.
Look, I'm well aware that we have millions of illegal immigrants, over 11 million at last count and that is not an ideal situation. The vast majority come here for work, to seek a better life for them and their families. The only reason they are "illegal" is because we do not have a legitimate process to allow them to come and work legally. For a low scale worker from Mexico or Central America it's virtually impossible for them to obtain a visa to work here legally so they do the only thing they can, they cross into our country secretly. Obviously this creates all kinds of problems and should be addressed. We need these workers. We need them to pick our fruits and vegetables, slaughter and cut our meat, sweep our floors and do all the things that we will not do. But it's more than that, we need them to continue to season the pot of stew that is America. We need their music, their food, their work ethic and their humanity.
We the people of the United States of America have to be better than this. We have to find a way to solve problems that do not include terrorizing women and children. It's just simple. I reject the notion that there is no other way. I reject the excuse that we lock up children because "it's the law." Over the course of history people have committed atrocities under the guise and protection of the law. Laws are broken and ignored by law enforcement and prosecutors every minute of every day because it's not feasible, nor is it good practice to prosecute every single law. Just as it is not feasible to arrest 11 million immigrants. More importantly, it's not the right thing to do. Morally it's repulsive.
Empathy, love, hope and caring for one another seems to be missing a lot these days. We don't seem to have the same faith in our ideals as we used to. I think it's easier to hide from the fights that we know are going to be hard. We can't do that anymore. We can't pretend that "things are going to be alright" and look the other way. Children on concrete floors, surrounded by chain link fence who don't speak the language, who are sobbing for their parents should be enough to move you. I don't have the answers, I just know that we the people of America have to be better than this.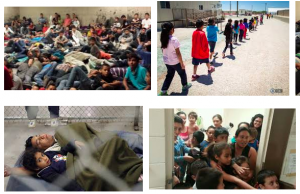 The concept of personal responsibility has all but died.  MEXICO FAILS to educate its own citizens, provide care of their health, adequately feed them, train them for jobs and CREATE jobs for them to have.  MEXICO FAILS to mitigate the DANGERS of its OWN CITIZENS crossing WILDERNESS and HIGH CRIME ENVIRONMENTS in a highly rational ATTEMPT TO FLEE the conditions in MEXICO which contribute to living conditions SO POOR that the DANGERS OF ESCAPING OUTWEIGH THE PAIN OF STAYING. 
MEXICAN PARENTS take great risks when they CHOOSE to LEAVE MEXICO.  If they wish to seek a better life in AMERICA like MILLIONS OF OTHERS from all around the world, there are WELL ESTABLISHED LEGAL PROCEDURES for pursing THAT dream.  IMMIGRATING to America has long been a remains a DREAM shared by countless MILLIONS around the globe.  BREAKING INTO ANOTHER COUNTRY in violation of its laws is not a "DREAM," it is a CRIME.  When PARENTS commit ANY CRIME…it is THEY who create the RISK of being "SEPARATED" from their families.  When PARENTS commit ANY CRIME, it is THEY who have WEIGHED potential "rewards" from breaking the law against the POTENTIAL COSTS (aka "risks") of being caught, incarcerated and SEPARATED from their families.  When the PARENTS OF CHILDREN decide to COMMIT CRIMES, it is THEY who TAKE THE ACTIONS and BEAR FULL RESPONSIBILITY for ALL OF THE CONSEQUENCES that befall THEIR CHILDREN…whose fate and welfare THEY KNOWINGLY placed in jeopardy.
I understand that of the TWELVE THOUSAND CHILDREN currently in custody (and "separated" from their families) a full TEN THOUSAND of them were SENT AHEAD by THEIR OWN PARENTS.  So, THESE parents could not even be bothered to undertake themselves the risks of illegally crossing into America and "being separated" from them.  No…THESE MEXICAN PARENTS SEPARATED THEIR OWN FAMILIES by SENDING THEIR CHILDREN INTO THE WILDERNESS under the "care" of COYOTES, HUMAN TRAFFICKERS and DRUG DEALERS.  Did they have a choice?  Of COURSE THEY DID.
And in all this…where is the MEXICAN GOVERNMENT?  Are they taking any actions to STEM THE TIDE OF CHILDREN WANDERING INTO THE DESERT?  Are they taking any actions to provide ADEQUATE HOUSING AND SHELTER for their OWN CITIZENS on MEXICAN SOIL so that these perilous hazards might be mitigated and even work towards a PERMANENT SOLUTION???  No…the "PERMANENT SOLUTION" of the MEXICAN GOVERNMENT (along with their "compassionate" and "humanitarian" LIBERAL ALLIES in the United States) is to take NO such constructive mitigations, but instead DENOUNCE the AMERICAN PRESIDENT, AMERICAN LAWMAKERS, and the AMERICAN PEOPLE for their OUTRAGEOUS INSISTENCE on UPHOLDING THE LAW at that point where the LAWS OF EVERY NATION ON EARTH (INCLUDING MEXICO!) begin:  at the border.
To THEN accuse others of callousness and lack of compassion and using "children" for political capital while PROMOTING THE CONDITIONS THAT DO THE MOST TO PLACE THE SAFETY OF CHILDREN IN JEOPARDY…is a certain kind of fiendishness that eludes even the grasp of even my own dexterous reach. 
In this SICK OPERATIC TRAGEDY…those who have taken it upon themselves to RENDER AID and CARE FOR THESE CHILDREN…are the "VILLAINS."  I have no wish to see American tanks patrolling our BORDER with Mexico.  I would far prefer to see them SPEEDING TOWARDS MEXICO CITY to HELP THE MEXICAN PEOPLE UNSEAT THE DESPICABLE LIARS, THIEVES AND WHORES OF THE MEXICAN GOVERNMENT WHO ARE RESPONSIBLE FOR ALL THIS!
Let us know your thoughts on our Facebook page. If you have 500 words to share on this or any other political subject please submit them to the Editor In Chief at [email protected]