By Anthony Brancaleone
I am looking at your work on Instagram and I can't help but give in to the idea that the IG thread is its own installation. Scrolling, there is just such beauty in the color, in the texture of these photographs. I'm wanting to look; to scroll quickly, then more slowly, back and forth, stop. Click image.
What can you tell me about 'Detail (Twins!)'?
Myriam: By using the term twins, I am not thinking about genetic twins, but about of the needs of a baby after it was born. They all have the same needs regardless of color, place of birth, social status of their parents. Finally, I painted the hashtag over the babies, because when they are grown up, there will be thousands of hashtags displaying their childhood and youth. Hashtags will be like a social branding.
Anthony: But, your first post on Instagram is of an oil painting. Why did you choose that piece to launch? The whole thread tells a story;  there is symbolism but it works more like hieroglyphs. The Hashtags certainly operate that way.
Myriam: My first postings are portraits of refugee kids. This was 2015 and 2016 when about 1 Million refugees from Syria and Africa arrived in Germany. I am convinced that as a civilized society, we need to help people fleeing from war and terror, so that's why I used the hashtag "refugees are welcome".
I was deeply moved by the faces of the children. Therefore, I did about 20 portraits of children, bigger paintings and finally an installation with refugees painted on Plexiglas panels.  They are all black and white because color would distract from the tragedy they carry with them.
I used the hashtag "New York City" as a symbol of hope for many refugees and immigrants in the past and today.
Anthony: All of a sudden there is speed and life in The cyclist. I am sure I will embarrass myself by saying this but for me the cyclist looks inspired by the belle époque, Paris?
Myriam: I painted speed in 2015 before I did the refugees' portraits. I was inspired by one of my hobbies, road racing and by the photographs of Helmut Newton, who may have been inspired by the belle époque Paris. I thought after that heavy topic [Refugees] something beautiful would be good.
Anthony: You are working out of Heidelberg, Germany. For those of us who have not been can you explain how your town inspires your art?
Myriam: Heidelberg is a small (150 000 inhabitants) and picturesque old city with the oldest University in Germany. The ruins of its castle, a symbol of the German romantic, is situated above the city and attracts thousands of tourists every year. Heidelberg is a bit like the song "she is so beautiful, but so boring".
Therefore, I am quite inspired by Mannheim, which is about 10 miles away, has about 300.000 inhabitants with a huge Turkish community. In some districts, it feels like Istanbul, nobody speaks or understands German. Life there is far more real. It has a small but vibrant arts and music scene. The city just built a new Museum of Fine Art ("Kunsthalle") and there is the "Free Academy of Arts" where I am studying.
Anthony: There are several pieces in your galerie that I go to again and again: A sketch called Black and White, with a long, slender, woman lounging on a table chair, with short black hair, white blouse, black cigarette pants, and pointy black mules. She is sensual and strong; looks to be at the end of a productive day where she struggled but prevailed.
Satisfied.
Maybe, it's time for wine? 
Myriam: Certainly, she will have a glass of wine. She is thinking about her projects and reflecting. She is doing what I enjoy doing in the evening – having a glass of wine and reflecting on the day.
Anthony: 'Sketch of Myself' is a nude self-portrait of you collapsed inside of a clothes dryer – I love it. 
Myriam: It just shows what it means to be a housewife. The household is like a hamster wheel – never ending. Kids rip off your last shirt, if one does not constantly set boarders. In the end, you feel naked on your knees deep in the chaos of everyday life and sticking your head into a washing mashing, wishing it would just go away.
Anthony: Tell us the story behind your oil where those marching women are attacking the men in suits (featured image).
Myriam: This painting shows the assassination of the Russian ambassador at an art gallery in Ankara, Turkey. He was shot when he was about to open an art exhibition. I was fascinated by the photo of this attractive man in a perfect black suit, pointing with his left arm to the ceiling and holding a gun in his right hand. The photos, which were taken by Burhan Ozbillici, look strikingly surreal. As if they were taken from a Tarantino movie. An irritating combination of masculinity, violence and perfect aesthetic, not to say beautiful. It felt somehow unreal, rather staged.
I combined it then with the marching woman, coming out of the Russian birch forest, attacking the guy in the suit. I put the whole painting in pink, because I believe in the life-affirming spirit of women and pink is the girls color supporting this consideration. 
In Reservoir Dogs pink speaks for itself.  After the final showdown, everybody lies in his blood, but Mr. Pink walks out unwounded and further gets his name, because he is gay.
Anthony: Reservoir Dogs is one of my favorite films. An artist once made me a small sketch of a scene in the movie where everyone died. 
Myriam: Tarantino is brilliant. His work is an inspiration to me. I love the way he uses different aspects of arts, mixes up and crosses boarders. But it's never too obvious or if it's obvious it's also somehow funny. And he always goes to the essence of life.
In Reservoir Dogs, I particularly like the discussion about the tip. I guess he talks about himself in a metaphoric way. Why not questioning the existing systems and mechanisms?
I love it.
Anthony: The Boy Seated With Smart Phone is brilliant. The timelessness of an oil combined with tech is wonderful. It will hold hundreds of years from now. It certainly captures a moment – the birth of the information age. The boy is still, but what is he looking at? 
Myriam: It shows my son Tristan with his iPhone. Either he is playing a game or chatting with his friends, but completely absorbed by it and somehow isolated from his environment – deep in thoughts in a virtual world. I painted it, because I consider it as an almost classical pose at of the beginning of 21st century. I used oil on canvas to emphasize the classical aspect.
Anthony: And, I love how I am looking through my iphone at a digital picture of a painting of a boy looking at his iphone … 
Myriam: Looking at my painting on your iPhone is like the mirror metaphor.  You can find yourself in the same position like Tristan on the painting, the way others would see you usually. So, you may start reflecting about the role of your iPhone in your life. The mirror metaphor is used to support the cognitive processes or identity problems in paintings or movies.
Anthony: But, the Blessed Virgin holding the #Holyphone is perfect (Featured Image). While the image speaks for itself I am curious how you came upon this idea?
Myriam: Quite often, I observe families or couples in restaurant not talking to each other, but staring on their mobile phone. Further, I have daily discussion about the use of cell phones in my family. The smart phone moved in the center of daily activity. We think we are all depending on it like babies on the umbilical cord in the womb of their mothers. It is an almost religious relationship. It accompanies all kinds of activities and has entered every private corner of our daily life. I actually don´t know if there is one space where it is not with us?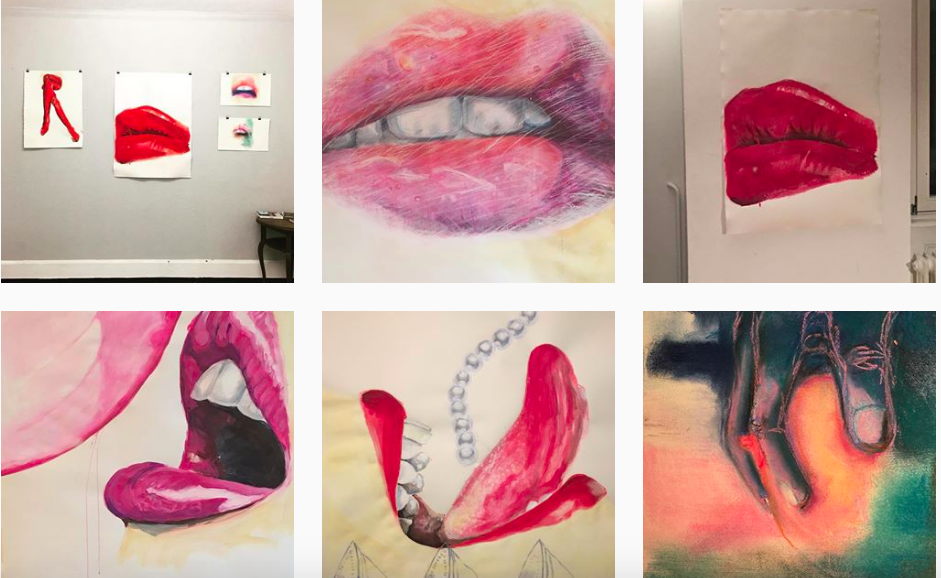 Anthony: You seem to be on a bit of a sensual streak with your Love Lips series. 
Myriam: The reason why I am switching between different motives is that I am brainstorming for my graduation work. I am doing countless sketches every week and discuss them with my supervisor Michael Witlatschil. It is an intense working process. So far, I have just decided that I will do a "sketch of myself" in oil, a favorite of my supervisor.
Anthony: You include politics in your art. Mind if I ask your thoughts on America?
Myriam: Having lived about four years in the US and having a child born there, I guess I lost part of my heart in America. Life and people became part of me. The US and its culture with its artists, writers and musicians are an inspiration to me.
Politically it feels like a big experiment with uncertain outcome.
Anthony: And, your thoughts living as an art student in Germany?
Myriam: Germany is a culture nation with a highly impacted history. People are constantly forced to reflect on the past, maybe more than any other nation. Every family has its own story about the Nazi terror. None of these stories are without consequences. While listening to these stories, you can feel the intensity of life and that is what I am looking for – the core question of life charged with energy. That's why I love this country and hope people are smart enough to keep it political stable.
Anthony: Finally, since we met on Instagram, what is tech doing for painting?
Myriam: Considering the flooding of pictures and images produced by the internet and the fact that they are given little thought, painting as very slow medium is able to ask the observer to re-evaluate the way people look at things.
Every painting contains different levels of subjective conceptions, which one cannot find in photographic images.
This is the strength of painting.
BIO
Myriam Gross Mall was born in St.Gallen (Switzerland). She has lived in Switzerland, the US and Germany. Since 2014 she has been studying Fine Art in Germany.