Words by Dan B. Jones  w/ Images by Francis Spade
"Witness the arrival of the mothership… When music rather than politics becomes the medium of bare life, new possibilities emerge for collective expression, community, and care." ~ Paul Youngquist
When I think of Detroit at its best I think of collective action. I think of getting my hands dirty, of the cycles in demographic change. I imagine the fruits of hundreds of years of hard work germinating and pushing through the dark black loam that has nourished it. I dream of that fruit being consumed and the seeds being re-sown. I see the North End.
For those not familiar with the North End neighborhood it's an area bound by I-75 to the east and Woodward to the west. Depending on who you ask, its north and south boundaries are defined by Webb and Grand Boulevard. While some west of Woodward may claim the moniker others might argue that the spiritual essence of the area stretches North into Highland Park. Regardless, one thing is clear: Oakland Avenue is the main vein of the neighborhood.
Looking up and down the street, it's not immediately clear what exactly is going on here. Look closer though. You can see Moore Park, where the Oakland Avenue Arts Coalition has received a Kresge Grant to build an arts pavilion. Just down the street a stretch is ONE Mile garage, a radical art and event space, where parties are awash with the urgency of a keenly practiced ancestral identity. Printing services are rendered at Red Door Digital with unfurled creativity. The list goes on and, like much of Detroit, the lack of population density can often belie the very real struggles and triumphs of a people. Over here there is some serious life being lived. And, after enduring an invisibility that came lock step with the divestment of a majority African American city, the indigenous population of North End isn't waiting to be targeted for re-development and, eventually, to be renamed.
Instrumental to this end, as I see it, is the beating heart of the neighborhood: the Oakland Avenue Urban Farm. The brainchild of Jerry Hebron and her husband, the name can be misleading. It doesn't do nearly enough work in describing the gravity of its influence or the depth of its activities. On a typical summer day, when she isn't directly dealing with the garden – and "deal with" it she does, "What I tell you all about leaving your garbage around here?" yells Jerry, humorously threatening several workers on a hot day, while pointing to plastic cups surrounding a picnic table and water cooler – you are likely to find her in the farmhouse collaborating and hammering out details with a seemingly endless parade of community members. There is always an up coming event being put on in conjunction with partners ONE Mile, or another North End organization, or the regular planning that goes into the Saturday Oakland Avenue farmer's market.
"When we started this work in 2008 there was a need for food, need for housing…when I stood at Oakland in the North End and looked south I saw nothing," says Jerry. "There was no possibility for anyone in this community to have access to employment along the Oakland corridor."
Today, community members like Jerry are involved in something that helps to facilitate a healthy environment. The farm encourages and provides food security. Nobody waited around for Whole Foods, for example, to determine whether the chain could support a grocery store. And, folks were not content with the shill of over priced and under quality food options in the surrounding area. But this isn't just about food. the North End community is galvanized by the work going on in the area. The production of food is being undertaken in the same space as the production of art and music.
Musician and artist Bryce Detroit is in the conversation too. He's younger than Jerry and traffics in sincerity in that sort of way that only an artist can muster. When he speaks it is with absolute focus. He wants to make sure I don't miss the slightest nuance. As the co-founder of the Detroit African Music Institution and one of the principles of ONE Mile, (a collaborative and multi-disciplinary approach to an artist collective), Bryce often works with Jerry and has also thought deeply about the interconnections between the various people doing, seemingly, dissimilar work in the neighborhood.
"As a North End resident my personal collaboration with the farm began in 2009," says Bryce. "We collaborated with the farm via the community organization that identifies as the Oakland Avenue Artists Coalition (OAAC), brought a group of us from the community together in 2014."
This group became ONE Mile (the OAAC has ceased formal affiliation with the project). Many artists are obligated to hustle up their commercial appeal, to expand in such ways as to be viable for the market. But, this was never the point for Bryce, and some others.
This was, "…a new vehicle that we, collaboratively, could use to amplify economic support, amplify the narrative [of the community] and the cultural/economic production that has been going on here for generations, and is currently going on still," Bryce says.
That word "Amplify" is very important. You won't hear community members like Bryce or Jerry using words like "create" or "foster" in relation to the work they do through their organizations. These terms are way too top down, too paternalistic. Language matters. In fact, Jerry corrects me when I describe these North End organizations as "Nourishing."
"But when you say 'nourish' I want to be real clear that nourish is not 'mission'," she says, fixing me with a look of positively electric intensity.  "We're not the 'savior', were not here to save people, that wasn't the mission to come in a be the savior, it's creating an environment where people can become whole naturally."
I am floored. I love it. Bryce picks it up and continues, "It [the various organizations] creates spaces and opportunities for Detroit Africans, North End residents, Detroit indigenous people to practice and celebrate ancestral identity. That is one way…to begin that process of being whole people who can now enjoy themselves in their own community, but see themselves as active change agents contributing to the community."
I see this as important stuff. I'm a white guy who grew up in a space where not only was I the majority, but I was empowered to take full advantage of the opportunities that could be had in this world. The dimensions of my success have been encouraged and facilitated by virtue of my background. The North End has been majority African American for over 40 years. The pathways to success, happiness and health in this area has been degraded through systemic divestment; the traditional economy has never really worked for many in Detroit, which has also skewed majority African American since 1980. The ability of indigenous Detroiters to thrive has been undermined and it makes perfect sense that the way forward might not be in waiting around for the powers that be to create change from the top on down, but instead to "amplify" alternative cultural, social, and economic production from places like the North End.
What is required then, is place making, which is in itself its own kind of revolution. That's kind of how I feel meeting Reshounn Foster, her infectious smile and laughter can feel like a little coup d'etat over the tyranny of apathy. She lives over in the North End too, and tells me I can call her Sun. She is a production manager for Sidewalk Detroit, a site-specific performing arts organization. She is also, by turns, a writer, poet, and the director of Hip n Zen in the Northend.
Hip n Zen began, for Sun, as a space where she could heal herself from grief and loss. Here in her home she can discover and engender a little bit of peace through music, dance, bodywork, writing and sharing with others the simple, yet profound revelation that art heals. That art is life.
In case it wasn't already abundantly clear, Sun is aptly nicknamed. She is pretty, with natural hair that has just begun to gray at the temples, and magnetically kind. Walking into her backyard I see people congregating. The yard is small, in one corner is a pile of pallets that serves as a stage, a young woman strums a ukulele. A gentleman sets up a drum set as the bassist flicks and bounces the strings in a quietly funky syncopation.
A couple days before, I was sitting in Sun's front room as we talked and sipped ice water. Her little dog Polo happily rolled around in beams of sunlight playing off the floor. As one of the legacy board members of OAAC, Sun is a huge booster of the area.
"With a lot of the art work around here, it is a claiming of space," Sun says. And this space claiming is important. In the North End these community members have wrought a space where good, resilience and beauty can thrive. Our mainstream, market driven society usually can't or won't provide these kinds of spaces for African Americans.
"I am still learning my history," Sun smiles. "Even though I'm a second generation Detroiter… My own history, hyper local civic history, was not taught in Detroit Public Schools, so my knowledge and wisdom comes intuitively, and also by watching what happened in my hyper local community, which was predominately black. I was burdened that Africanism was not primary in my family. Our family… I was raised to assimilate. I rebelled, apparently."
Relaxing in Sun's back yard, as the band noodled around on their instruments during sound check, she encouraged us to go around and introduce ourselves to the group. I meet a DJ, a skin and body artist, a 'mommy' and children's author, a musician. Not a single person in the group indicates whether they have stated their profession or their passions, and at the moment, I don't think it makes a difference. As I remember sitting around and smiling widely, I recall the music of the band becoming enmeshed with the happy murmur of conversation. I don't remember ever feeling closer to a group of people whose names I can't quite recall.
"Thank you all and welcome home," Says Sun, addressing the group. She talks about the importance of the music, how it brings us all together. After all, "Your life is a rhythm," She says. "The first instrument you play is the beat of your heart."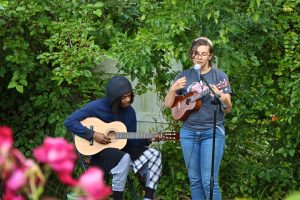 Dan B. Jones lives, works and observes in the city of Detroit and still calls it the "Cass Corridor" thank you very much. He also likes the word succulent.