Let me tell you about a filmmaker who exhibits the criminal environs seen in Scorsese films with the visual precision/acumen of Stanley Kubrick. He has even used longtime Kubrick collaborator Larry Smith as DP for Only God Forgives. And, while he has been making films for over 20 years, Nicolas Winding Refn remains a bit of an enigma to mainstream audiences, as well as the Hollywood film industry.
Since arriving on the mainstream cinematic scene, NWR (Danish filmmaker Nicolas Winding Refn's self-given moniker) has shown to be a director-provocateur, unafraid to delve into realms which involve unrelenting violence.
His no-holds barred cinema makes him a filmmaker assured to attract viewers open to darker, more edgy explorations of masculinity, criminality, and violence. NWR's body of work has exhibited "grindhouse" sensibilities toward story, characters, and the human psyche. 
The Kubrick influenced filmmaker unabashedly explores boundaries and transgressive worlds through societal violence, which is particularly evident in America today – outsiders on the edge of ethical or moral codes of conduct. The dark psyche of the human soul.
NWR's continued journeys of blood-soaked worlds are connected by existential journeys of self, society, and identity. These esoteric worlds and idiosyncratic characters and dialogue allow direct, postmodern, cinematic interjections. While much has been mentioned regarding NWR's fetishized environments the underrated philosophical core found in most Refn films is cerebral bedrock. The 3 Rs – Revenge, Retribution, Redemption – are identifiable themes throughout his work.
Like the characters found in Akira Kurosawa and Sergio Leone anti-hero sagas, NWR's characters live by certain codes. And, much like Alfred Hitchcock and Kubrick, these characters are usually directed by neuroses, obsessions and compulsions -characters often lost on journeys of self realization and self identity; commodifying their lives based upon good or bad deeds and actions. 
The masculinity in Refn movies project and characterize the byproduct of frustrations associated with identity and society – often, leaving characters questioning who or what they are, either personally and professionally. Duality and dialectical oppositions are common traits. The feminine and the Freudian are common.
Frequently, who these characters would like to be, rather than who they actually are, propel the protagonist into action. Violent action. This is where NWR often inserts these conflicting moral-ethical codes. The filmmaker has identified the pervasive climate of violence both on a Global scale and as an American microcosm. Violence becomes a conduit for exploration of human fallibility and foibles within interpersonal relationships, psychology, philosophy, and morality – even within fate and destiny – by those whose aims are to control fate and destiny.
There is an ethical paradox for viewers of films and filmmakers who deal with controversial, violent and/or sexual, or transgressive material. Many viewers are drawn by voyeur-scopophilia and repulsion-fascination polarities. 
When the word auteur is thrown about, NWR's non-formulaic, singular fingerprint, and seemingly style over substance filmworks certainly exhibit the voice of an auteur. 
There are other filmmakers, past and present, directing contemporaries, whose body of works are essentially a treatise on violence: Tarantino, Cronenberg, Lynch, Chan-wook, Peckinpah, Woo, Noe, and, surprisingly, Kubrick.
When watching an NWR film, one senses the filmmaker's obvious love of lesser known and respected "Giallo" and "Grindcore" cinema, which becomes endearing as his stories unfold. 
The director has formed on-screen connections with actors Mads Mikkelsen (3 films together) and Ryan Gosling (2 films together). While Drive has the most acclaim many start with the raw and energetic, Pusher Trilogy. All are worth viewing.
The recently released Too Old Too Die Young (2019) is a slow burn, but riveting and nihilistic to the core. The series has a luridness and strangeness some understandably compare to David Lynch's work. Unlike some other Refn films, the Amazon series TOTDY contains palpable social, political, sexual, ethnic, and gender issues, which layer the crime drama with a topical yet shockingly alarming edge.
NWR's brand of cinema, as Justin Vicari (author of the definitive book on NWR, 'Nicolas Winding Refn and the Violence of Art – A Critical Study of the Films') has noted, is "an odyssey to the ends of the earth that becomes a spiritual voyage."
Refn Streaming options:
Pusher Trilogy (free on Tubi, Hoopla, Pluto TV; available on most others for rent/buy)
Bronson (free on Tubi, Roku, Pluto TV, Hoopla)
Fear X (Prime Video)
Valhalla Rising (available for rent/buy on Apple TV, Google Play, YouTube, Amazon)
Drive (free on Netflix and Pluto TV; available on most others for rent/buy)
Only God Forgives (free on Tubi, Pluto TV; available on Apple TV, Fandango Now, Vudu)
The Neon Demon (free on Amazon Prime Video, Hoopla; available on Google Play, YouTube, Fandango Now, Vudu, Flix Fling)
TOTDY (10 episodes – Amazon Prime Video)
My Life Directed by Nicolas Winding Refn (available for rent/buy on Apple TV, Google Play, YouTube, Vudu)
_________________________________________________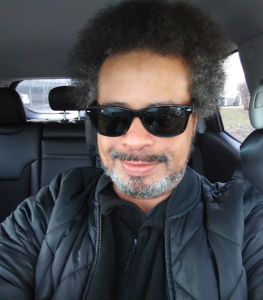 A philosopher with a camera, a Mont Blanc, and a laptop. Taught by the likes of Godard, Eisenstein, Welles, Scorsese and Lee, Julian Boyance is a filmmaker/blogger/film instructor hailing from Metro Detroit, whose cinematic journey traverses both academia, production, and beyond. Facebook administrator for the Nicolas Winding Refn Appreciation Society fan page, his social media footprint can be found here: Twitter/Instagram: @godardfan Youtube: Godardfan Tumblr: Godardfanforever