Travel
THE GREAT OUTDOORS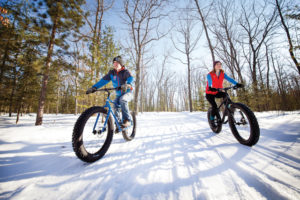 By Mike Norton
Vasa Pathway | Multiple Use Trail
A 15K multiple-use trail system – created particularly with fat tire bike riders in mind – has been created in the heart of Traverse City's popular Vasa Pathway. The new groomed trail, which includes entirely new routes as well as portions of existing single-track trails, was designed by a coalition of skiers and cyclists so that both groups can enjoy the pathway and avoid unnecessary conflicts. Located east of Traverse City in the Acme area, the system is home to the annual North American Vasa Festival of Races each February.
The Old Mission Snowshoe, Wine & Brew Trail
Three enterprises in the heart of the Old Mission Peninsula – Jolly Pumpkin Brewery, Brys Estate Vineyards and Bowers Harbor Vineyards – have devised a snowshoe trail that allows winter visitors to enjoy wine, craft brew beers and a good hike. Snowshoers enjoy special pricing on tastings, wine and beer by the glass, and lunch at Jolly Pumpkin. The flagged trail starts at the high point of the Peninsula and works its way downhill, so it's not too much of a strain, and participants who want to buy bottles or cases along the way can have their purchases delivered to the finish line for free. No reservations are required. Participants simply check in at the Jolly Pumpkin at 10:45 a.m. to catch the Brew Bus shuttle to the starting point at Brys Estate.
Mt. Holiday
Even non-skiers can enjoy some great views and thrills at Traverse City's Mt. Holiday ski area this year. Mt. Holiday's new 10-station zipline is now open, offering two-hour tours. The zipline features more than 4,000 feet of cable and is open weekly Wednesday through Sunday. Reservations are required.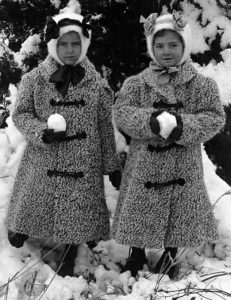 Village at Grand Traverse Commons Guided Bus Tours
The Village at Grand Traverse Commons has adapted its wildly popular Guided Historic Building and Tunnel Tours for visitors with mobility or schedule limitations by inaugurating 30-minute bus tours that offer an information-packed ride through the history, architecture and beauty of the former state asylum and its campus. The tours include narrated drives past the quarter-mile expanse of Building 50, the Historic Barns, the new Northwest Michigan Botanic Garden and the Historic Arboretum, one of the largest collections of unique trees in the state. Cost is $5 per person.
Pop Up Snowball Fights
The fine folks of Traverse City love a good snowball fight. So, keep your eyes and ears open for "Pop Up Snowball Fights", which can begin anytime or anywhere, with Snow Ballers particularly keen on pegging out-of-towners sporting the English "D".
BOUTIQUES | SHOPPING
Hatlem Churchill | 101 N. Park Street
Megan Crandall has opened a pop-up clothing store for men and women right next door to Grand Traverse Pie Company, in downtown Traverse City. Hatlem Churchill – the maiden names of Crandall's grandmothers – offers "updated classics for men and women," with clothing lines including Vineyard Vines, johnnie-O, Gretchen Scott, Kiel James Patrick and Holebrook of Sweden. Crandall says, "the shop offers a range of price points, from $40 dresses to $240 sweaters".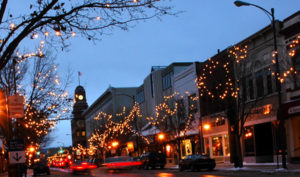 Suhm-Thing | 153 E. Front
Opened by Michael Collins and David Zawicki, Suhm-Thing is a gift and home accessories store, "with an urban flair". Collins, who grew up in northern Michigan, describes the shop's wares as "unique, 'small batch' items, along with a few bigger lines and an ever-changing, fresh inventory".
retail storefront | 157 E Front
Two doors down from Suhm-Thing, designer Yana Dee has opened her eponymous retail storefront, the former location of Red Hare Tack & Togs, specializing in women's and children's clothing and accessories, all handmade by Yana, using organic and salvaged materials.
Liana's | The Village at Grand Traverse Commons
Darla Stites, owner of What To Wear, on Front Street, is now offering yoga clothing, as well as women's fashions and children's wear, at her new shop, Liana's.