During the 90s Golden Indie era, UK social realism dramas, which harken back to the "Kitchen sink dramas" of the 50s/60s, constantly captured my attention. Filmmakers like Ken Loach, Michael Winterbottom, Mike Figgis, and Mike Leigh were talented UK directors, winning acclaim globally, with films like Under the Skin (1997) and Naked (1993) earning praise. It's been awhile since British filmmakers grabbed me like that; until I discovered Andrea Arnold.
Critical acclaim should never be the sole indicator of a director or the gauge for entertainment quality of their films. But, a filmmaker who has won the esteemed Jury Prize at Cannes Film Festival with three of her first four feature films – Red Road (2006) Fish Tank (2010) American Honey (2016) – and a live-action Academy Award for shorts is clearly skilled with story, camera, and actors. 
Even with positive critical response and the Cannes award, Red Road's tepid theatrical distribution (just before the streaming explosion) limited the film's audience and awareness. It still is not very well known, which, is fine, since the film's unobtrusive and insular quality is not suited for everyone's cinematic taste. But, for those interested in personal cinema and a filmmaker who has a rare visual eye for naturalism, realism, and painterly compositions, Andrea Arnold demands to be seen.
With a penetrating camera and untethered/loose compositions Andrea is a breath of fresh air, relative to contemporary American filmmakers honed on "calling card"/flashy camerawork, three-act structure, and Tarantino-esque films (which, I love by the way). Part of the reason Arnold may be lesser known in U.S. mainstream circles is because she maintains a U.K. rather than Hollywood/LA base. Although, prior to recent success, Arnold studied in the U.S. during the 1990s at the American Film Institute Conservatory.
"I always aim to get under the belly of a place." ~ Andrea Arnold
Proving and testing her universal storytelling and directorial skills, Arnold has ventured into the American film industry with the feature film, American Honey and season 2 of the HBO series, Big Little Lies. Writer-directors Arnold and Amma Assante (Belle, A United Kingdom, A Way of Life) show the bright, talented and assured contemporary UK filmmakers producing notable and powerful cinematic tales of culture, society, and identity.
While Red Road is emphatically impressive as character and social study, American Honey is without a doubt, one of the best Road pictures of the last 30 years, capturing a slice of American life and subculture with a precise eye and a skill at using non-professional actors, as noted in critical circles regarding the wonderful find in lead character, Star (Sasha Lane).
Skill working with non-professional actors is a special talent. Respect to filmmakers apt and willing to cast them. Sergei Eisenstein, Pier Paolo Pasolini, and John Cassavetes often used non-professional actors. Something Arnold has been a proponent of on most of her feature films.
American Honey wonderfully connects Star's alienation and isolation, but, also, her need to emotionally connect. With a loose narrative style, multiple characters, and driven by its source music, hip-hop millennial soundtrack, the film is consistently stimulating despite the unusual lengthy running time of just over two and a half hours. Still, if you haven't seen anything by Andrea Arnold, American Honey is the perfect place to start.
Streaming options:
Transparent (directed episodes in season 2-4, available free on Amazon Prime Video)
Wasp (26minutes, free on The Criterion Channel)
Red Road  (available free on The Criterion Channel, Popcornflix)
Fish Tank (available free on The Criterion Channel; available rent/buy on Amazon, Google Play, YouTube, Apple TV, Microsoft)
Wuthering Heights (available free on Hoopla, Vudu Free, Kanopy, Crackle, Sundance Now, Popcornflix; available on Amazon, Google Play, YouTube, Vudu, Microsoft, Apple TV)
American Honey (available free on Netflix, Hoopla, Kanopy; available on Redbox, Amazon, Vudu, Apple TV, Google Play, YouTube, Fandango Now, DirecTV, Microsoft)
Big Little Lies (season 2 available free on HBO platforms and DirecTV; available on Apple TV, Amazon, Google Play Fandango Now, Vudu, Microsoft)
________________________________________________________________________________________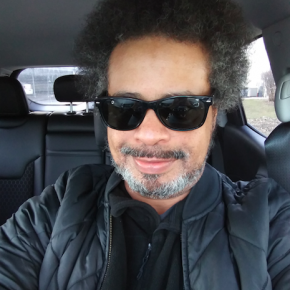 A philosopher with a camera, a Mont Blanc, and a laptop. Taught by the likes of Godard, Eisenstein, Welles, Scorsese and Lee, Julian Boyance is a filmmaker/blogger/film instructor hailing from Metro Detroit, whose cinematic journey traverses both academia, production, and beyond. Facebook administrator for the Nicolas Winding Refn Appreciation Society fan page, his social media footprint can be found here: Twitter/Instagram: @godardfan Youtube: Godardfan Tumblr: Godardfanforever