The Marigold Project, created by Detroit-based sculptor and founder of anhelo anhelo, alexandra virginia martin, in association with Richard Gage Design Studio in Hazel Park, is a community-based project that revolves around the growing and cultivation of the symbolic Marigold.
The project began in May of this year and has since come to include over two hundred residents throughout Metro Detroit as well as local businesses, farms, schools and community gardens.
Each participant has received a packet of seeds to plant and later be harvested for an immersive public art installation (October 23-24th) and an accompanying publication of writing and visual art inspired by the experience of cultivating Marigolds.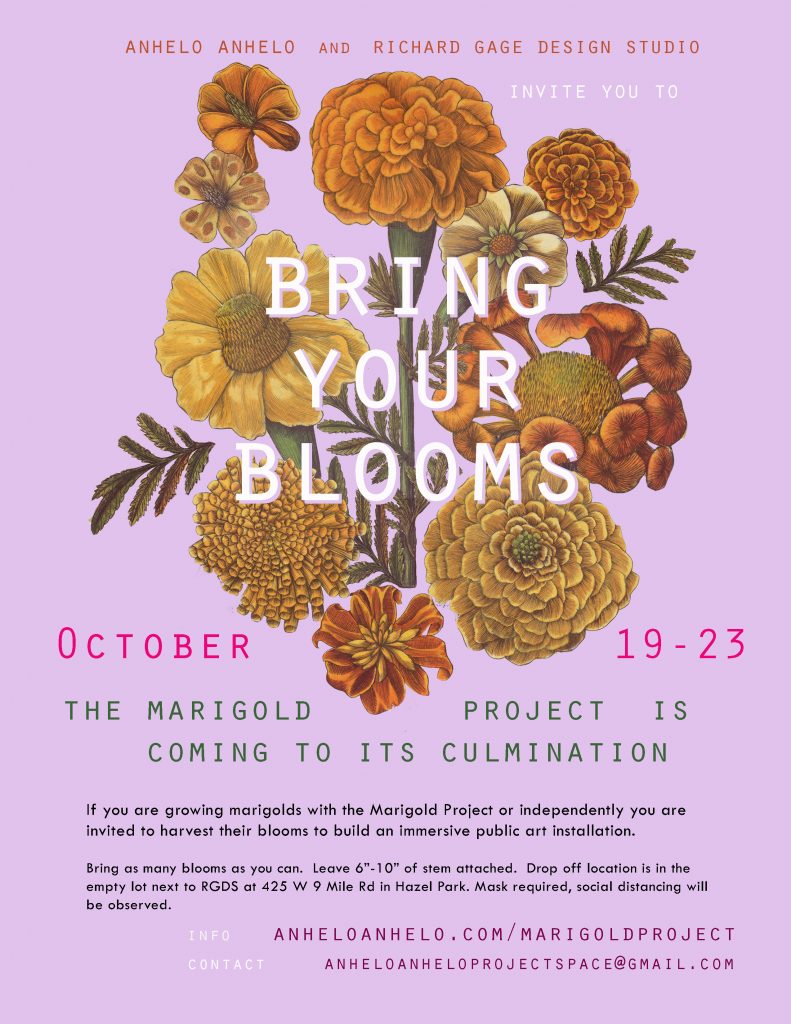 "Marigolds are symbols of grief, despair, anxiety, jealousy, energy, beauty, affection, auspiciousness, sacred rituals, weddings and funerals"
~ The Language of Flowers, Jane Holloway
Gala is at Ideation Orange
420 W 9 Mile Rd, Hazel Park, MI 48030
The Public Opening is next to
425 W 9 Mile Rd, Hazel Park, MI 48030
(in the empty lot between 407 and 425 W 9 Mile)
www.anheloanhelo.com/marigoldproject
The Language of Flowers, Jane Holloway Ed. Everyman's Library Pocket Poets, Knopf, NY 2017.