TOSCA | RETURNS TO THE DETROIT OPERA HOUSE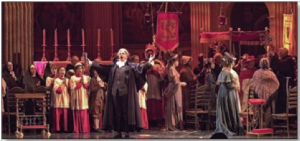 By Gay Paris
With more political intrigue, romance, and thrill than the Bourne Identity or Dan Brown's Da Vinci Code, Puccini's Tosca is one of opera's most exciting and dramatic works. An intense romantic thriller, Tosca is a tale of obsessive love, manipulation and betrayal. The ravishing diva Tosca finds herself torn between her lover, the painter Mario Cavaradossi, and the villainous chief of police, Baron Scarpia. In an attempt to bend Tosca to his will, the Baron suggests that Tosca give herself to him in exchange for her lover's life – the Scoundrel! The plot ensues with jaw dropping twists and a declaration of vengeance that is vowed to continue far beyond the grave.
Tosca contains some of the most dramatic of Puccini's famous music, including "Recondita armonia", "Te Deum", "Vissi, d'arte, vissi d'amore" and "Ecco un artista!"
An opera in three acts with Italian libretto by Luigi Illica and Giuseppe Giacosa, Tosca is based on French playwright, Victorien Sardou's drama "La Tosca" and remains one of the world's most popular operas.
The role of Floria Tosca will be alternately performed by Mary Elizebeth Williams (15,22) who returns after making her MOT debut in 2008, as Cilla in Margaret Garner, and Tiziana Caruso (19, 21, 23) who also returns after her 2008 debut as Magda in La Rondine.
The role of Mario Cavaradossi will be alternately performed by Antonello Palombi (15, 19, 22) and Noah Stewart (21, 23), both of whom are returning to Michigan Opera Theatre.
Conducting Puccini's score is Italian maestro Giuliano Carella. French stage director Bernard Uzan returns to stage Tosca after collaborating as a librettist and stage director for David DiChiera's world premiere of Cyrano in 2007.
The opera will be sun in Italian, with English subtitles projected over the stage, which is fine with me because I have always found Italian to be the most sensuous language to the ear. Ciao Bella boys!
May 15 – May 23
Detroit Opera House, 1526 Broadway, Detroit 313-237-SING, www.MichiganOpera.org.