TOUR d'Etroit
By Anthony Brancaleone
 This city loves a parade, and over the next several weeks Detroit is offering a few beauties – the 57th Detroit St. Patrick's Parade, Marche du Nain Rouge, and the 14th Annual Greek Independence Day Parade. The Metropolitan has compiled the world's first ever Parade & Food Pairings list to help readers navigate each of these end of winter celebrations.
March 15 | The 57th Detroit St. Patrick's Parade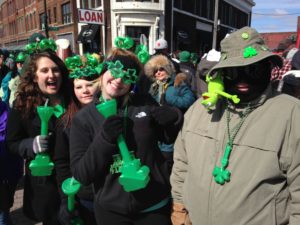 Parade | Beginning just before noon, thousands of Detroiter's – and lover's of all things Irish – will descend upon Michigan Avenue, Corktown, the oldest surviving neighborhood in the city, named after County Cork, Ireland, for one of the finest St. Patrick's Day Parades in the world. Detroitstpatricksparade.com
Food | Plenty of good food in the area including, St. CeCe's Pub, which will certainly be offering its Reuben Sandwich; Nemo's Bar, which is sure to be packed with those hungry for corned beef and beer; and, Nancy Whiskey, founded in 1902 and known for its St. Patrick's before, during and after parties, will be operating in top form on this day. Urban legend has it, that on one St Patrick's Day past, the owner of NW rode his horse right through the pub, circa 1970s.
Met Tip | Beat the crowd an check out Hygrade Deli, just west of the parade route on US12, for finely made Reuben Sandwiches and Corned Beef Hash. 3640 Michigan Ave 313. 894. 6620
March 22 | Marche du Nain Rouge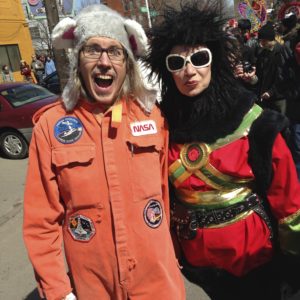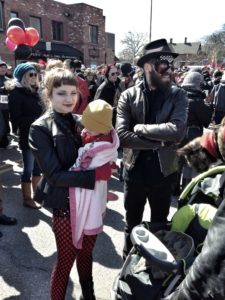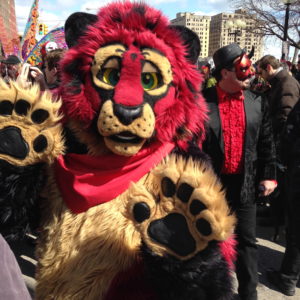 Parade | Appear at Traffic Jam and Snug at 1pm on March 22, dressed in your best masquerade, and partake in the unique experience of marching through the streets of Detroit in Marche du Nain Rouge. Other than Brazil's Carnival, or the New Orleans Mardi Gras, there really is no parade like it in the country. Revelers gather, eat, drink, dance, scream, and yell in hopes of frightening the legendary Nain Rouge from bringing bad luck to Detroit – MarcheduNainRouge.com
Food | Of course, the Traffic Jam and Snug will be serving its made-from-scratch dishes to a hungry and festive audience. Established in 1965, the restaurant bakes its own bread, pies and pastry, makes it own award-winning cheese, and in 1992 became the first brewpub in the state. The Met predicts that plenty of pilsner and porter will be poured during Nain Rouge. For food, however, The Met suggests the Blazing Redfish Filet [sandwich], the Carolina Crab Cakes, or the Londontown Fish and Chips. Trafficjamdetroit.com – 313. 831. 9470
Met Tip | Along the Parade route keep your eye open for La Feria Spanish Tapas. Although, not usually open on Sunday, La Feria was serving tapas, sangria, cocktails and its chocolate con churros last year! LaFeriaDetroit.com – 313. 285. 9081
April 19 | 14th Annual Greek Independence Day Parade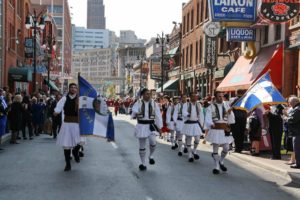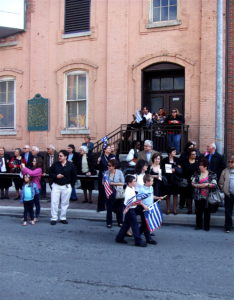 Parade | Beginning on Sunday at 3pm, in Detroit's historic Greektown, is the Greek Independence Day Parade; a celebration of Freedom. Expect Greek music, dancing, marching bands, traditional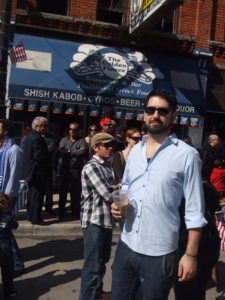 costumes, and even a little Ouzo, if you're lucky!
Food | Pegasus Taverna has been lighting fire and yelling "Opa!" before Greektown Casino was a twinkle in your daddy's eye. Always, order the Saganaki. Add Saganaki Loukaneko (spiced, flamed sausage). Get a glass of Greek wine. Follow with a lamb dish, and make sure to get the peas in red sauce. Then, walk right across the street to Astoria Pastry Shop and choose something wonderful. PegasusTavernas.com | Astoriapastryshop.com
Met Tip | Of course, the oldest running restaurant in Greektown is Golden Fleece – family owned since 1971, and serving the best Gyro and Shish Kebob in the city. Locals enjoy this neighborhood joint for its good food, vintage interior, and hours of operation. 313. 962. 7093