Parking Issues
Is Parkdetroit Big Brother?
By Marquis d'Etroit
Recently, the City of Detroit installed a 3.5 million dollar parking pay system called ParkDetroit. This new system divides the city into three "zones" for parking rather than dedicating a space to individual vehicles. The current rates for using the kiosk are $1 per hour in neighborhoods, $1.50 per hour in Midtown and Eastern Market District, and $2 per hour for downtown.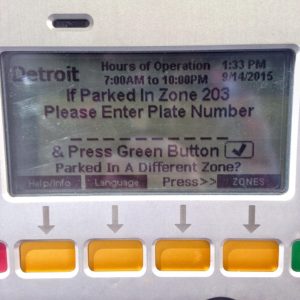 Detroit's chief operating officer, Gary Brown, explained in a news conference over the summer that, "ParkDetroit is a complete overhaul of the parking system. It comes with a free mobile app. Features include: payment for parking prior to exiting vehicle; Text alerts 10 minutes prior to expiring parking sessions; The ability to extend parking sessions; and logging of electronic parking receipts." The system also allows for driver's to move from one part of a zone to another.
However, the ParkDetroit system also requires a one hour minimum, which many consider an additional tax on the citizen. There is also a 15-cent "convenience fee" applied to every transaction. Further, the kiosk requires all drivers to enter their license plate number in order to park their vehicle.
When utilizing ParkDetroit, citizen's data is sent to a centralized hub, where agents can track a driver's parking record – including outstanding tickets – duration of stay and, presumably, begin building a database of each driver's visiting habits based on the aggregate information that person has logged.
The Metropolitan posted this information on its facebook in September, and was perhaps not too surprised to see others doing the same. Detroiter, Nicole Helegda posted the following, "Yo Detroit, if you have Detroit unpaid tickets DO NOT PARK AT THE NEW METERS!!! They will find your car when you enter your license plate and tow that shit."
No word yet on the cost to the city for the previous electronic system that was also supposed to be more efficient than coin operated machines. But, according to estimates from ex-emergency manager Kevin Orr's office, nearly 50% of the over 3,400 previous parking meters were not functioning when they decided to scrap them.
Citizen's were still receiving tickets, however, and had to fight the city in order to overturn $45 fees – $95 if not paid on time. Many found it more efficient to simply pay the fee rather than fight the system. By visiting ParkDetroit.us, citizens are now able to pay or contest parking tickets online. The site also allows for the upload of pictures to assist in your case.
Didn't anyone see RoboCop?