Dan B. Jones
Seventy three year old Roderick Park has been gracing Detroit's North End with his family's namesake— Parks Old Style Bar-B-Q— for fifty-two years. Sitting quietly at 7444 Beaubien, the off white building, with its faded yellow awning, is for some a place that might not command much attention. Look again though. The grimy metal smoke stack that rises high above this humble little building is a hint that there may be more to this place than meets the eye.
Lets go back a little bit. In 1963 Detroit had, maybe, one and half million individuals. This was the tail end of the "Great Migration" of African Americans' movement away from the south. Over the course of forty years about six million southern Blacks moved away from the south. The population shifted into the great cities of the north, where better wages in manufacturing helped forge a Black middle class. These men and women worked hard and they were hungry for the flavors of the south: greens, pork ribs and southern style sauces.
So, there was once this place called Young's Barbeque over on Chene. They were one of the best. One young man who worked over at Young's, he went by the name of Park, worked hard, paid attention and by 1963 figured it was time to strike out on his own. He started Park's with the help of his wife and son Roderick. Young's isn't around anymore, but clearly there was no bad blood. In fact a signed picture of one of the Young children sits on the wall over the counter at Park's. Mayor Coleman Young ate here, that should be good enough for you.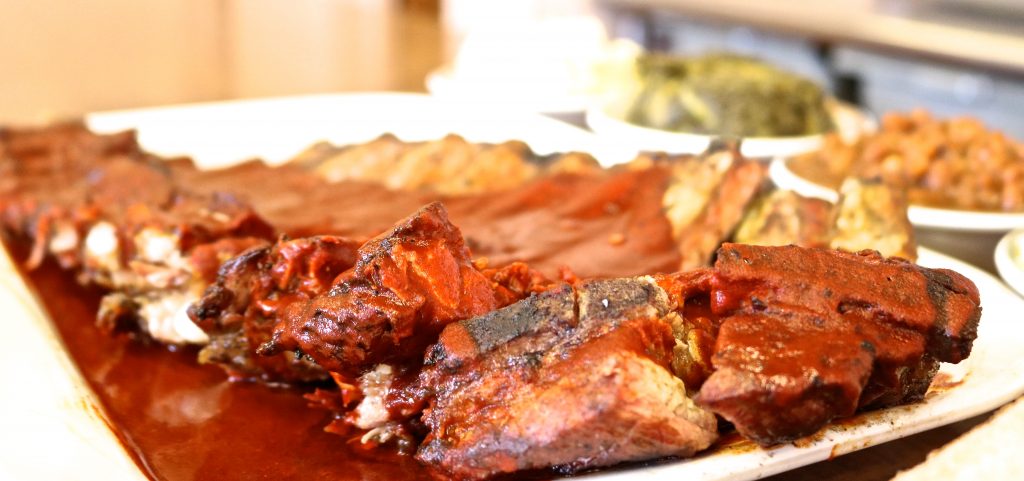 Park's features a spare menu and very limited seating. Please don't take that as a complaint. Mr. Park sure wouldn't. You know what you're getting when you walk into this place. You're either getting the ribs or you're getting the chicken. Get some slaw or maybe some potato salad. Oh, or the greens, definitely don't skip the greens.
"We are what we are," Says Mr. Park. "We're not a full service restaurant, and we're not a soul food restaurant. We're a barbeque joint." As Park leads Francis and I into the back this reads as a strength. We turn a corner and are belted in the face by a wave of heat. It takes a moment for my eyes to adjust to the dark and sooty atmosphere and to recognize what I'm looking at.
"When we built the building, it was built right in," Park says, gesturing towards the tile and heat-bricked wall. Roderick's son Chris works in this back room where he stokes this massive wood and charcoal barbeque pit; with huge iron doors and fixtures of the sort you don't really see any more.
"That pit is 14 feet high 10 feet wide and 66 inches deep," Park intones plaintively. Francis and I are agog as we catch glimpses of pork and chicken sputtering beautifully over the glowing bed of coals. "Yeah, we probably sell 2000 pounds of ribs a week." I whistle appreciatively.
Looking around the interior of the front of house is less impressive. The fixtures haven't changed, probably since the sixties. The tables are a bit worn out. You shouldn't expect table service and the linoleum has seen better days, but that's not the point. The chicken and the ribs are great in an unassuming way. They aren't dry rubbed or overly prepared they are simply grilled. The meat is tender and borrows some character from the lump charcoal. The sauce; I scarcely am exaggerating when I say, you could drink straight from a juice glass.
The beauty of Park's Bar-B-Q is in its history and its simplicity. They don't have to fake it. Like a talented artist, they make the whole thing look easy, but you and I weren't around for the endless hours of practice borne from their single-minded commitment. This can seem missing in parts of the city now a days. With Midtown Detroit Inc. knocking on the door of the North End it bears remembering that respect ought to be earned through quality and a demonstrated commitment to a community, it's not a welcome gift or a wedding present. Park's has weathered some of the harshest changes any city in North America has ever undergone, and they're still standing.
Some newer restaurants that serve barbeque have opened to major acclaim in the last five to ten years. They will remain unnamed in this article. In any case, these places make fine food, but that's not the point, "…they're not barbeque joints," Mr. Park says quite seriously. "They are bars that happen to sell barbeque… We grill like you would if you were at home."
Not to say all change is bad. New development has its major upsides, obviously, an influx of new customers and improvements in public safety to name a couple. Mr. Park is on the front lines to some of these changes. He laughed when I asked him about it, "…Yeah, I do see more white people in the neighborhood. There was a time I wouldn't walk down John R after dark and now…"
"You see guys like me riding their bikes down the street?" I say.
"Yeah," he chuckles appreciatively.
At this point the food comes out. "Oh my goodness," I hear my self enthuse. And with a slight *click* I turn off my voice recorder.
Dan B. Jones lives, works and observes in the city of Detroit and still calls it the "Cass Corridor" thank you very much.