Caroline Aaron has been on stage and screen for most of her life, playing in films directed by Woody Allen (Alice, Crimes & Misdemeanors, Husbands & Wives), Tim Burton (Edward Scissorshands), and Mike Nichols' (Working Girl). Aaron has played in some of television's most iconic series including, Sex in the City, Frasier, and Curb Your Enthusiasm. But, I think it's fair to say the actor has never been as hot as she is now with her portrayal of Shirley Maisel in The Marvelous Mrs. Maisel.
Anthony Brancaleone: Good morning, Caroline.
Caroline Aaron: Good morning, Anthony! And, thank you for doing this with me. You know, before we begin I just want to say how much I love Detroit. I spent some time there when some friends of ours worked with the Palace of Auburn Hills. Detroit has always been a town that has put in the effort. It is always trying.
AB: Is that so? You know, I used to date a girl in the 90s whose family was involved with the Pistons and the Palace – she was really quite wonderful.
CA: Well, I can already tell we're going to have a lot to talk about.
AB: My coffee is ready… are you a coffee drinker, or do you prefer tea?
CA: I'm a coffee person. Consume a lot of coffee. We have an espresso machine. I Love the ritual.
And, just like that, Caroline welcomes us into her world as if we're sitting in her living room. As any YouTube interview with the actor will show, Aaron is effervescent; possessing a distinct and delightfully raspy voice. This, of course, is part of the charm Caroline brings to her character, 'Shirley Maisel' – Joel's enigmatic Jewish mother who hails from the Upper West Side. A modern matriarch, Shirley stands firm as a pillar of support for the family and her grandchildren, despite her occasional hijinks (a word I rarely use but is aptly applied here).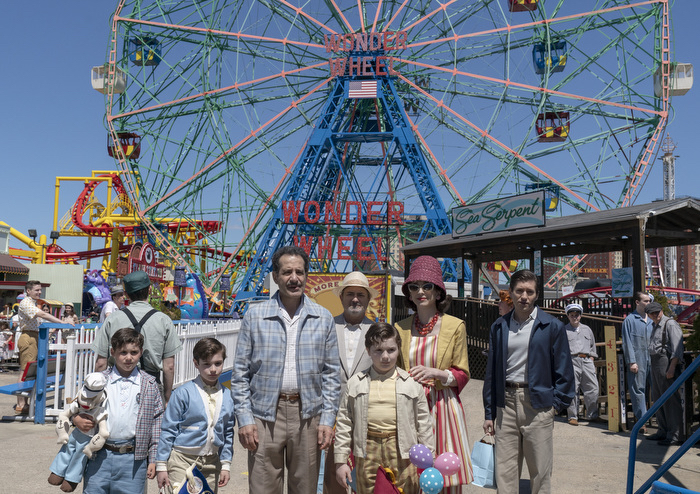 AB: The Wonder Wheel scene in S4E1 was brilliant. Quite honestly, one of the finest scenes in this format. The shooting of that sequence was brilliant. It's theater, shot cinematically. How much was handled on location and what portion was in-studio?
CA: I believe this series will go down in history, in terms of quality. I've never seen anything like it. They shot that scene during pandemic season, which was difficult. We kept postponing. We shot Coney Island in June, I think. Shot the Wonder Wheel in 2 huge sound stages. They built a replica of the cars, and everything. There was a huge platform that stood like 20 ft in air and we stood on the platform. One by One we took turns. And, I think that began in March. Fast forward to June and they shot it all again. So, we were at Coney Island for two days. Amy Sherman Pallidino (creator, writer, director, producer) has a theatre background. The show is not reality but a heightened sense of reality, like on the stage. Amy says the series is like a musical. And, the actors hear the music in her writing.
AB: How did the cast and crew feel about it when the scene wrapped? Did you know you had something special at that point?
CA: I Didn't see it until it was finished but we loved it. Every element of the show is above and beyond. They only want the finest from every team.
AB: Near the end of the sequence you are noshing a funnel cake and then you're yelling out to your grandchildren to see if their cakes are "delicious". It's such a funny moment. So well written. I'm curious if the funnel cakes were real?
CA: They were sooo good, and I'd never had one before. So fattening but so delicious.
AB: Of course, the skill level of the actors and writers in this series is exceptional – in fact, I haven't seen anything quite like it since Woody Allen. Is Woody an influence? And, as one who has worked both with Pallidino and Woody, how do their onset styles compare?
CA: One of the ways that they are different is that Woody says, "say whatever you want." – his priority is that you sound human. No artifice. On Maisel we have to be letter perfect – no improvising. In terms of what you're charged with they are very different experiences. In theatre, you're not able to change one word of writing. In film or Tv you can say what you want. Not surprisingly, we are not allowed to change anything on Maisel. A way that they are similar is that Amy very rarely shoots close ups – Woody doesn't shoot close ups; "there are no close ups in life," Woody says.
Q: What is one important lesson you took from working with Woody Allen?
CA: Woody literally taught me this: when I was doing Crimes & Misdemeanors we were at a party scene and Woody says, "the last time I was inside a woman was when I was inside the Statue of Liberty". Well, the cast and crew were both so surprised that they stopped moving. But, Woody wanted movement. He said that in film if everyone stops on a "One Liner" it kills the joke. On stage, stopping adds to the joke. Working with Woody, he just wants everyone to be as authentic as can be. "I don't want the writer to be on stage," he says. Also, Woody doesn't do a lot of coverage. He knows what he needs. I found working with him to be thrilling.
"The thing about acting as a craft is that you can always be better," ~ Caroline Aaron
After studying performing arts at American University in Washington, D.C., Aaron moved to NY and debuted on Broadway in Robert Altman's Come Back to the Five and Dime, Jimmy Dean, Jimmy Dean. The following season, Caroline starred in the back to back Broadway smashes The Iceman Cometh, and I Hate Hamlet.
On the big screen, Caroline built her acting career as a lovable and unforgettable character actress. She made her debut in 1982, again with Robert Altman, in Come Back to the Five and Dime, Jimmy Dean, Jimmy Dean, and has appeared in over a hundred box office hits including, Big Night, Beyond The Sea, Just Like Heaven, Sleepless in Seattle, and 21 & 22 Jump Street.
AB: Woody Allen says of his success that, "it's luck". But, let's face it, it's more than that. Are you able to share one or two pivotal moments in your early training or professional relationships with acting coaches and agents, or perhaps something in your performances, that helped you maintain longevity?
CA: I studied with the great Stella Adler and Uda Hagen at the same time. Marlon Brando studied with Stella Adler. She said the reason Marlon was a great actor is that he didn't play The Godfather like a fallen gangster but a Caesar. Stella was about being spontaneous. Uda asked, "How do you do something eight times a week and keep it spontaneous? Inspiration is an extremely unreliable thing." And, so I learned from those different philosophies. And, then I learned from Jerzy Growtowsi, who was the founder of the Washington Theatre Lab – an experimental theater company set up with Lee Strasberg – and the author of  Towards a Poor Theater – which, was really a seminal book on acting – that one can "Never stop being a beginning actor." And, I think that's great advise; we should all be studying all the time. The thing about acting as a craft is that you can always be better. There's a great documentary on this subject on Netflix called Tea with the Dames. It features Maggie Smith, Judi Dench, Eileen Atkins, and Joan Plowright and it really should be seen.
The Marvelous Mrs. Maisel is about many things – standup comedy, living in NYC in the 1950s, Jewish family life, but the show also tackles important issues such as the role of women during that era. Social justice is something deeply rooted in Aaron's soul, having grown up Jewish in southern Richmond, Virgina.
Caroline's late mother was Nina Friedman Abady; a Selma, Alabama civil rights activist who walked with Martin Luther King Jr. As a child, Caroline endured cross-burnings on her front lawn. Her mother, who worked full time to support three kids, is also her real-life inspiration for playing 'Shirley Maisel' – a liberated woman for the times and full partner in the family business.
AB: I understand your mother was a prominent civil rights activist and that your family endured the burning of a cross on your front lawn: How did she explain the event to you? And, how did your family get through that experience?
CA: My mother was widowed very young. She had to get a job and at that time, because she was both a woman and Jewish, it was very difficult. She finally got one in an all Black university. She was the only woman in law school at the time. Because, she was with Black people in the south she was a target. And, yes, she marched with King. But, the act of a burning cross never discouraged me in terms of people.  She did her best to inform us on what was happening. And, It's our job to find a way to sort through it. It's now particularly challenging times. Today, the south is going backwards.
AB: Does a life in acting – particularly, comedy – work as a remedy to life's challenges?
CA: I worked with Mike Nichols and he directed tragedy like comedy and comedy like tragedy. Life is marbled with both. You have to approach comedy in a deadly serious way. "You never want to wink," Mike would say. It's always good when you're looking for life. What's the deep down experience. If we can do that correctly then it might be a remedy. I think that's one reason we've had so many great Jewish comedians; we use humor to get us through the worst tragedy.
AB: Should the actor be concerned with how their work affects an audience?
CA: I can't imagine being a Stand Up today. It's so terrifying. There's a lot of talk about what's being said, even some controversy over actors performing certain roles in Maisel, and I think we need to get over that. Art should have no agenda.
"Art should have no agenda" ~ Caroline Aaron
AB: As I've said, I think Mrs. Maisel is an iconic series. Everyone involved is spot on. But, if I were looking for a soft spot I'd have to say – perhaps, ironically –  that it's the stand up. While technically well executed, it seems difficult to capture the spontaneity of an audience responding to jokes they've heard for the first time. That, or maybe I don't think The Marvelous Mrs. Maisel is as funny on stage as she thinks she is – do I share a bit of Moishe Maisel's skepticism or is Stand Up just very difficult to recreate?
CA: In terms of Stand Up, it's also period Stand Up, so catching the context is very difficult. Amy and Dan write everything for the show. And, they have a team to keep things accurate. They've licensed all the Lenny Bruce material, for example. But, I agree that it can be difficult to understand context. Still, I think it really works.
AB: Again, I'm nitpicking, because the Stand Up scenes are well executed. I've just found myself comparing the Stand Up's material in an effort to determine what the show wants us to understand about them – but, I think the issue might be that my feelings for Midge Maisel's brand of humor is in step with her [ex] father-in-law.
CA: Played by Kevin Pollack, of course. And, he is very fun to work with. Kevin's been in stand up his whole life. He really knows this world. On the last night in the Catskills – Mrs. Maisel, Season two – they were shooting some scenes with a Stand Up who was representing one of comedians on the circuit in that era. When they were done Kevin stood up and said, "That was a real guy, Georgie Jessel."  He told the cast all about him. Amy Palladino's father was a Stand Up, by the way. He owned the cruise ships.
AB: I've listened to your Angst & Daisies podcast and understand you are very much looking forward to the return of Donald Trump.
CA: (Laughs)
AB: What are your thoughts on 2024 – Biden, Trump, or is it time for someone else?
CA: I don't know who would ever want to run for political office these days. Any thoughts I might have had on the subject have been dashed. We are going backwards in many areas and I don't believe we're discussing the important issues.
AB: What are some of those issues?
CA: Roe vs Wade. Guns. Guns and women. Obviously, I'm a democrat and would very much like to have a woman president in my lifetime. I feel like we really gypped ourselves over Hillary. That's my opinion, anyway.
AB: I think there are many out there who share your opinion. Caroline, it has been a pleasure chatting with you. And, thank you for giving me more time than requested. But, before you go, are you able to share any of your lines from The Marvelous Mrs. Maisel, season 5?
CA: Oh… let me see … let me see … oh, I can't give you any, because I can't remember my lines!
(Writer's Note: "I can't remember my lines." …Good one, Caroline!)