Spring essentials are all about go to items that travel, work day or night, in casual or formal settings, and produce the minimum amount of hassle. They also must wear well and make us feel great. And, while I've found several products that fall under this umbrella, the following are my favorites of the season.
Happy Spring!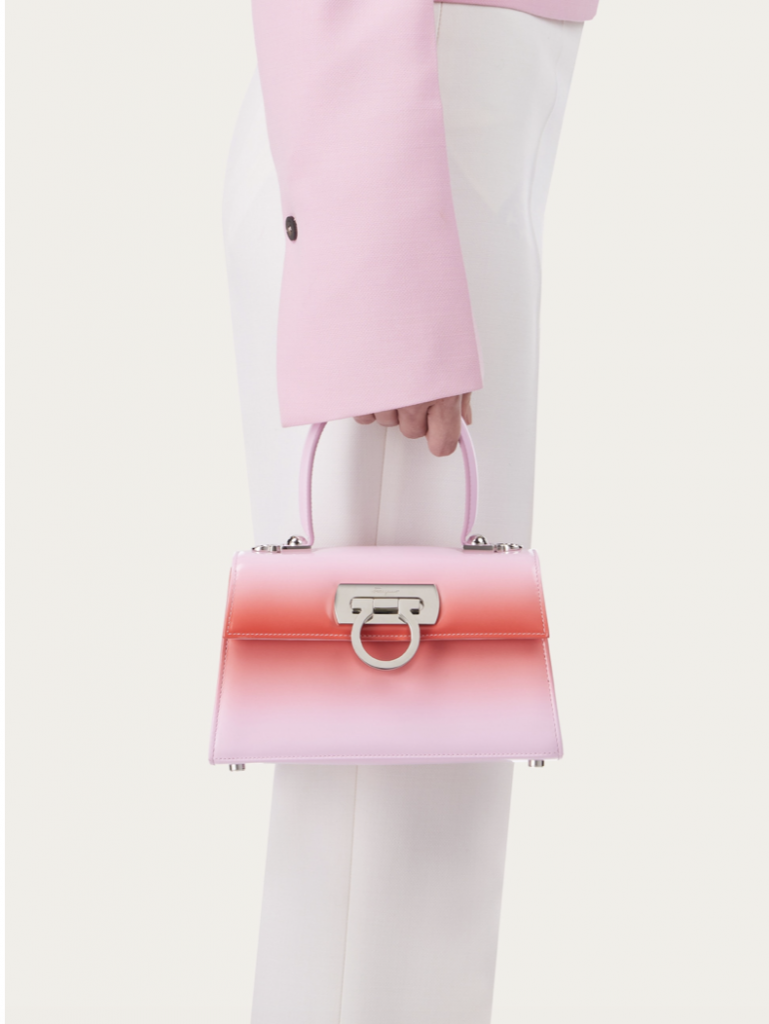 Ferragamo | Iconic Top Handle
Founded in 1927 by Salvatore Ferragamo, the fashion brand is a true pioneer in luxury footwear and accessories. But let's focus on the fabulous
Ferragamo Top Handle handbag
! This beauty combines timeless elegance with modern flair. With its structured silhouette, premium leather, and signature Gancini closure, it's an instant style statement. From Audrey Hepburn to modern fashion icons, the Top Handle has graced the arms of the chicest women worldwide. It's the epitome of sophistication and a must-have for any fashion-savvy individual. Carry it with confidence and make heads turn!
While I'd take Top Handle in all its colors, for SS23 I am loving Bubble Gum. Effervescent, sexy, this calfskin handbag is playfully adorned with hand-crafted two-tone nuanced detailing. It holds a Double compartment, with lined interior and zipped pocket. Works as a hand or crossbody bag, with the detachable strap.
Made in ITALY ~ $2,800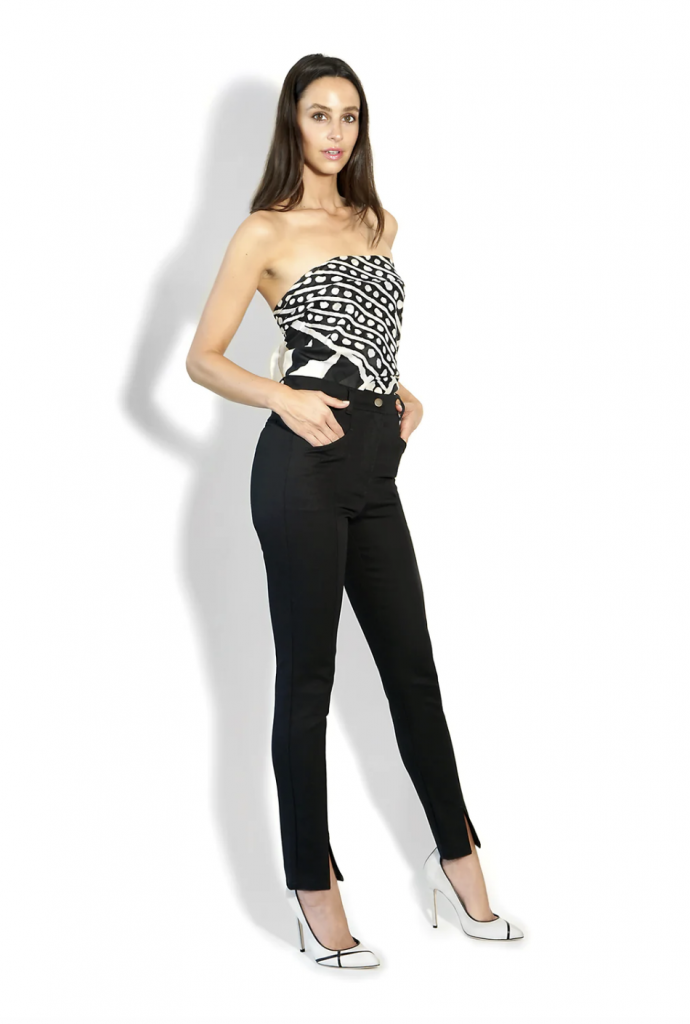 Isabella Kron | Valentina Pant 
According to designer, Isabella Kron the Valentina is her version of a "Chino" Pant. It is the perfect pant to pack for a trip; being versatile, both formal or casual, with a simple change of shoe. And, I would have to agree.
Valentina feels similar to a stretch denim – made from 97% Cotton 3% Elastane – and is a joy to wear. So comfortable, Isabella"s "Chino" moves with every bend. Technically, Valentina is a high-waisted, split-front, Cigarette Pant; with a very sexy split that shows off your heels, as well as the slightest bit of skin at the ankle. Not too heavy, not too thin, the pant is durable enough for travel, works well in professional settings, all the way through evening cocktails. And, while I include Valentina in our spring essentials, I actually think it wears well year round.
Providing a form fitting, feminine silhouette, mine pulled on perfectly first try. Immediately, Valentina felt as if they were tailored to my body; which, is unusual when ordering pants online. All the pleats, darts, pockets, loops, and hardware came together to form what has become my favorite pant of the season. Oh, and Isabella keeps her sophisticated tag tucked neatly inside; as to avoid taking away from the aesthetic. She really nailed it with this garment. Isabella Kron's Valentina combines style, fit, and texture in a versatile package making it an essential spring item.
Made In Italy ~ $325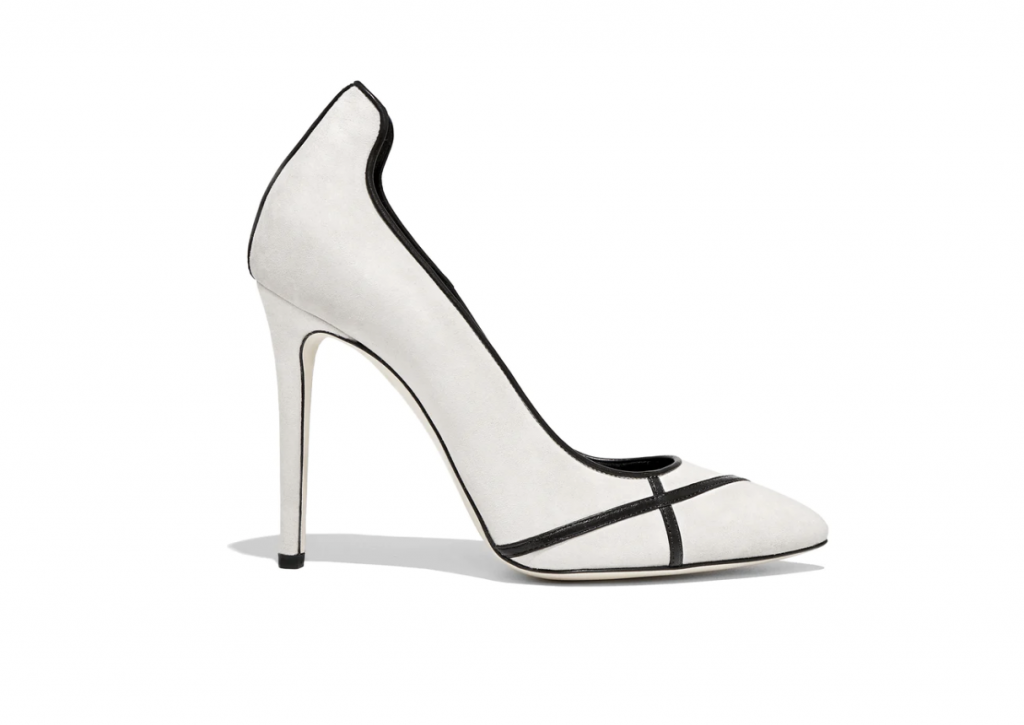 Isabela Kron | Miriam Albatros Off White Suede Pump
With her signature leather straps criss crossing the front of the shoe, Isabela Kron takes the Classic Pump to a whole new level (emphasis on level) with the Miriam Albatros. These babies do wonders for those interested in featuring toned legs and raised bottoms. Wow! In fact, they might be the highest heels I've got going in my closet right now.
With Miriam, designer Kron also reminds us never to underestimate the allure of toe cleavage. These pumps are strong, sleek, and sexy! Made from Albatros off-white suede, with black Napa leather striping, the Miriam really is the perfect shoe to wear with a dress, power suit, or a pair of jeans – obviously, I wear mine with the Valentina (see above) – making them essential footwear for spring and summer. Oh, and I just love the way the black stripe runs up the back of the heels – Ooo la la!
Made in Italy ~ $425
Isabela Kron makes luxury clothing + accessories, ready to wear bags, shoes, scarfs, watches, available online or in their Delray Beach, Florida, location.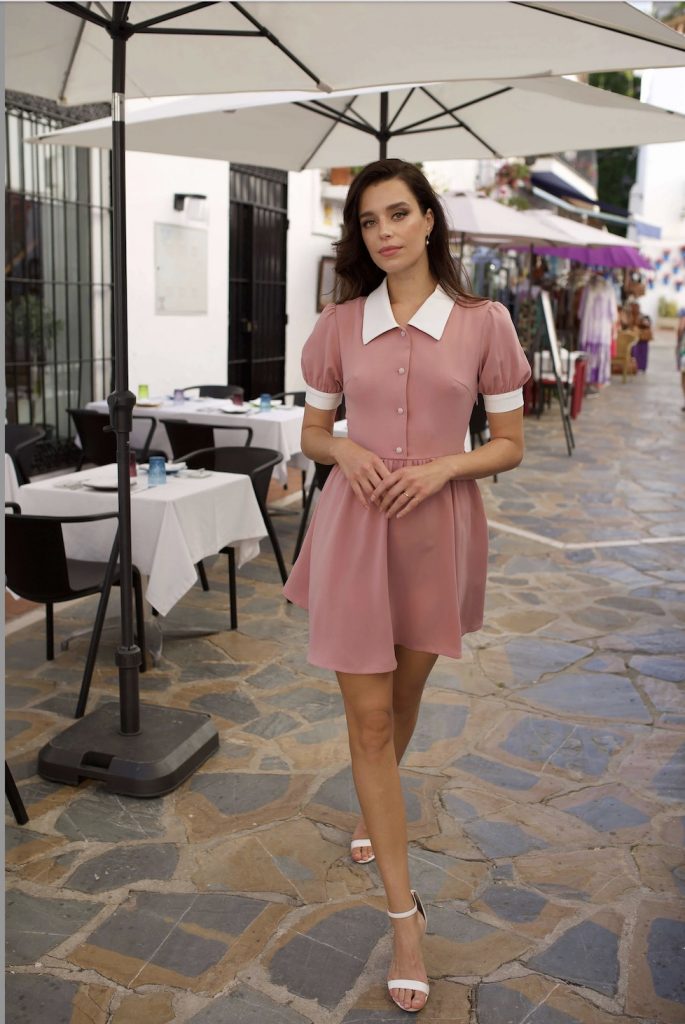 Gaâla | Ginette Dress
Earlier this spring, the original black Ginette – a part of the Gaâla Paris Riviera Rendezvous collection – was so adorable that husband and wife design team, Kelly de Gaalon and Alexander Zhalezka, decided to recreate the popular piece in a limited shade of soft pink!
As a part of Gaâla's newly launched Limited Edition collection, the Ginette in Pink epitomises the brand's zero-waste ethos, ensuring every inch of material is used. Meaning, any offcuts that are leftover from previous collections are repurposed into beautifully unique designs that enthuse Parisian elegance.
The company says the search for fabric fuels its creativity. Most of Gaâla's collections are inspired by the fabrics they rescue. Due to the limited nature of upcycled fabrics, many Gaâla garments are one-of-a-kind. Other pieces made with eco-fabrics may not be as limited, but are nonetheless beautiful, unique, and luxurious.
So, we can feel comfortable indulging our playful side in this charming dress that offers a fresh, girly take on a classic design. The flowy fabric and flirty mini work in transporting me long the Riviera during springtime. And, the soft shade of pink reminds me of fresh peony. Ginette truly is an adorable spring essential that works well in espadrilles, strappy sandals, or flats.
Made by European artisans ~ €260,00
___________________________________________
Featured image | Ginette in black by Gaâla Paris