In my alternative universe, I am lounging in St. Tropez, the quaint coastal town on the French Riviera, in the Provence-Alpes-Côte d' Azur region of southeastern France, where a world renown Italian fashion photographer and a cabana boy are competing for my attention. In my really real world, however, my 21 year old cat, Loki, is biting my two and a half year old son for pulling on his tail. 
In either case, it's wise to be prepared.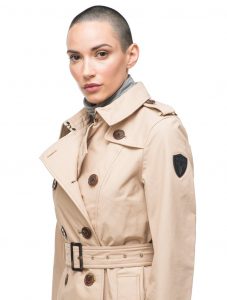 Nobis Poppy Trench 
Oh, how we love the sun. But, we must also be prepared for a little rain. Inspired by the elements, Nobis SS21 collection introduces a new era of featherweight textural fabrics and intensely rich color palettes suited to the transitional nature of the ever changing environment. Nature-inspired hues such as rich vermillion reds, heather greys, oceanic blues, and sandy fawns complement modern, streamlined silhouettes with utilitarian details. The ultimate trench, The Poppy is a classic silhouette with a cotton/nylon fabrication, and premium lightweight lining. Windproof, waterproof, breathable, machine washable,  with a timeless design, a Trench is a must in any Quaintrelles wardrobe.
Nobis Poppy Trench | $595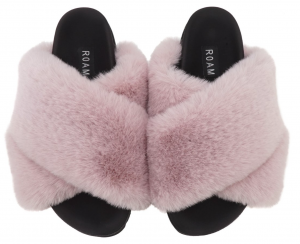 ROAM Cloud Slippers in Lilac Faux Fur
Roam clouds are made with one of the highest quality faux furs available. Hand selected for its density and luscious feel, faux fur creates a luxe, cool and sporty look. Plus, it feels fluffy and warm, like a teddybear hug. Roam incorporates memory foam by hand into their uppers, which adds to the extreme comfort, almost as if they were molding to my feet. An interior cotton fleece keeps everything soft! Perfect poolside, the laundromat, entertaining in the boudoir, or just walking your pot-bellied pig.
Roam Cloud Slippers | $130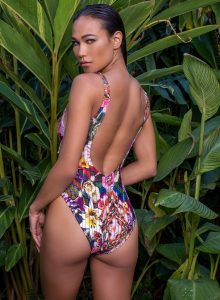 Swiminista
Christian Lacroix is an iconic name in fashion who has recently been focused on prints for the home. Here, Lacroix has partnered with Swiminista, bringing his bold, exotic prints and colors to swimwear. The one-piece in Constatine Arlequin is both elegant and sexy. While the front is all about the tropical print, the side profile hints at the sensuality of the low cut back, which reveals an often overlooked part of the female form classically associated with sensuality. And, of course, we love the cheeky bikini coverage.
Due to the unique nature of the design, print placement may vary, so each suit is one of a kind.
Made from luxurious Italian recycled fabric that makes use of the millions of tons of post-consumer plastic bottles polluting our oceans.
Christian Lacroix: Peaceful Onepiece In Constantine Arlequin Print | $198
____________________________________
Featured image: The Hôtel Byblos is a Grand Hotel built in the mid-1960s | By Groupe Floirat
Jeanette Frost is a professional makeup artist and editor of The Metropolitan's Style & Beauty. Find her on facebook for beauty tips or the recipe for her chocolate torte (which, she tells this publication she will not divulge).