At some point each spring, I am lured by my amante into watching Smokey and the Bandit and Urban Cowboy; both fun movies and a great way to kick off the season. But, I'm more of a Western girl. I used to press home during Rush Hour (the streets not the movie) just in time to watch The Rifleman (on Metv).
It took awhile for my partner to catch on but when he did we went on a Spaghetti Western binge – emphasis on Sergio Leone and Sergio Carbucci – that usually included wine and charcuterie (and, sometimes, a Lasso). Hey, what's not to love about hot men, with hot lead, dueling it out under a hot sun?
So, this month we touch on some of the fashion that helped define Southwestern culture; with a little help from Southwest Detroit, Georgia and Tennessee, all the way through the Rio Grande.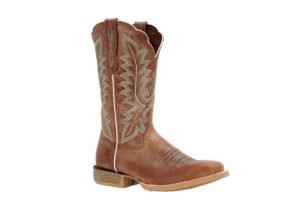 Durango Western Boot | Lady Rebel Pro
Durango
, the leader in Western boots, feature all-day comfort, performance and style, with silhouettes including classic square and round toed boots, handcrafted work boots, and leather booties. And, Durango has a full team of Cowboys and Cowgirls who wear their products from every day to competitive use, helping to guide the company in its pursuit of quality.
The appeal of Cowboy Culture is at an all-time high, with stories, movies, media, and fashion attracting people of all walks of life to all things western. And, the footwear associated with the lifestyle has long been a classic; seen on the runways, and complementing a wide range of fashion looks in the pages of magazines and on the streets throughout every season.
Durango Boots has produced authentic western footwear for more than 50 years. Founded in Flowery Branch, Georgia, Durango now has facilities in Franklin and Chapel Hill, Tennessee. Having never owned a pair of Western Style boots, I recently picked up a pair of  Women's 12″ Western Burnished Sand Durango Lady Rebel Pro, and I am in love! Burnished full grain leather, stirrup friendly, with a soft mesh inner lining, I'm ready for horseback riding, the Rodeo, or a late night at the Grand Ole Opry.
Lucchese Bootmaker | Vanessa Dress
Salvatore Lucchese was born in 1868 – the son of a shoemaker, Gaetano Lucchese – in Palermo Sicily. Salvatore and his brother, Joseph, immigrated to the United States, reportedly arriving in Galveston, Texas by a ship sailing from Palermo in 1882. One year later, Salvatore and Joseph moved to San Antonio, Texas to set up a bootmaking shop at Fort Sam Houston; a United States Cavalry School in San Antonio. And, the rest is History.
It's pretty easy to see how the work of Italian craftsmen – the Lucchese brothers – influenced the fashion and style of the American West; making what ultimately became the Spaghetti Western more authentico than a girl like me might suspect. Since my partner is [mostly] Italian, and seeing that I just got a pair of Durango's, I will look into Lucchese Boots for him a little down the dusty trail. For now, I want to focus on Lucchese Women's Apparel.
I've always been into those capes the Man With No Name wears in the films of Sergio Leone. And, fortunately, you can find them online at Lucchese Bootmaker. The Alpaca Fleece Capes are apparently stronger and warmer than wool, breathable, and they are nearly water repellant. Looks great on any High Plains Drifter! But, lately, I've had my eye on the Vanessa Dress; which, should work beautifully with my new boots! It's a silky, lightweight dress, inspired by Texas wildflower hues; made better only by a fresh Bandita!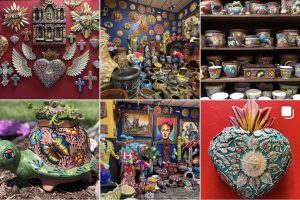 Xochi's Gift Shop | Mexicantown, Detroit
In the heart of Detroit's Mexicantown,
Xochi's Gift Shop 
has been exploding with colorful imports from Mexico since 1985. Family owned and operated, Xochi's specializes in Handmade crafts, Mexican Folk Art, Sterling Silver Jewelry, Aztec Deco, Clay Pottery, Day of the Dead Art, and Western Apparel. Xochi's handpicks their merchandise and, according to their owners, always buys direct from Artisans living and working across various towns and markets in Mexico. In fact, the shop guarantees both the quality and authenticity of all of their products. Xochi's is one of several alluring restaurants and storefronts on Bagley that capture the interest of passers-bye with glorious combinations of music and color. Of course, I love the artwork – particularly, the Mexican Folklore creatures that are fashioned from Copal wood from the state of Oaxaca – and the children's toys and instruments; but I am also drawn to the beautiful Aztec Silver pendants. And, when my husband was my boyfriend he would pick up Western apparel and gifts for Day of the Dead, Christmas, and other Fiestas throughout the year. Love this shop. Happy to share it with you!
Fun Fact:
Xochi's offers a
Fiesta in a Box
, which includes 
Lotteria (Mexican bingo), Sarape runner, Mini Mariachi Sombrero, Paper flowers, Mini Papel Picador Banner, Flower Crown, Mini Maracas, 2 Clay Jaritos (mini cups), tabletas, and fiesta beads
. And, Xochi's ships anywhere in mainland USA Free os charge.
Publisher's Note: We do not make $ from the sale of Fiesta in a Box but are pleased to support small, family businesses in Detroit (our Hometown) and elsewhere.
_______________________________________________________________