What do bunnies have to do with Easter?
Nothing.
Which, is why this should not be misinterpreted as a commercial piece designed to minimize the religious beliefs of over 2.3 billion Christians living on the planet. In fact, my family will be observing Good Friday and celebrating Easter in our way, with the knowledge that many of our Eastern Orthodox friends will be doing so the following week, in theirs.
Which, brings us to the Easter Bunny.
Something, I wanted to believe in but could not. A giant bunny delivering baskets full of jellybeans and bad chocolate was just too outrageous. And, how we got from Crucifixion on Friday to neon Peeps on Sunday was a turn of events that even as a child seemed to be in bad taste.
Some things just do not mix.
As we all know, Easter and the first day of spring were aligned to bring us under the fold. And, it was Eostre, the pagan goddess of fertility, who during the rituals surrounding the vernal equinox, was symbolized by bunnies and eggs. Now that I'm grown, I am able to commemorate Easter alongside a celebration of the season. Which, does not make this a nod to paganism, but an Ode to Spring.
What's in My Spring Basket?
My basket begins with fun colors. Wanna know what's better for the waistline than jellybeans and those horrible peeps? Cupcakes, of course!  
Cupcake Polish is nail polish reimagined. Specializing in holographic and special effects nail polishes that are hand mixed and made in small batches.
Tips and toes will sparkle with these three picks: Hamilton – A coral polish loaded with blue to pink iridescent aurora shimmers, Strawberry Icing – A pink tinted holographic transforming topcoat that will changes depending on what base coat you choose. Can also be layered and used as a light pink holographic polish on its own, Mr. Mint –Bright neon pink jelly polish packed with holographic micro glitters that dazzle ~$9-$13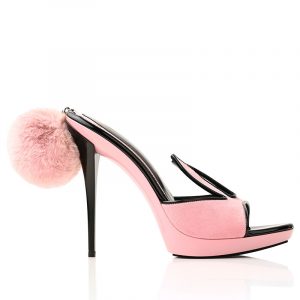 Bunnies
Now, that your toes are cute and sparkly you'll need something to put them in. Thankfully, the iconic Parisian brand, Maison Ernest is busy designing shoes that allow women to immerse themselves in a universe that is glamorous, exceptional, and feminine. And, the Lapinou Rose in pink velvet goat leather and black patent leather, with removable faux fur pompoms, are the purrfect little bunnies to celebrate the coming of spring.
Part of the "Call Me Alice" collection – exclusively designed by creative director Isabelle Bordji, who took over the brand in 2012, with the mission to "share this true icon of Parisian heritage with the public" – Lapinou Rose would be a welcomed site in any woman's spring basket ~ $460.04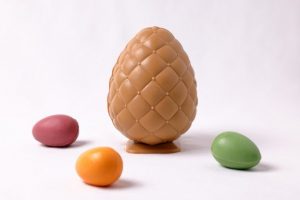 Chocolate
Wasn't it a goose that laid the "Golden Egg"?
No matter. Ornately designed and golden in color, this unique piece of chocolatey treasure is handcrafted molded chocolate. Weighing 2.5 pounds and standing 6.5 inches. Delysia Chocolatier has designed a truly eye-catching centerpiece for the dinner table or the memorable gem of an Easter hunt. The beautiful solid exterior is reminiscent of warm buttery toffee. Inside, discover a salted caramel ganache studded with pieces of crunchy English toffee. This is certainly a far cry from the wax chocolate eggs and bunnies of our youth ~ $69.95