THE GREAT AMERICAN ROAD TRIP
Earlier this summer I took two weeks to drive from Detroit to L.A. I kept to Route 66 as much as possible, but lately on these road trips I've developed a taste for side quests. It could come with age, and also no longer living off a ramen-noodle and candy bar budget, but I LOVE roadside attractions.
Tacky and ridiculous gift shops appeal to me; everyone in souvenir T-Shirts and hats, asking strangers to take their pictures and liking the ones with their eyes closed, it's a microcosm of what the world looked like at age 10. 
Of course, your favorite item at the gift shop is still probably too expensive and no one wants to buy it for you. YOU'RE RUINING MY LIFE!, I thought, as the $80 "horse in sunset" tote bag remained on the shelf. But, for the most part, a $5 entry or donation will get you into some good, wholesome fun. 
Covid still has its dirty wrench tossed into any travel plans. Spacing. Masks. Disinfectants oozing from our pores. I'll admit I don't mind the mask. I can fall asleep with my mouth open and not worry about weird bugs floating in. Less make-up is also a huge plus. Not that other travelers wearing sweatpants even care…
But, I do care.
And, it is my little security net. 
Travelers are also a bit more cantankerous now than usual. Go out into the world with a grain of salt and keep moving, I say. Everyone is going somewhere, so chill out.
ROUTE 66 ROADSIDE ATTRACTIONS
There are some areas on Route 66 that are not drivable due to bridges being out or rutted dirt stretches. I-40 follows most of the historic highway, so if you need to catch up on some time it's easy to hop back on the interstate. But, keep your eyes peeled because there are plenty of attractions – caverns, fudge shops, twisty cones, Cadillac Ranch, and the "World's Largest" everythings …
When you hit Shamrock Texas, be sure to stop at Spinning Jennys House of Music. It's a nifty little place for new and used vinyl. You'll hear Hendrix blasting across the small town as soon as you get off the service drive. 
Further west, Tucamari NM. The town is filled with neon motels, old pickups and that real "out west" feel. I admit I was a little let down by the hype. Some places weren't open, but it's still worth a drive through. Tee Pee Curios is a prodigious stop that has been enticing travelers along Route 66 since the 1940's. If you have time, take a picture with the giant buffalo mural.  
There are many winning stops along the way to L.A: The Blue Hole in NM, Yelllowhorse Navajo Gifts, Meteor Crater, and Petrified Forest, AZ., and SO MANY HAUNTED HOTELS!
I wish I had time to stop at them all.
THE SOUTHWEST
With plenty of cheap hotels, Flagstaff Arizona is a great base if you're looking to enjoy a beautiful morning drive to The Grand Canyon. The earlier you hit the road the better your chances of not getting stuck in line for any great amount of time at the entrance. The landscapes are truly magnificent and the views of the bumbling tourists all are worth it. You will not be disappointed. There are hotels right at the Canyon, but keep in mind you're going to pay a considerable amount more for that luxury.
From the Canyon you are about 8 hours into LA. There are long stretches of road marked no stops from this point on. I made sure to keep a full tank of gas, snacks and water along this bit of road. Also, I kept a look out for "pee" areas. The desert is far cleaner than the majority of truck stops.
If you're short on time, fly into Las Vegas or L.A. Rent a car from there and take a 4 day weekend. Sequoia National Park, Joshua Tree, The Grand Canyon, Red Rocks (NV), Death Valley and the entire Mojave Desert. A bit further out southeast you can get to White Sands and Saguaro National Parks. Head north and hit Yosemite, Yellowstone and Monument Valley. 
While you're at it, Landers Giant Rock, The Integratron, Rhyolite ghost town and art park (Legend of Mona Belle), Desert Buddha, Wonderland books, Desert View Tower, Beatty burrows(NV), Salvation Mountain, the Colorado River, and the Pacific Ocean are All within a good driving distance.
At White Sands National Park you can buy a saucer to slide down the dunes while looking for UFO's. It is fun. I recommend it. Do make sure to be there when they open for the best sliding locations. The National Park game is STRONG this year. Everyone seems to have the same idea. 
I spoke briefly with a Ranger at Joshua Tree about attendance at the park this summer. He conveniently pulled out a laminated chart that showed the huge spike in attendance the last couple years. Not in the hundreds, but hundreds of thousands of new visitors have been through their gates. 
With lacking budgets, deregulation of parks, fires, and in general "bad kids" making messes, it's good to see people coming through and supporting these places. It's also worth mentioning that the campgrounds I passed were near capacity. So, call ahead before visiting National Park campgrounds, as they expect to be busy throughout the year. The stunning National Park landscapes that weave through the United States are very affordable to visit. Most are $35 for entry, which is cheaper than your bar tab from last weekend…
The parks are far more beautiful to see in person than the poster you've had on your wall for 20 years. So, rent a car and GO. 
And, remember to watch out for the chollas.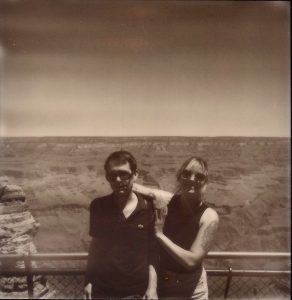 Francis Spade is an artist working in poetry, photography, and design. She makes cocktails, folk art and cares for her 19th century farm house in Michigan.