Celebrating Leonardo's 500th with beautiful music. One of the greatest minds ever to have walked the face of the earth, his natural genius crossed so many disciplines that he epitomized the term, Renaissance man.  Leonardo Da Vinci's inventions and paintings spurred the birth of the famous Renaissance Period.  For 500 years, we have been implementing his dream, the Genius Par Excellence Da Vinci.
"Music…is the shaping of the invisible"—Leonardo Da Vinci.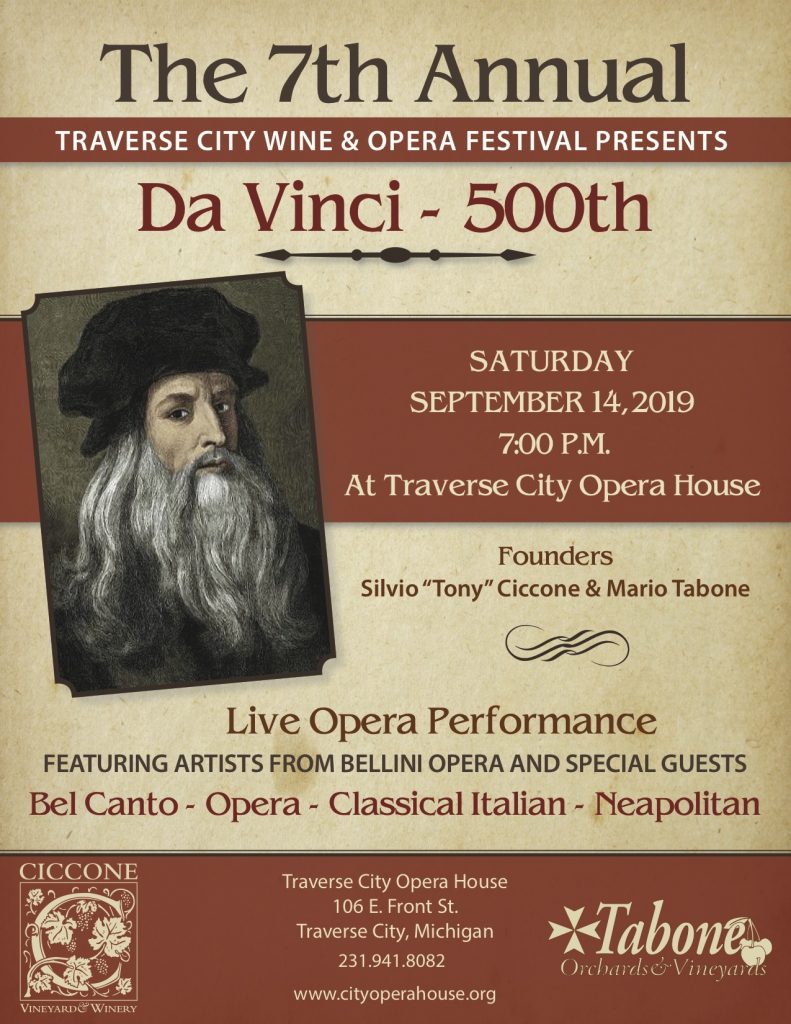 With the Bellini Bel Canto Quartet
Eva Evola Soprano, Jesus Hernandez Tenor, Lisa Agazzi Mezzo Soprano, Dino Valle Baritone, and Martin Mandelbaum Pianist.
Bellini Opera Theatre, in cooperation with Traverse City Wine and Opera Festival, and Traverse City Opera House, pays tribute to the legacy of Leonardo Da Vinci with a program of Arias, Duets, and Quartets from the most Popular Operas, as well as classical Songs and Neapolitan Favorites.  There will be a display of famous Da Vinci Works at the Opera House, and an Afterglow for Tier 1 ticket holders.
For Tickets, contact the Traverse City Opera House at (231) 941-8082, or www.cityoperahouse.org.