Sometimes, we need a little something to heighten reality
Whether you're trekking to Yangpachen, hard at work in your space capsule, or home with family and friends, we all appreciate the little things that add to our experiences.  The following are staff picks for better snack time …
Recently recognized as one of the best beef jerkys by Taste of Home Magazine, Old Trapper's commitment to quality and transparency is clear. Their new 18-ounce bag is the largest package on the market and was designed to provide consumers with a bag big enough for sharing – perfect snack for road trips, outdoor activities, and to stock pantries. Packed full of the highest quality beef, where every single piece is tender and delicious. And, in Old Trapper's signature transparent bag so that consumers can clearly see what they are getting.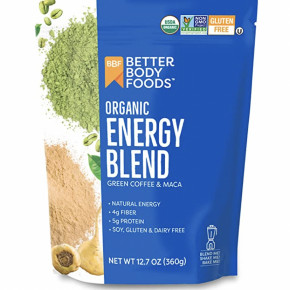 We have been using Organic Energy Blend Green Coffee & Maca around The Metropolitan for years. The package tells us it's packed with energizing organic ingredients; first comes maca, the superfood vitality secret of the ancient Inca; then, there are a score a B vitamins and energizing green coffee extract. Plus, there are 5gs of vegan protein in every serving and 4gs of dietary fiber. How else do you think we are able to do what we do 24-7-365? Now, we must admit we tried eating this product by the spoonful, and you know what? We thought it would taste better if we added it to our blender along with a few of our other favorite things. The following is just ONE example of how you can enjoy BBF Organic Energy Blend:
Metropolitan Mango Smoothie
Directions: Place all ingredients in your favorite blender – we're currently using Magic Bullet – and blend to desired level of smoothieness.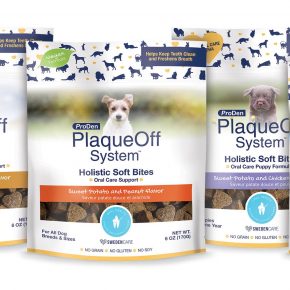 What About Fido?
SwedencareUSA introduced a new line of holistic soft bites made with the proven PlaqueOff SystemTM that helps to reduce the buildup of plaque and tartar. The PlaqueOff System soft bites are made with limited, functional ingredients, and are free of grains, gluten, and soy. The new bites for dogs come in four different flavors and formulas including Vegan Sweet Potato & Pumpkin for gut and immune support, Sweet Potato & Chicken for hip and joint support, Vegan Sweet Potato & Peanut for oral care support, and Sweet Potato & Chicken made with DHA for puppies. $12.99 for a 6 ounce bag. The new bites for cats include Vegan Sweet Potato & Pumpkin for gut and immune support, and Sweet Potato & Chicken made with DHA for kittens.$10.99 for a 3 ounce bag.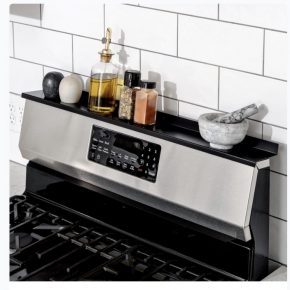 And, Other Sundries …
Finally, there are times when we hover over the stove making our favorite Snacks that we wish we had all of the ingredients right in front of us. As is the case at The Met, we have been unfortunately constrained from achieving optimum efficiency due to the curved head of our oven. This design in an otherwise wonderful appliance has forced us to spin around in order to grab the sea salt and freshly ground black pepper. Oh, what to do?!? Well, the good folks at Stove Shelf have come up with a little ditty that gives gourmands a range of possibilities.
Directions are easy: 1. Remove Stove Shelf from box 2. Place Stove Shelf onto your stove (comes with magnets) 3. Revel in your great decision. No more turning and twisting, bending and weaving, and moving and shouting about like Gordon Ramsey.
Update (Aug 22): Surprisingly, the Stove Shelf has shown on The Met oven to not be heat resistant during extended use. While baking a lovely peach pie this week the Stove Shelf captured heat and in turn heated the items resting on it. While we are not saying this is the case with all Stone Shelves we are certainly saying this was the case with ours – therefore, we can not recommend.
_________________________________________
Featured Image | Anna Tarazevich