Sometimes, we need a little something to heighten reality
Whether you're trekking to Yangpachen, hard at work in your space capsule, or home with family and friends, we all appreciate the little things that add to our experiences.
The following are staff picks for better snack time …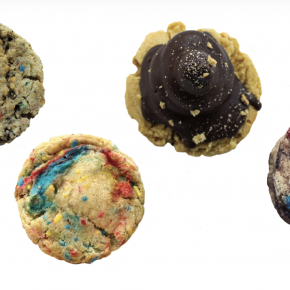 The Detroit Cookie Company is located in Ferndale, Michigan. And, according to its website there are stores coming soon to Saint Clair Shores, Ann Arbor, and Grand Rapids. As far as I can tell there is not a Detroit Cookie Company located in the city, but that's ok – because, as a Wayne State Alumna, owner, Lauren Roumayah, fell in love with "all of the flavors that runs throughout the heart of Detroit" and has spent years incorporating those flavors into her cookies (and, other Carbs).
Don't believe me?  Behold! The Big 3: semi-sweet chocolate chips (which, I will assume, is a metaphor symbolizing our relationship with the city), Better Made potato chips, and Michigan dried cherries.
Call me old-fashioned but my favorite are the Oatmeal Raisin, comprised of old-fashioned rolled oats and plump raisins. A few of those, slightly warmed, with a glass of farm fresh, whole milk, freezer cold for dipping, and I'm all yours. Just something to keep in mind in case you need your walk shoveled this winter.
Anyway, the bakery also makes Blondies & Brownies, cereal treats, and cinnamon rolls, baked fresh every Saturday and Sunday morning. Detroit Cookie Company has a walk-up window and, as you can see in the featured image, one of the tastiest food trucks you're ever going to lay eyes upon.
A sweet Detroit ride, indeed.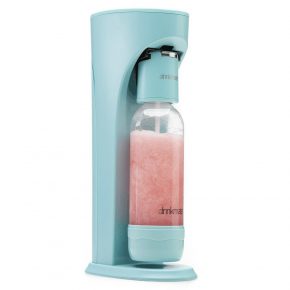 Ladies and gentlemen, may I present, the Drinkmate OmniFizz – Thee first and most versatile home beverage carbonator that can carbonate any beverage without dilution. The perfect kitchen addition to easily enjoy bubbly cocktails, fruit juices, lemonade, wine, water or anything one might find in the fridge that's in need of a little fizz!
I should have been a trade show salesman.
While all of the above is true what I didn't know before getting one was that it would be in use every single day. I'm making sparkling water with a squeeze of lemon or lime. Sometimes, we place a slice of cucumber in our glass, or watermelon juice from a freshly cut melon. Sometimes, I add fresh orange juice and pretend all afternoon that I'm drinking bottomless mimosas. And, when I'm feeling naughty, I add a bit of chocolate.
But, that's not all.
The good folks at drinkmate offer a flight of Italian syrups, made from real, Italian ingredients. I've tried Italian lemonade (which, I enjoyed all summer long), Pink Grapefruit, Mojito, and a Ginger Energy Blend. Sadly, my dream flavor – Blood Orange – seems to be constantly sold-out, but we move forward – stoicly.
This unit also sits ready at my bar for cocktails. It's really quite versatile. But, mostly I use Omnifizz to add sparkle to water. Long ago, I gave up soda (on a regular basis) and turned to sparkling water and Italian mineral waters (with gas) for the sensation associated with carbonation. So, I guess the Snacky part of this segment is where Co2 meets H2o. And, water is the foundation of life!
No need to worry about your carbon footprint when using the carbonator as it works entirely without electricity. I'm not sure of the mathematical equation but I'm guessing we save energy. And, think of all those plastic water and soda bottles you will never have to purchase or find floating in the sea!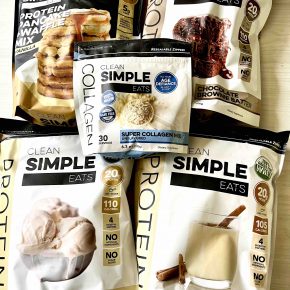 Life isn't always cookies and sparkling wine. Sometimes, we must eat and Snack healthy. Actually, we should eat and Snack healthy all the time. But, what does that mean? It means using food sources that are clean. One method is to supplement meals with Clean Simple Eats.
Clean Simple Eats protein powder is healthy, effective and has a deliciously rich flavor and creamy texture. I've been using the Chocolate Brownie and will confirm that it is tasty and filling. It's like having a full on Brownie milkshake. I thought the Eggnog might have that fake Eggnog taste but I was wrong. This 20g protein Eggnog shake threw me straight into the holidays – I might even add a little Rum during the season for some extra cheer. Clean Eats is naturally sweetened and made from grass-fed whey. The whey is cold processed from start to finish, keeping all of the nutrients intact so our bodies can actually utilize all 20g of protein. It also has 4 digestive enzymes that help to process all 20g. No artificial ingredients. No sugar added. But, I suggest you go to the website to make your own decisions on what you need in your body. I'm really just here to say there is a better way to Snack – and so far I'm loving the Chocolate, Eggnog, and Vanilla protein shakes. While I have yet to try the protein pancakes, I do add the unflavored Collagen to my shakes and smoothies, and it is just that – unflavored. So, I'm also helping my skin, tendons, ligaments, and joints.
And, Other Sundries…
The Eva Solo Smart Mat is a trivet from Cribsi that doubles as a stand for mobile phones and tablets, designed to easily follow a recipe online or for watching professional chefs on YouTube make the proper French omelette. When your food is ready, use the SmartMat for a hot saucepan or dish (at which point, I suppose, you'll need another Smart Mat to hold your device for continued viewing).
The Metropolitan was the lucky recipient of this product so that our crack unit could test it deep within our scientific labs. Upon arrival, we were not that impressed but soon realized we were temporarily fooled by its minimalist, Danish design. The usefulness of the SmartMat sneaks up on you. Soon, we were placing iPhones and iPads in the trivet while we cooked. Then, we moved the Mat to the coffee table to watch Tasting History with Max Miller.  Then, to the windowsill to watch Tom Brady and the Bucs defeat the New Orleans Saints. Then, we used it for a hot pot of tea.
And, on and on.
The Mat is designed for use with most tablets and mobile phones. It features different-sized grooves at various angles so that you can place your phone or tablet exactly where you want. It's made from a durable silicone and is dishwater safe. The only setback may be that it only comes in dark grey – and, that it runs $49.95 on Cribsi's website.
If this product ran $14.95 or even $24.95 – and, if it came in canary yellow, fuchsia, or utility orange – I'd say, by all means, buy it. But, then we must ask ourselves, "What is Value?" For some, this product may not be a priority. For others, there is Value in possessing a tool that holds your devices all day long, everywhere you go.
For The Metropolitan, the Eva Solo Smart Mat is a product we probably would not have purchased. But, now that we have one in our possession we find ourselves using it on the daily. The design and functionality has proven itself over time and will have us looking deeper into the Eva Solo line of products.