Words Sara Barron | Images Miles Marie
Although the stage can be a vessel for empowerment and expression, it's also an extremely vulnerable place to be. On stage, the body and mind are stripped down and left for the audience to dissect. 
In a world where bodies — especially women's — are subject to critique and hyper sexualization, performing on stage for years can have a huge impact on how a female artist views herself.
In an attempt to explore the relationship between stage and self, we spent time with local Detroit female musicians — Zee Bricker, Beverly Johnson, and Audra Kubat — for three intimate, stripped down sessions discussing how a lifetime of performing can shape an artist. Showing the artists in their most natural form — completely nude, save for the instruments they use to create their music — these sessions resulted in three extremely different portraits of strong, talented women reclaiming power over their bodies and, most importantly, their art.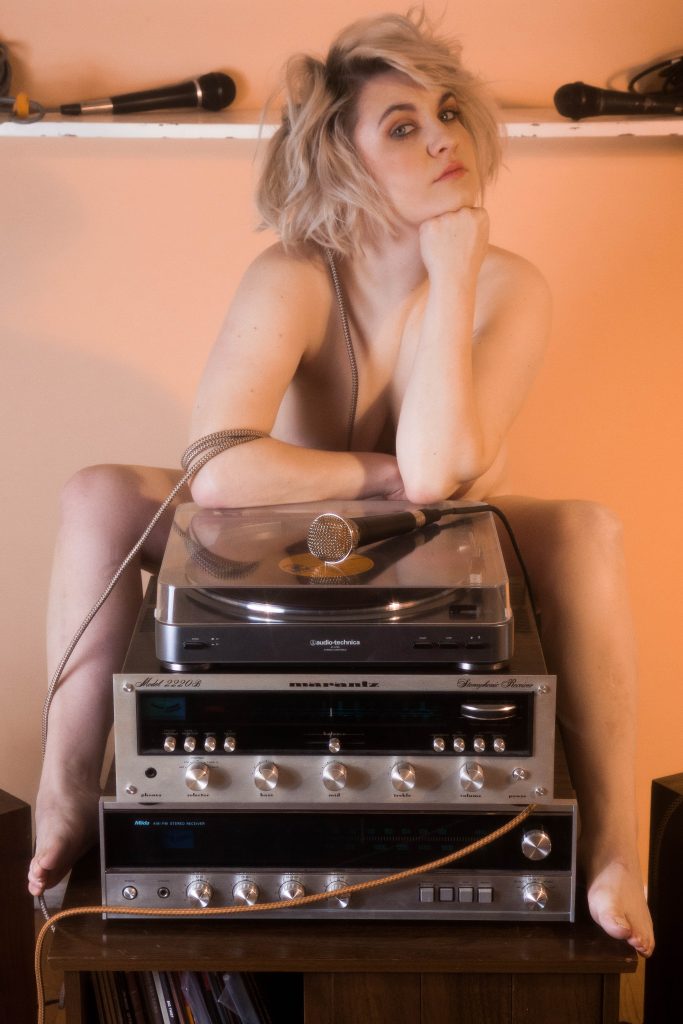 ZEE BRICKER
Zee Bricker, frontwoman for Detroit shred-pop band, Tart, likens performing to the stages of an an orgasm: anticipation, release, exhaustion. Although the 28-year-old singer-songwriter has been performing her whole life, she says that her pre-show nerves are as present as ever. After stripping down for an intimate photoshoot surrounded by her favorite books and records, a self-proclaimed shy Bricker opens up about how her relationship with performing has evolved throughout the years.
Five years ago, Bricker wouldn't be caught dead singing in front of an audience. After auditioning for a musical at age 14 and being snubbed by the music director, she decided it was best not to sing at all. "For a long time, I really avoided singing and music altogether," says Bricker. "I didn't even do karaoke, I was just like 'I'm not a singer, I'm an actor, and that's fine." Ten years later, Bricker became the lead singer of Tart.
It wasn't until she started writing songs with bandmate Adam Padden that Bricker found her voice. Padden would come up with a guitar part and Bricker would figure out a vocal melody. "I didn't really want to sing it live, but I kind of knew that I had to, so that's when it all started," says Bricker. Once she accepted that she'd be singing her songs for an audience, there was no turning back. Bricker used the opportunity of performing on stage to channel a part of herself that she doesn't get to show everyday.
"You can be any part of yourself on stage," Bricker says. "It gives you an opportunity to really explore anything that you would really ever want to do."
Although Bricker exudes the fierceness and tenacity of an untouchable rockstar on stage, she acknowledges that being in the spotlight doesn't come without its share of insecurities. The singer admits she has struggled with her body image for years, including a time period where she was hospitalized for a serious eating disorder. Bricker says overcoming this illness helped her redefine what it means to have a "good body" and prioritize her happiness and health.  
"It's something I still struggle with, but I just try to tell myself that a good body is a working body," says Bricker. "If your body is keeping you alive, it's fine…even though I'm heavier now than I was five years ago, I've never loved my body as much as I do now."
Despite her ongoing struggle, Bricker explains that all of her insecurities disappear the moment she steps on stage. "When I'm actually performing, I'm never thinking about what I look like to the audience," she says. "I do whatever I have to do on stage…sometimes, I like to be snarly and spitty and it's not about being pretty at all."  
The freedom that performing brings Bricker is what keeps her coming back time and time again, despite any stage fright or self doubt.
"I don't want to do anything else," says Bricker. "Sometimes I still have doubts and think, "oh my god, I'm a hack, I have no business doing any of this" then I have moments where I'm like, 'fuck yeah, I'm awesome!'"
Tart debut EP, Toothache. Follow on Facebook for show updates.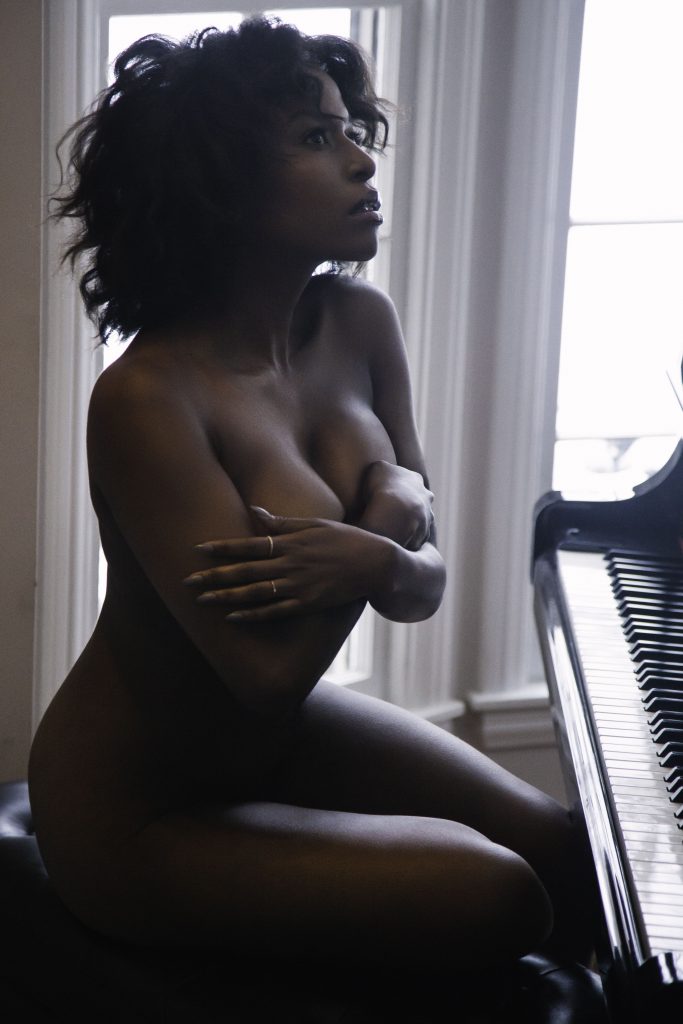 BEVLOVE
Bevlove, otherwise known as Beverly Johnson, has spent the last 27 years perfecting the art of being a star. From captivating rows of worshippers in church to making a crowded club go silent, there's no doubt that Johnson knows how to work an audience. Bevlove's enrapturing stage presence is the result of unwavering self-confidence and determination. But as confident as she is on stage, she finds her interactions outside of the limelight to be a bit more arduous. After singing a chilling, stripped down version of her song, "where do you sleep," to a room of five, Johnson reflects on how her life in the spotlight has shaped who she is — and how she feels when the lights go out.
Johnson comes from a family of entertainers — her mom sang in church, her dad was the lead singer of a band, and she was constantly surrounded by loud, expressive loved ones. So, for Johnson, it was never really a question of if she was going to be a star, but how. She played the role of a superstar from the early days — waking up hours before school to do her hair and makeup and strutting through the hallways in high heels, breathing the type of confidence most women dream of.
"I've always felt very beautiful," says Johnson. "I never compared myself to anyone else."
Although she always loved singing, Johnson didn't fancy herself a songwriter and decided acting would be her route to stardom. She went to school to be an actress, but soon realized it wasn't meant to be. "I was used to being the lead in all my plays," says Johnson. "Then when I got into the real world, they were like, 'you're lucky to be an extra,' and I thought, 'okay, that's not gonna work for me. I'll sing.' And you can't sing other people's songs." So she tried her hand at songwriting.
With icons like Stevie Wonder, Lauryn Hill, and Prince as her benchmarks for songwriting, it's understandable that Johnson was apprehensive at first. But, after sitting down at the piano, Johnson explains that her hesitations dissolved and the lyrics and melodies started flowing.
"The words just came out of me," says Johnson. "It was just so validating. I elevated to a different place."
While Johnson was elevating, the world around her hadn't caught up yet, and she was finding it hard to book shows in Detroit. "A lot of promoters don't book women, so I just started booking myself," says Johnson. "Calling, planning a show, booking other women…everyone in the room wants to see a girl on stage."
It wasn't long before Bevlove became a household name in Detroit, moving from loft shows to headlining venues. And although she felt at home on stage, the nerves set in after her performances, when the lights came on and the audience could talk back. "My nerves comes mostly from interacting with people," explains Johnson. "I know that when I'm on stage, I'm in control of what people will go away with. But, with interacting with other people, there's more to lose."
More often than not, Johnson would feel the pressure to be the life of the party after her shows, which meant drinking…a lot. Johnson recently realized that that lifestyle isn't sustainable and has refocused on taking care of the things that brings her the most confidence and joy – her voice and her relationships.
"I've always been the person who throws the party, so I felt like I had to be the party," says Johnson. "But now I'm fine with just being there. I have to be the show. I have to be the art that makes y'all feel like dropping it instead of being the one making you drop it."
With her priorities straight and a new album set to be released in April, Johnson says she's ready to go full speed ahead, play multiple shows a week, and travel the country. If there's one thing she's decided on, it's making sure that singing is always be a part of her life, no matter what.
"When Whitney (Houston) died, she was 46 and she could barely sing at all," says Johnson. "That, to me, would be dying. If I can't sing, I'm already dead."
Bevlove will release her new album, Letters, in April 2018. You can listen to her debut EP, Talk That Shit, on Spotify.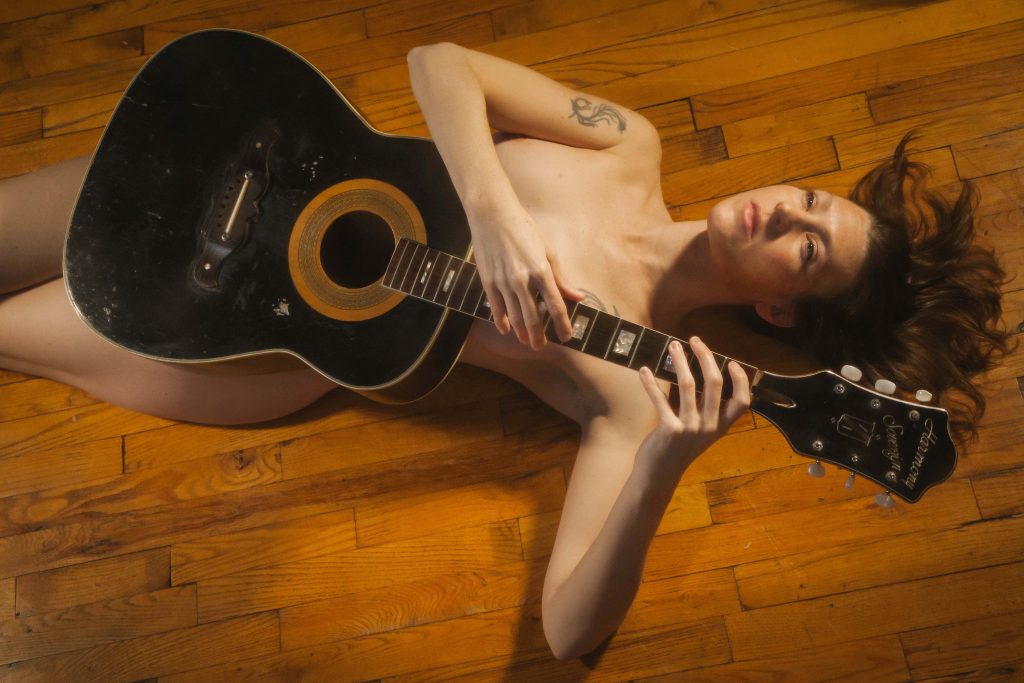 AUDRA KUBAT
In the comfort of her East Detroit loft, with mid afternoon sun glowing through the windows, singer-songwriter Audra Kubat recounts a time when she walked freely down Monroe St. with nothing but her boots on. It was a time before Detroit was flooded with tech-startups and fancy restaurants, a time before any of her nude stroll could be caught on a smartphone, and a time when Kubat felt completely carefree about her body. Fifteen years later, all of those things have changed, and stripping down now is much more than just a cheap thrill to Kubat. After spending the greater part of the last two hours laying nude on her hardwood floor, adorned by an assortment of her instruments, Kubat opens up about her relationship with her body, and how it has affected her journey as an artist.
Scrolling through some of the most recent shots, there's a shyness and hesitation in Kubat's voice. She's pointing out the most minor imperfections and once in a while giving herself a reassuring "Aw, I look kind of pretty in that one." This doesn't sound like the same woman who went streaking through the streets of Detroit. When I point this out to Kubat, she explains that this self-awareness is something that came in tandem with age and artistic growth.
"I was kind of fearless when I was younger," remembers Kubat. "I put myself out there a lot and just didn't really wait for a response from people…I don't know exactly how it shifted, but something changed and I felt way more tentative about being so exposed…things became more serious, music became more serious, I started being more concerned about what my message was or what I was trying to share."
After years of introspection and songwriting, Kubat has arrived at a clear message: "strength through vulnerability." When Kubat wrote her first song at age nineteen, she approached the guitar with a mission: dissect the emotions or events that were plaguing her and heal. Twenty-five years later, she uses this same approach, one that leaves her revisiting old wounds and feeling exposed more often than not.
"It took me a long time to realize that my vulnerability was a strength," says Kubat. "I think it became more apparent when people started coming up to me and saying 'you exposing yourself helped me get through something.'"
Though Kubat enjoys connecting with her audiences through sharing painful experiences, it doesn't come without a cost. Being physically and emotionally on display takes a toll, and has left Kubat preferring to blend into the background during her shows. "I often, on stage, like to wear black, and sometimes have my body disappear in the background of my performance. I don't want people to look at or judge my body and have that be present among the work that's happening."
She explains that part of her desire to be heard and not seen is deeper than just an effort to put the emphasis on her art. "I've always been challenged about how I feel about my body," Kubat explains. "I've struggled with eating disorders, I've struggled with confidence, I went through some sexual abuse and bullying and things when I was younger that made me feel like I didn't have value. That has everything to do with how you feel about yourself, if you don't have self-worth."
Kubat shared an emotional response to the "Me Too" movement, confronting her experience with sexual abuse. The song is a raw depiction of Kubat's traumatizing experience and a plea for others not to be silent about sexual assault.
These painful experiences have inspired Kubat to empower others, especially young people, through music. "I want to work with young people and tell them they have a voice and people want to hear it," says Kubat. "That helps me be a valuable resource to reach out to and help young lives that might be going through the same struggles that I have."
Though Kubat's past 25 years performing music have undoubtedly made her more aware of her body, her emotions, and how her past experiences have affected her perception of both, it's also given her an outlet for processing pain and a vehicle for making transformative connections. Despite her insecurities, Kubat still feels most at home at her most exposed.
"A lot of people say when you get on stage you're putting on a show," says Kubat. "I feel like when I get on stage, I'm taking off the mask."
Audra Kubat's most recent album release, Mended Vessel, is available on Spotify and for purchase via her website.