From the minds of Executive Chef Garrison Price and Director of Beverage and Service, Liz Martinez comes The Art of Dining, a culinary experience at the Daxton Hotel.
Launched in October 2021, co-producers Garrison Price and Liz Martinez found themselves inspired by the more than 400 original pieces of  art that fill the Daxton. Curated from around the world by renowned SaatchiArt, including works by artists Andrew Weir, Melanie Arcand, and Adrian Landon's Golden Mechanical Horse, Price and Martinez determined to create a menu that would reflect the essence of some of their favorite pieces.
After concept, the duo assembled a team including Chef Reece and Pastry Chef, Duncan Spangler to help  realize the art inspired dishes.
Then, it was time to assemble The Art of Dining's first private guest list; including Birmingham Mayor, Pierre Boutros, Hour Detroit's Lyndsay Green, Food & Wine's Khushbu Shah, and Ben Swanger, from D Magazine (Dallas). Also, in attendance,  Downtown Publication's Gigi Nichols, Tik Tok superstar Chef Jon Kung, writers Patrice Williams and Sophie Gayot, the Managing Director of the Daxton himself, Mr. Rajesh Radke and wife, with writer Lim-Lim Kobe representing The Metropolitan.

The affair kicked off with a tour of the hotel's art collection, where the fashionable group were welcomed with champagne, followed by an in-depth introduction to the art that inspired the evening.
After the tour, the party was welcomed into the Wine Room, where hosts Garrison and Liz walked them through a one-of-a-kind culinary experience. The menu began with an amuse-bouche, followed by three courses, concluding with a decadent dessert. Each item on the menu was paired with a wine selected by Sommelier Liz Martinez.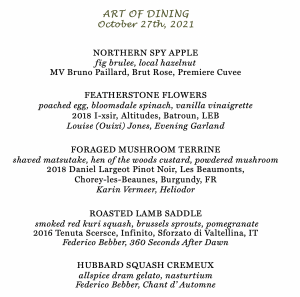 Apparently, the inaugural event was a winning success. Partygoers seemed to respond quite favorably to every effort put forth by the Art of Dining team. Producers Price and Martinez follow up Event takes place Tuesday 16 November, with an as of now 'Secret' guest list.
While The Art of Dining tour and dinner will suspend festivities during the Daxton's busy holiday season, it promises new flavors, inspired by the hotel's impressive art collection, beginning at the top of 2022.
Who will receive an invitation to this once in a lifetime pairing of art + food is anyone's guess. So, keep your eyes on your inbox. With a little luck it just might be you!