This strenuous off trail winter ramble is no sleigh ride to grandma's house. Both 5K and 10K are scheduled for January 23 and boast one of the world's coolest trophies.
 By Mike Norton
Snowshoes have long been a popular way for winter visitors to explore the deep evergreen woods that surround this Michigan resort community. For over a decade, the Bigfoot Snowshoe Race has been drawing hundreds of competitors and fans to the Timber Ridge Nordic Center just southeast of Traverse City in the Pere Marquette State Forest. The Bigfoot is the Midwest qualifier for the US Snowshoe Association's championship race – but most people come for the pure fun (and for the coolest-looking trophy in the world of outdoor sports, a two-foot statuette of a snarling Sasquatch.)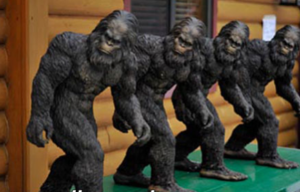 The 2016 race, scheduled for Jan. 23, is expected to bring as many as 500 snowshoe-racing competitors, as well as another 600 to 700 spectators and fans. The course, which includes both 5K and 10K components, is an extremely hilly off-trail ramble through the woods, say organizers, with "plenty of logs to jump and branches to duck."
"It's not easy – you can be a very strong runner, but when you strap on a pair of snowshoes and try to race in them you get humbled in a hurry," says Alison Goss of Running Fit, one of the sponsors of the race, who was the 10K women's champion in 2015. "It's very strenuous. I've never been so sore as I am after Bigfoot."
 Snowshoe racing requires a lot of the same skills as warm-weather running – but there are also a few extra ones. Competitors find they have to lift their feet higher and keep their legs farther apart as they run, stay alert for changes on the surface, and try not to do a face-plant into a snowdrift.
"People go flying pretty regularly," says Goss. "I bit it three or four times last year alone. You're charging down a hill and lose control, or your feet get tangled up in each other, and that's all it takes."
And there's the added weight of the snowshoes themselves to consider. Racing snowshoes are smaller and lighter than the ones used for touring, and are tapered behind the heel to reduce the amount of kicked-up snow in each racer's wake, but they're still heavier than running shoes.
The result is a phenomenal cardiovascular workout even at relatively low speeds — snowshoe runners typically burn over 1,000 calories an hour. It also means that most of them wear light clothing even on cold mornings, knowing that they'll warm up almost immediately.
Like most winter races, the Bigfoot is held in the morning (from 9 a.m. to noon) when snow conditions are usually at their best. Racing snowshoes are available for rent to competitors who don't have gear of their own.