Youmacon
Matt Counts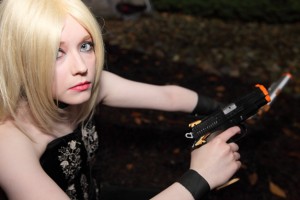 What uses animation, imagination and incredible fandom to bring visitors – or Otaku – to the Metro Detroit area? The annual Youmacon Event, Metro Detroit's first and only anime convention. "Anime" is an abbreviated pronunciation of "animation" in Japanese. It refers to animation originating in Japan, which has grown to be a hugely popular style with a worldwide following. Owner and Chairman of Youmacon, Morgan Kollin created the event to draw interest, people and dollars to the region.
"This has been a longtime passion of mine that started about a decade ago," Kollin shared. "I had been attending conventions for a while and there were only a handful of events anywhere, so I decided it would be worthwhile to bring an event to Southeast Michigan." It took four years for Kollin to launch the first event. The concept has proved so successful, Youmacon will be returning for its sixth year this fall from October 28-31st at the Renaissance Center, and attendance keep growing.
"We're expecting a lot of really big things out of it. It's going to be the largest phantom event for that time of the year," stated Kollin. The group is always looking to bring in big names to bring more people to the area. And since Youmacon likes to give back to everyone who participates, all programming and admission will be free on Thursday, October 28th, starting in late afternoon and going into the night.
Over the course of the event fans will be able to meet anime voice actors in person, compete for masquerade and cosplay trophies, and shop for keepsakes. Attendees can experience the feeling of being a Japanese chess piece in a game of shougi, leading a team to 'the Star' in a live action Mario Party battle, along with other great attractions. Youmacon also provides all-night gaming and video programming, as well as a dedicated video/audio track featuring anime music videos and more.
From day one, Kollin set out with more than one objective for Youmacon. "From the get go, I thought about working with a charity. One of the things about everything I do is about touching local businesses, the community, and bringing people into the area for travel," Kollin explained.
Youmacon insisted on partnering with a group that truly reflected what it was out to achieve. Kollin researched to find a quality organization – one that came with positive recommendation – for its annual charity ball. Once he found Cornerstone Schools, the choice was a natural fit. "I think it's fantastic what Cornerstone is doing," enthused Kollin. Currently, Youmacon hosts two balls a year – and 100% of all proceeds go to Cornerstone Schools.
Another interesting fact about Youmacon is  that so few attendees come from the Metro Detroit area. Much of the attendance has a lot has to do with word of mouth and a large online presence. Kollin has traveled all over covering conventions across the U.S., Canada and England. In order to accommodate so many visitors, the group is working with Dearborn Hyatt and Greenfield Village, in addition to the Ren Cen. Youmacon has also cemented a second event for Memorial weekend dedicated to "Steam Punk" which focuses on Victorian-era fantasy like Jules Verne and H.G. Wells.
"I've grown up here, and spent most of my life in this area. I'm making it my job to let people know about what's going on," says Kollin.
For those of you who are wondering what "Youmacon" means, "Youma" is a generic term for monsters and demons. "Con" is short for convention. Since the Event is Halloween weekend, the organization considered having Youmacon in Hell, Michigan. But it turned out they needed a larger venue – and the result has been pure mahou, otherwise known as magic, for Detroit.