Nestled in the coastline of Encinitas, San Diego, The Inn at Moonlight Beach is a world-class resort under the direction of Harvard-trained architecture, landscape, and urban designer, Shangwen Chiu.
After years of neglect, the space underwent renovation when Shangwen embarked on a journey to transform the previous property into a quiet, five bedroom, bed and breakfast dedicated to wellness.
Launched in 2017, The Inn at Moonlight Beach is known as the first platinum-certified WELL hotel in the world. Yet, it isn't the certifications and awards that make this space truly special, but the care and thoughtfulness Shangwen has poured into constructing a holistically-driven ecosystem that permeates every aspect of the guest experience.
The Inn's goal is most aptly illustrated through its ethos:
We have a world where people are empowered to create communities and living environments that support their well-being and inspire them to flourish, savor their existence and contribute together in the world, such that they experience joy and belonging to a global family.
This ethos was brought to life when Shangwen realized the goal of earning Wellness certification.  WELL, the brainchild of the International Well Being Institute (IWBI), is committed to advancing human health in buildings and communities around the world.
"When constructing buildings, WELL is focused on people-health, whereas the more known LEED is focused on planet-health," says Shangwen.
Given that humans spend 90% of their time indoors, designing environments to negate the potentially damaging effects of not having access to what our bodies require, while also creating positive effects on the mental and physical wellness of our beings, is the challenge and pursuit of a WELL space. From air and water purification to accessibility to fitness outlets, the WELL standards were meant to address the essential elements of healthful spaces.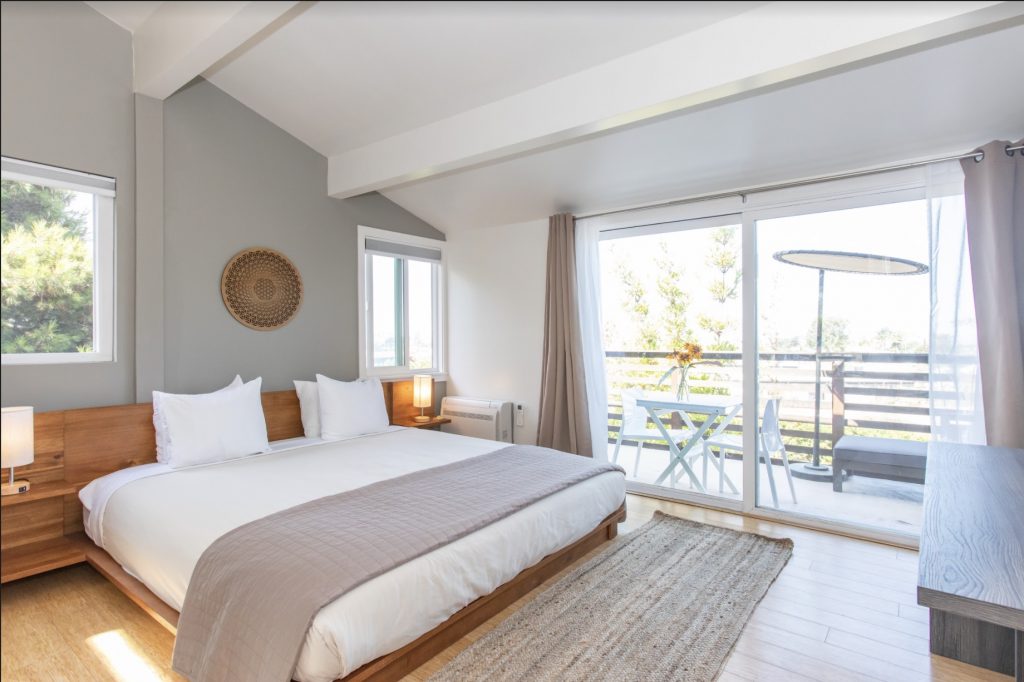 ---
"I want to create an environment that's great for human beings and the planet." ~ Shangwen Chiu
"I knew immediately that these standards outlined exactly the kind of environment I wanted to make for people," Shangwen says. "We never meant to be the first hotel to receive the WELL Platinum Certification, we just wanted to be a WELL-certified project. It was quite a lofty goal."
However, with the support of an extremely encouraging IWBI Coach, Shangwen not only achieved  certification, but offered suggestions on how to improve and expand accessibility of IWBI standards to all construction. The organization implemented many of Shangwen's observations and later adopted the Inn at Moonlight Beach as a pilot project and test space to ensure usability for buildings of all types.
In the inaugural publication of the standards, IWBI outlined 7 features of environments that were deemed crucial to enhancing the well-being and health of guests: Air, Water, Nourishment, Light, Fitness, Comfort, and Mind. Although it could seem as simple as checking boxes Shangwen had to overcome numerous hurdles.
"The biggest challenge for us was that our building was not a new construction. It is an old bed and breakfast that was here for 30 years. It was in terrible shape, the ceilings were low and certain WELL requirements for lighting could never be met with the given configuration," Shangwen said.
The WELL lighting standard was originally geared more towards office buildings, so the structure's fixtures weren't passing the test.
"Of course, the last thing we want to do is look like an office; our guests enjoy mood lighting and ambiance," Shangwen said. "Our coach really heard us and told us to look at the purpose of the standards, saying that, because the new standards were unproven, it would be necessary to modify the standards in order for them to be workable with other projects."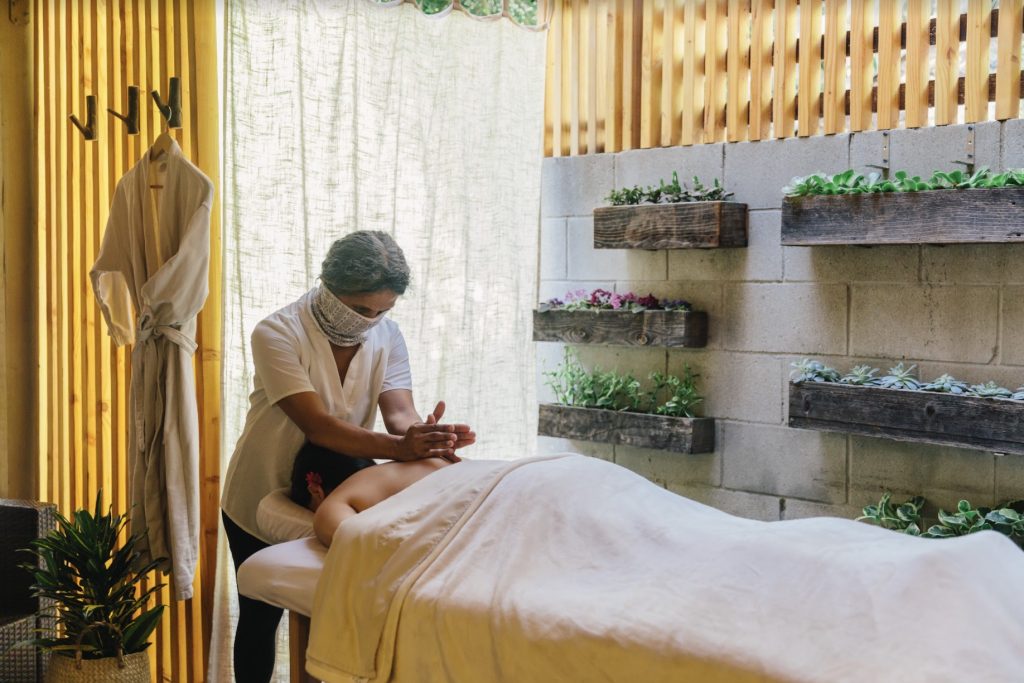 From there, Shangwen forged alternative pathways and inspired improvements to the latest version of WELL (WELL v2 released 2020). With a new outlook on the flexibility of the standards, Shangwen created an Inn that represents a cozy getaway, complete with homemade therapeutic goods, snacks, and holistic spa offerings. Standards aside, a visit leaves one completely satisfied and rejuvenated within the lively bed and breakfast built for the felicity of visitants.
Focused on bringing out the creative spark in guests, the Inn at Moonlight Beach boasts engaging offerings. In fact, "the workshops that are offered organically showed up when we were working in the lounge area, making candles and soaps for our rooms," Shangwen says."Upon seeing and smelling what we were making, guests took it upon themselves to ask staff to teach them."
Today, the Inn boasts fascinating classes such as creating your own dry herb rack, planting succulents, and much more. An example of one of the interactive experiences that the Inn offers is the Biodynamic Garden Tour & Workshop. Here, guests learn about biodynamic urban farm practices, while harvesting vegetables to eat and herbs for cooking. Guests are encouraged to make and take home herbal pouches, smudge sticks or succulent planters from the handmade wood planter.
Perhaps, the beauty of the classes is held within the sustainability of each craft. The thoughtfulness and interactive approach that the Inn boasts has inspired many guests to bring the applicable ideas that they learned back home and incorporate them into their own close-knit communities.
Besides creating beautiful suites and gardens, the Inn at Moonlight Beach has done so much more, it has created a community that knows how to appreciate the beautiful wellness offerings of nature. Beyond the WELL Standards, Shangwen also had to define what a wellness space meant to her. As complex as this sounds, Chiu maintained a clear vision.
"It's a simple goal," Shangwen said. "I want to create an environment that's great for human beings and the planet."
Shangwen sought harmony, and that is exactly what the Inn at Moonlight Beach represents.
"I've never designed a project this small, which lets me manage every step of the way to make decisions that are aligned with the vision," Shangwen said. "The holistic part of this is that I'm not just trying to do a WELL building; I'm not just trying to do a hotel; I'm not just trying to have a business; the biggest thing is to create a wonderful environment for people to be in that is good for the planet."
True to her word, Shangwen is very hands-on when it comes to day-to-day maintenance of her Inn, and guests can often find her gardening on the property soaking up the beautiful San Diego Sun.
Can we all learn how to live wellness through an all-inclusive experience such as the Inn at Moonlight Beach? It's hard to say. Perhaps, wellness is integrated amidst the joys of mindfully interacting with our surroundings, so that we may learn more about ourselves within new spaces. At least the curiosity-driven adventures that stem from places like the Inn inspire us to innovate to more healthful tomorrows.
Which of the wide array of activities would you like to try at the Inn at Moonlight Beach?
Let us know!
#travelgoals
________________________________________________________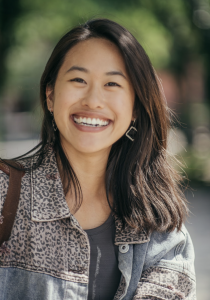 Lim-Lim Kobe is curious about the passions of others. She adventures around the world exploring the realms of art, hospitality, and wellness.