The Isaac Mizrahi Pictures: New York City 1989–1993
Photographs by Nick Waplington
[Published by Damiani]
Nick Waplington's informal vérité portrait of American fashion designer Isaac Mizrahi's studio and runway shows of the late 1980s and early '90s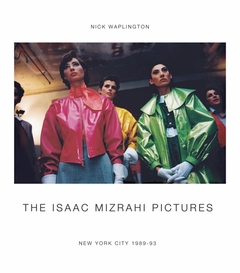 From 1989 to 1993, New York fashion designer Isaac Mizrahi granted the British photographer Nick Waplington rare backstage access to photograph every detail of the designer's fitting sessions in the weeks before his twice-yearly fashion shows. Combining Waplington's gritty vérité style with Mizrahi's haute couture sensibilities, the resulting images offer a candid glimpse into the world of fashion when supermodels including Cindy Crawford, Christy Turlington and Naomi Campbell reigned supreme. At the same time, Waplington set out to document the wildly creative nightlife of the '90s "club kid" culture in New York, juxtaposing his images of uptown style with downtown looks and taking pictures at some of the city's most infamous clubs, such as the Pyramid Club and Save the Robots.
Artist and photographer Nick Waplington (born 1970) has published several monographs, including Living Room and The Wedding (Aperture), Safety in Numbers (Booth Clibborn), Truth or Consequences (Phaidon) and Alexander McQueen: Working Process (Damiani). He lives in London and New York.
Isaac Mizrahi (born 1961) has been a leader in the fashion industry for almost 30 years. In 1995 he was the subject of the award-winning documentary, Unzipped. In 2003 Mizrahi pioneered the concept of merging high design with mass retail in partnership with Target. He has designed costumes for the New York Metropolitan Opera, the American Ballet Theater and the San Francisco Ballet. Mizrahi is the author of How to Have Style and has been head judge on Lifetime's Project Runway: All Stars.
Featured image is reproduced from The Isaac Mizrahi Pictures: New York City 1989–1993.