An Unexpected Pop Up In Harmonie Park No More
By Blake Brady
One may find it difficult to locate a place serving great food, with an atmosphere to match, on a late Tuesday night in Detroit. But, driving through Paradise Valley that's exactly what I found in the "Tokyo Club."
My girlfriend and I entered the small restaurant in Harmonie Park that over looks a portion of what was once Black Bottom. Oddly, there was a chef in the kitchen cooking but the restaurant itself was not open. He explained we could order from the bar but never told us the location. I asked for the restroom and was thus pointed in the right direction, down a flight of cold stairs into the basement. In the basement there was a door with the words "The Keep" written in red paint. Curiosity struck and I opened it, to my surprise it was a bar that seemed to pay homage to the rich history of its neighborhood heritage. It had a speakeasy feel, wooden tables, lit only by candlelight, and a television. I felt as though we should have been gambling, drinking illegal booze, and smoking cigars, as a young Duke Ellington played in the background.
Three guys greeted us – Jason, Evan, and Leonard – all as cool as "The Keep". They explained that, "they were the dudes behind the Pop-Up" and presented us with both "The Keep's" drink menu and "Tokyo Club's" food menu. The drink menu was filled with original craft cocktails such as, The Kali -Vodka Swizzle (Kettle one, Hibiscus syrup, muddled strawberry and lime). The dinner menu was also unique, with items such as, Kimchi Burger, Tuna Tacos, Heroin Fries, and The No Fly Zone. The No Fly Zone is a scallion inion waffle, topped with hand dipped wings, and ser
ved with honey garlic sauce. Both menus offered fair pricing.
We ordered Heroin Fries, Wings, Crab Rangoon, and Cornbeef egg roll. Food was Asian inspired and served in Asian style take out boxes. The Heroin Fries were nothing short of spectacular; potatoes covered in brown sugar and soy glaze. I've never actually done Heroine, but the rush my taste buds felt at first bite was a special kind of high. The service was prompt and personal, making for an entire experience that took us away from the city and into a place of its own.
Unfortunately, soon after our visit, Tokyo Club / The Keep had to suspend operations out of the Harmonie Pointe Building, and are currently seeking new digs in order to work their magic. Regardless, I write about the impressive efforts of these entrepreneurs in hopes that Detroiter's are able to see more from this incredibly dedicated and talented crew. For updates on the status of Tokyo Club / The Keep please visit them on facebook.
CONTEXTUAL SIDEBAR
From the Editor's Desk
Black Bottom Detroit
Historically, the predominantly black neighborhood that flourished in Detroit between the 1920s and 1950s is known as Black Bottom. Its name, however, was given by the French, and attributed to the rich, black soil that once held ground at the source of the River Savoyard. Paradise Valley, a section of Black Bottom, was famous for its blues and jazz clubs, and contained the nightspots where Jazz greats Duke Ellington, Count Basie and Ella Fitzgerald performed (My own grandfather, an Italian trumpet player, gigged regularly with these musicians when they came to town).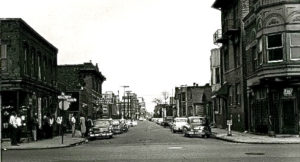 As a part of Detroit's 1960's "urban renewal project", Black Bottom would make way for the Chrysler Freeway, the Mies van der Rohe development, and the recently demolished Brewster-Douglas Housing Projects; ironically, the very projects many Black Bottom residents found themselves living in after the "renewal". My understanding is that the last vestiges of Black Bottom's Paradise Valley were removed for Ford Field, which also holds Lowe Campbell Ewald, an agency whose digital creative director, Iain Lanivich, once produced the single worst PR video in the city's history. Entitled "We're Moving To Detroit and So Should You" Lanivich, sits in a beach chair in Campus Martius Park, toes in sand, during the worst recession in memory and spreads his arms wide while saying, "Welcome to my loft!"
Thank you for the invitation, Iain.
Fortunately for all of us there is now a Michigan Historical Marker located in the small commemorative park, nestled snugly within Harmonie Park, that while not technically located where Paradise Valley was reminds us of where legends once roamed.
Fittingly, there has been debate about the restoration of Paradise Valley. The problem, of course, is that Harmonie Park, named, no doubt, for the Harmonie Club, which borders the area, was once known as Germantown, as yet another Michigan Historical Marker will tell you.  ~ AB