By Anthony Brancaleone
Located in Corktown, Detroit, and sitting in the shadow of the iconic Michigan Central Station, Two James is the first licensed distillery to operate in the city since prohibition. Distilling and bottling handmade bourbon, gin and whiskey since its founding, Two James has recently upped their game with both its Rye Dog Whiskey, distilled from 100% locally sourced rye grain, which won the 2014 SF World Spirits Competition, and its latest additions, Barrel Reserve Old Cockney Gin and Absinthe Du Nain Rouge.
Have yet to try Old Cockney, but co-owner David Landrum broke out a bottle of the French inspired, anise flavored spirit, which came equipped with vintage Absinthe service and spoon, allowing for warm water to slowly drip over a sugar cube and into the wormwood based spirit, thus creating a green, milky cloud in my glass.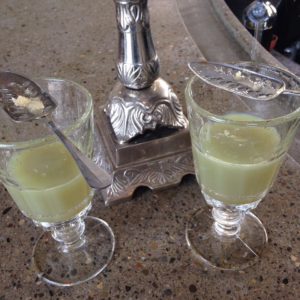 Affectionately known as the Green Fairy, by such notables as Hemingway, Picasso, and Oscar Wilde, the spirit distilled at Two James is a delicate blend of botanicals that, when properly consumed, is a sure fire means of heightening one's afternoon.
Connoisseurs and curios can find Two James Absinthe Du Nain Rouge in the tasting room Tuesday through Sunday. For hours please visit TwoJames.com
2445 Michigan Avenue Detroit, MI 48216