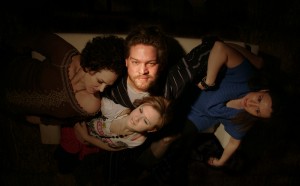 ARTS & EXHIBITION | Theatre
Gay Paris
Hurlyburly, David Rabe's tour de force play, is a shocking and brutally comic reflection on a decade of decadence. Welcome to Eddie's world. It exists at the very juncture where Hollywood meets the mountains, where the almost-rich and the not-yet-famous live on cheap thrills and heady ambition. Here, Eddie and his partner/roommate Mickey, along with wanna- be-producer Artie and hitman-turned-actor Phil, engage in a wild life of witty repartee and snappy come- backs, of ex-wives and future lovers, of hard partying and late nights, of sex, lies and self-obsession.
David Rabe has been hailed as one of America's greatest living playwrights. He is the author of many widely performed plays, including The Basic Training of Pavlo Hummel, Sticks and Bones, In the Boom Boom Room, Streamers, and The Dog Problem. Four of his plays have been nominated for Tony Awards, including one win for Best Play. He is the recipient of an Obie Award, the American Academy of Arts and Letters Award, Drama Desk Award, and the New York Drama Critics Circle Award, among others. His numerous screenwriting credits include I'm Dancing as Fast as I Can, Casualties of War, Hurlyburly, and The Firm.
Hurlyburly runs April 2-26, 2010 and tickets are $20.00 on Friday and Saturday nights at 8PM, $15.00 for Sunday matinees at 3PM and Monday 8PM performances are HALF OFF normal ticket price at $10.00 a ticket. Reservations may be made by phone at 248-545-5545 or online at www.whowantsCakeTheatre.com.
The Ringwald 22742 Woodward, Ferndale, MI 48220, (248) 556-8581