By Alissa Demos
BAGLEY SUPPLY CO. | Corktown
Roughly six months ago, Bagley Supply Co., a local goods and consignment shop providing all Michigan made products, opened its doors to the public.
Originally, Hybrid Moments was a small storefront on 9 Mile Road in Ferndale that sold records and clothing. Over time, store owner James Weeks and his fiancé Veronica Revis thirsted for expansion. About a year and a half ago, Hybrid Moments reopened as an independent record shop on Bagley Street in Corktown, eventually adding Bagley Supply Co. to the mix.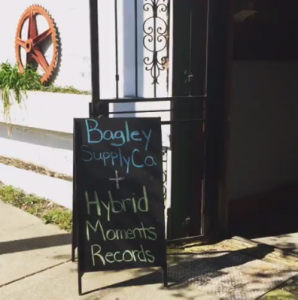 "It's been cool to have the separation between the two shops. It creates such a different flow in here," Revis stated.
Prior to remodeling, Bagley Supply Co.'s space was home to Bagley Vision (the original building owner is an optometrist), resulting in quite a bit of eye glass inventory left behind. Revis recognized the precious, abandoned glasses as an opportunity, and bought many of the frames. She now sells them for $10 apiece.
"It's awesome to see them coming back to life again," Revis exclaimed.
Clothes racks were full of vintage clothing curated by Weeks, Revis, and Jeremy Waun. Revis, having been a passionate collector (or "vintage hoarder," as she defined it) for years, loves to see clothes find new homes, claiming there is "something for anybody."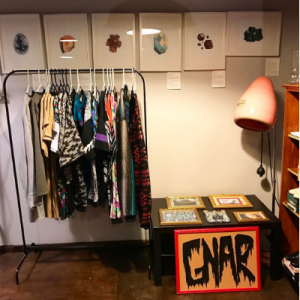 Bagley Supply Co. is organically rooted – from the shop's origin to its products and their creators/curators, providing a sense of "feedback from the people, in a way," Revis said.
Pleasant woodwork displayed prints, ceramics, and other works of art all made locally. Specifically featured were prints made by Peggy Ruby (Simple Minerals), a Ferndale based graphic artist who creates "simple and classic renditions of complex mineral and crystal specimens." Ruby is also one-third of a family run estate sale and organizing business Poof! Estate Services, which Revis insists on checking out.
An abundance of apothecary items presented by White Pine Rising are available for retail only at Bagley Supply Co. Also, handmade soaps and natural soy candles by Ashley Dupuy of Wooden Wolves can be found in the shop. Dupuy, a multidisciplinary artist with a background in graphic design, created Bagley Supply Co.'s pleasant logo as well.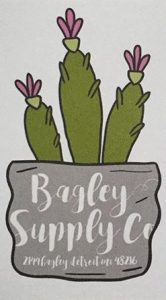 Simple, yet elegant ceramic moon phase cups by Eliza Fernand adorned the shop. Do yourself a grand favor, and check out her art work. According to her website, Fernand offers people the opportunity to "commission a quilt," in which she handmakes magnificent quilts from sentimental garments or bedding. In fact, her business cards display a blanket fort she herself made and traveled in.
Anna Sysling of Ferndale provides the shop with one of a kind statement necklaces made with unique materials such as fish vertebrae, glass beads, bone beads, coral pieces, and stones, according to Revis.
"We also carry leather wallets, denim jeans, and patches from ALXVNDRA who has a studio in Southwest Detroit!" Revis said.
Pop-up shows are available at Bagley Supply Co. for anyone who is interested. Louie (LXCLTV), who happened to be in the shop upon interview, had just held a pop-up the night before, showcasing some gnarly tees and jumpers assembled from the imaginative collaboration of himself and other local artists.
As stated by Revis, Bagley Supply Co. has also hosted poetry readings and small, intimate acoustic sets.
Revis hopes to continue showcasing local artists and "bring something affordable to the area." She expressed the inability to find appealing and affordable shops nearby, resulting in a natural grasp on the matter.
Detroiters, of all people, should appreciate the fact that looks can be deceiving. One may Google "Hybrid Moments Detroit" and second guess the drop in upon viewing. Don't. Those involved are incredibly welcoming, and the selection of local goods in support of local residents are too satisfying to pass up.
From being consumed by a vicious fire in 1944, to housing various businesses over the years, the abode on Bagley has survived the test of time. And through Weeks and company's continuous refurbishment and operation, it will continue to be rejuvenated.
2144 Bagley St. (enter through Hybrid Moments) | Detroit, MI