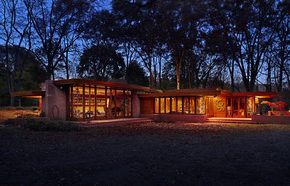 WHO :: Frank Lloyd Wright, Architect
Smith House Tours through October
Tour the Frank Lloyd Wright-designed Smith House in Bloomfield Hills, which was constructed in 1949-50, for two public school teachers who were existing on a tight budget. Wright agreed to design the home for approximately $9,000. The tour offers a unique view of this special home, its landscape, and the story of Sara Stein and Melvyn Maxwell Smith, whose vision and determination allowed them to achieve their dream. FLW called the Smith House, "My little gem" when he came back to visit the structure in the late 50s.
October tours are still available. Time slots are limited. The tours are hosted by the Cranbrook Center for Collections and Research in partnership with the Towbes Foundation.
For more details and availability—including tour dates in October— call (248) 645-3323.
---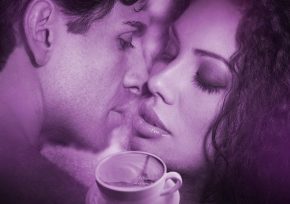 WHAT :: Michigan Opera Theatre's 45th Fall Opera Season
Giacomo Puccini's La Bohème
Detroit Opera House, October 17-25
Dr. David DiChiera, MOT founder and artistic director, opened the Detroit Opera House with a production of La Bohème in 1996. This season's La Bohème marks the company's ninth production of the opera.
Everyone, at some point in life, will endure the same trials: love and loss and bliss and heartbreak. That's especially true in Puccini's story of Mimì and Rodolfo, a poor young couple seeking a lovers' paradise among their resilient, struggling friends in the Latin Quarter of Paris. Scintillating and easily accessible, La Bohème is a romantic adventure for lovers of any age, and the perfect opera for first-time opera patrons.
Soprano Nicole Cabell (Oct. 17, 21, 24) will alternate in the role of Mimì with soprano Lina Tetriani (Oct. 25), who is making her debut with the company. Tenor Sean Panikkar (Oct. 17, 21, 24), an alumnus of the University of Michigan, will make his MOT debut as Rodolfo. Panikkar recently made his Metropolitan Opera debut and is a member of Forte – an operatic tenor group. Tenor Eric Margiore (Oct. 25), will alternate in the role of Rodolfo.
For complete casting information, please visit MichiganOpera.org or phone (313) 237-SING.
---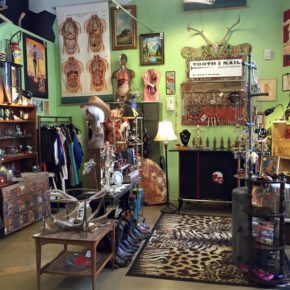 WEAR :: Tooth & Nail Jewelry Oddities
The Rust Belt Market, Ferndale
Owner Stacey Dumas has created a unique shopping experience with Tooth & Nail, offering clients a selection of vintage clothing, jewelry, and home goods and gift items that range from the beautiful to the macabre. Many items come from the closet of Ms. Dumas herself, with vintage leathers, 60s mod dresses, boots, and hats all conspiring to expose the shop owner as the stylist she is. In addition to vintage canes, statuettes, and an array of animal skulls and racks, Dumas also designs leather belts, wristbands and, as the name implies, interesting oddities in fashion and jewelry, including pieces constructed from tooth and nail. Open Fri and Sat 11-7 and Sun 11-6 inside The Rustbelt Market, Ferndale.
Find Tooth & Nail on Facebook.