WHO | CALEB DANKO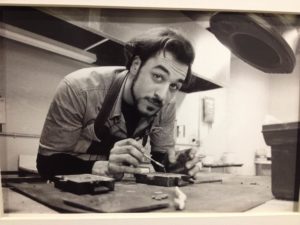 Danko Blood Leather Studio
Based: Oak Park Mi.
Long time Resident of metropolitan Detroit, Caleb Danko is approaching his 9th year as owner/operator of Danko Blood Leather Studio. The studio focuses mainly on Furniture Restoration, Chopper Clients and gear, including other wood, metal, and leather projects.
Although, currently operating as a lead furniture representative for a Columbus, Ohio company, Danko stays true to craft by supplying small goods to boutiques and shops like, The Advance Vapor stores. In addition Danko works directly with furniture clients seeking high end restoration and re-upholstery.
Recently, Danko has become active in the crafts of pin-striping and sign-painting, and has appeared at Autorama as part of the Auto Art Mavens Group – A team of highly skilled, audacious, and creative individuals, who wield brushes and paint as their weapons of choice. Danco Blood Leather can be found Online with the Instagram and Twitter Hashtags #DBLstudio and #DankoBloodLeather and #Ucantstopprogress, which, Danco says, "has become somewhat of a motto for my work; constant evolution, growth, and mindfulness are top priorities.
Dankobloodleather.com |
@Dankobloodleather |
5174167154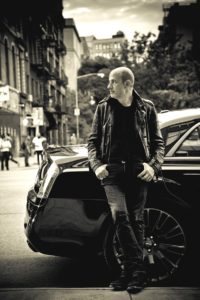 WHAT | JOHN VARVATOS
 America Men's Fashion Designer
 Detroit Store: First Floor & Mezzanine, 1500 Woodward, Wright Kay Building
Allen Park native, and world renowned fashion designer, John Varvatos comes home to Detroit with the launch of his highly anticipated, 4,600 square foot downtown retail space. Scheduled for March 12, the high end clothing store, with heavy rock and roll tendencies, will be opened for business on the first floor and mezzanine of the Wright Kay Building, designed by architect Gordon Lloyd, circa 1891. Once home to Wright Kay Jewelers, the building houses Wright & Company, the bar/restaurant that serves small plates, handcraft cocktails, and with the beautiful painting by artist, Michelle Tanguay behind the bar, has been a hit with urbanites. Varvatos will offer pieces from his Signature collection, but will also offer a line of vintage style t-shirts that pay homage to the history of Detroit rock and roll – look for artists like Mitch Ryder, Iggy & the Stooges, MC5 and Bob Seger. With Varvatos' downtown location being the brand's first Midwest location, it looks as though Woodward Avenue is certainly set for a very promising 2015.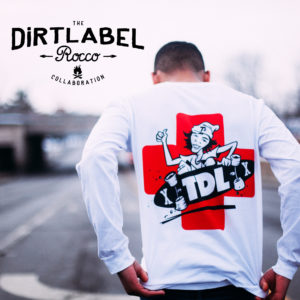 WEAR | THE DIRT LABEL
 Detroit Based Designs
 Established 2006 by Chris Morris
Music and fashion icon Madonna paid a visit to The Dirt Label space inside Corktown's Ponyride late 2014, and was instantly hooked by owner Chris Morris and team's street cocky apparel. According to Morris, "Madonna mentioned how her son Rocco would really love the brand, then she pick up eight shirts and some hats." This chance meeting led to a collaboration between Madonna, Rocco and Dirt Label, which produced a limited edition t-shirt. Rocco had full control of the design concept, with Morris charged with the task of bringing it to life. "Working with Rocco and Madonna was surprisingly cool," says Morris. "Madonna was real-laid back and offered some really great advice." It seems Rocco's lifestyle and the Detroit design team worked well together, as plans are in the works for further collaboration. "Rocco wanted something that would represent and was into Detroit Label's bold and daring approach to the Brand," says Morris. The Dirt Label is also working with Lupe Fiasco, Lil Wayne and a host of local artists including, Roland Coit [Burn Rubber], Dante Rionda [photographer] and Slow's Bar BQ.