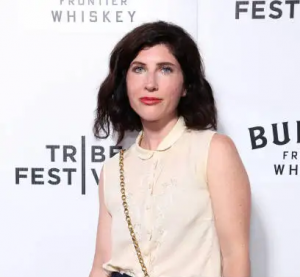 WHO:: Becky Hutner | Filmmaker 
With a focus on impact storytelling, Becky Hutner is an award-winning Canadian filmmaker. Her first feature documentary, FASHION REIMAGINED, premiered at Tribeca, played over 65 festivals and earned a British Independent Film Award nomination for Best Debut Director.
FASHION REIMAGINED follows designer Amy Powney of cult label Mother of Pearl, a rising star in the London fashion scene. Raised off-the-grid in rural England by activist parents, Amy has always felt uneasy about the devastating environmental impact of her industry.
When she wins the coveted Vogue award for the Best Young Designer of the Year, Amy decides to invest the huge cash prize in the creation of a sustainable collection from field to finished garment. But making change in an industry that's unregulated and shrouded in secrecy begs the question – can fashion ever be sustainable?
"My aim with FASHION REIMAGINED is to bring into sharper focus, the story of our clothes. To highlight the people, animals and resources that go into a garment across complex global supply chains, in the hopes of fostering a greater appreciation for clothes as items to purchase thoughtfully and cherish," said Becky Hutner, Director and Producer. "Despite the leaps we've made since Amy was a university student in the mid 2000s, and notably since we started filming with Amy in 2017, fashion is still a major and ever-accelerating contributor to climate change, ocean microplastic, deforestation and landfills. The way we produce clothing and indeed our very relationship with clothes needs to change fast. And I hope FASHION REIMAGINED can help usher in a new narrative for fashion, one in which we can all enjoy this vital artform and tool for self-expression in a way that centers people and planet."
Fashion Reimagined (Designer, Amy Powney, featured image) is streaming on Sky and NOW in the UK and available globally on Apple TV, Amazon Prime, Google Play and Vudu.
____________________
WHAT:: The Textile Museum of Canada
The Textile Museum of Canada launched its  Collection Gallery earlier this year with the inaugural installation Gathering, featuring community stories told through its global collection. The installation presents over 40 pieces spanning the 18th to 21st century from the Museum's permanent collection of over 15,000 objects. Choices of objects, responses, and retellings were gathered via open online calls for reflection, through partnerships with local organizations, and through artists' interventions. Gathering presents collection objects alongside contemporary artistic outputs through four themes – Migration and Diaspora, Everyday Life, Ancestral Reclamation and Artists' Responses, and Resilience – that explore the human experience through textiles. 
Migration and Diaspora is examined through several examples, including an early 20th century embroidered woman's dress from Pakistan paired with personal stories from community participant Beenish Tahir, and war rugs from Afghanistan presented alongside original videos produced in partnership with the Afghan Women's Organization (AWO).
The narratives and meanings revealed through the voices of individuals featured throughout the installation invite us to consider what artist Carol Ann Apilado referred to as "textile as worldview" – how we build upon stories over time and space, and how each cultural belonging holds multiple layers of relevance. 
"We are thrilled to open our new Collection Gallery with an installation that highlights the diverse perspectives and artistic responses of the many communities that make up Tkaronto and the country now called Canada," said Kirsten Kamper, Director and CEO of the Textile Museum of Canada. "Gathering builds on a deep understanding of the evolving nature of collections, their complex histories, and the need for transparency regarding whose voices are represented and how an object came to be in the collection."
Among the Museum's new acquisitions in this initial installation are a 19th century Ainu attush robe from
Hokkaido, Japan, and eight contemporary beaded works by Vancouver-based, Anishnabekwe artist Bev Koski. Gathering also features additional contemporary artworks and personal digital responses by Par Nair, Katy Biele, and others.
____________________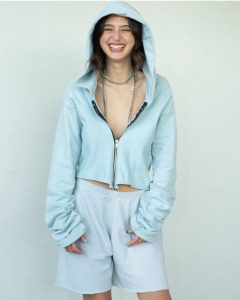 WEAR:: RAYA | Detroit
Born and raised in Metro Detroit, Raya Sacco began her career as an intern for Nylon Magazine. After assisting on set for a Steve Madden campaign, Raya determined to turn her passion as a stylist into a career. For the next three years, Raya hustled as a freelance stylist New York City's fashion scene. But, she soon yearned for more meaning in her work – and a desire to bring high fashion and lifestyle back to her hometown of Detroit. 
In 2020, Sacco launched the RAYA brand, focusing on vintage pieces for men and women, with an eye on introducing independent designers to the Midwest market. Despite initial success, the designer's quest for a deeper connection with her purpose persisted. Raya dedicated herself to mastering the art of sewing, with the goal of expanding her Brand into the sustainable lifestyle sector. 
Raya's vision for sustainable clothing centers on repurposing quality fabrics like denim, leather, and knits. And, the RAYA brand is a testament to eco-friendly practices and her commitment to conscious consumers who seek one-of-a-kind pieces. The designer's dedication to exceptional craftsmanship blends natural elements and textures with futuristic design concepts, creating a brighter, more eco-conscious future for the Detroit fashion movement, in particular, and the global fashion industry, at large.
____________________
Thank you for your time, Metropolitans. We hope you are able to look further into the work of these artists.
Be well out there!