By Mike Norton
It's been 18 years since Traverse City artist and skier Kaye Krapohl started the first Women's Winter Tour as a way to help women feel more comfortable in the Great Outdoors. Next month, after a long pilgrimage around northern Michigan, the tour is returning to its original home at Timber Ridge Nordic Center.
"It's really exciting to be back where we started," said Krapohl, who's been feverishly putting the finishing touches on all the details of logistics, scheduling, sponsorships and volunteer deployment.
It also puts the Feb. 7 event back on Traverse City's beloved Vasa Trail, which adjoins Timber Ridge. Krapohl has long been a close friend of the trail (for a time she was president of the North American Vasa ski race that takes place there every February) so this year's return has a great deal of emotional importance for her and her fellow WWT veterans.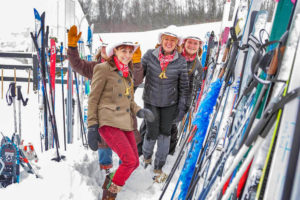 Unlike other athletic events, the Women's Tour features no stopwatches or numbered bibs. In fact, it's entirely noncompetitive. Participants ski or snowshoe at their own pace, stopping along the trail for locally crafted wines, gourmet cuisine, desserts and chocolates at trailside refueling stops — and the only men in sight will be there to help.
According to Kaye, the only goal is to encourage women to have fun, stay fit and make friends. "It's not a race; it's a social event," she says. "It's all about fun."
These days almost everyone in Traverse City takes to skis, skates or snowshoes during the snowy winter months, but things were a bit different in 1999 when Krapohl came up with the idea of holding a just-for-fun event where women could spend Super Bowl Sunday together in the snow, skiing and eating chocolate and sampling gourmet snacks.
She was convinced that Nordic skiing was the perfect exercise for women who weren't interested in aerobics classes or other organized indoor activities, but suspected that many potential skiers were being held back by self-consciousness and unfamiliarity with the sport. To overcome those barriers, she resorted to a powerful lure. Chocolate.
On that first Women's Tour, she went out ahead of her first crop of some 200 women skiers and dropped Hershey kisses along the trail to encourage them. The event was an instant success, and grew rapidly. At the height of its popularity, in fact, it acquired major corporate sponsors and spread to sister events in eight cities — from Lake Tahoe to Mont Tremblant, Quebec, drawing an estimated 6,000 participants.
But attendance slowly declined when the event moved away from Traverse City, and participants kept urging Krapohl to bring the event back to the place where it began. In 2013 and 2014 they got closer — using the Leelanau Trail between Traverse City and Suttons Bay — and in 2015 they ran it at Traverse City's Historic Barns Park and the steep paths of the Grand Traverse Commons. But in the words of Dorothy Gale, there's no place like home.
One of the most eagerly-awaited elements of each year's Tour is its annual theme; since the very beginning, Krapohl and other organizers have enjoyed creating posters, costumes and tchotchkes to set the tone for the coming winter – Ancient Egypt, the Wild West, Wonder Women, the Roaring Twenties. .. you get the idea. This year's theme? It's the decade everybody loves to sneer at: the Seventies.
"Think Elvis in a white jumpsuit, fringe, Tang and the Jackson 5 (or Donny Osmond)," says the official tour flyer. Umm, what if we'd rather not?
There's a serious side to all this fun, too. The Women's Winter Tour is part of Active Women Now, Inc., non-profit organization that works to end sexual and domestic abuse by supporting local charities that assist in these areas. Tour registration fees are earmarked for charities that provide help to women and children, and since it began the WWT has raised over $120,000 for such causes.
Tickets for this year's tour are $10 for young girls, $30 for teens and $40 for adults. (On the day of the tour, the last two categories bump up to $40 and $50 respectively.) And they don';t particularly care whether there's snow or not, or if participants want to head out on the trail or just party at the lodge.