Has the fine art of innovative cooking technology finally arrived?
According to CookingPal, Multo is the ultimate easy- to-use, all-in-one kitchen appliance that combines the work of 15 cooking tools into just one unit. The multifunctional machine has the ability to knead, scale, sauté, steam, chop, grind, boil, and even clean itself afterwards – sounding very similar to my cat, actually.
Our kitchens have their fair share of challenges, with the lack of space, the different types of kitchen tools and appliances, but the developers at CookingPal claim they have developed a companion that will solve many of these issues.
Multo offers cooking help even when we've stepped away from the kitchen, with real-time cooking assistance, and notifications of our cooking progress through a Smart Kitchen Hub and Mobile App. Every Multo comes equipped with a tablet that not only controls the modes of cooking, but includes recipes, which help us ease into this new way of cooking.
And, so with equal parts curiosity and skepticism, I had one shipped to my home to give it a whirl; knowing I had 30 days to return if not completely satisfied, as is the company's Return Policy.
When the package arrived, I was surprised by its size. It was much larger than anticipated. Beautifully boxed, like a 3 dimensional puzzle, the unit was tucked safely inside a matrix of shipping protection. Immediately, it was clear Multo was a serious piece of kitchen technology. In fact, the experience was similar to unboxing my last Mac desktop – rather exciting.
Admittedly, I was a bit intimidated by the sleek, mod look of Multo. Its design is something of the future; like a machine I might own light years from now. It weighed a bit more than I expected, as well. Not too heavy, but substantial. This is a serious tool. I have nicknamed mine HAL, inspired by the classic film 2001: A Space Odyssey.
Multo comes equipped with 9" HD remote Hub featuring a free recipe library and free cooking classes. Fortunately, there is a range of recipe skill levels to choose from in the Hub, including a variety of vegan and vegetarian options. I moved Multo to my kitchen table and gave it a quick go.
A basic pasta seemed like a comfortable place to begin. Technically, there really wasn't any benefit to cooking pasta this way (though, I used electricity with Multo rather than gas), since a traditional pot of boiling water would have been just as fast. But, it did allow me to get familiar with the settings and operation; controls worked, water boiled, pasta al dente. 
For my next trick, I decided to prepare a glorious Mac n Cheese. A small feature for some but a pleasant surprise for me came when I had Multo grate the cheese. Funny, as it may be, I adore cheese but hate the grating. This approach saved me so much time. And, it was a cinch to clean, as I discovered while utilizing the 'Self-Cleaning' feature I was talking about. No, it did not actually give itself a bath. But, all I had to do was fill the pot with water, put on the lid, push a button, and let it go to work.
Look Ma, no skinned knuckles! 
Where this unit really shines is with recipes that cook different foods at the same time. You could, for example, first prep and cook a sauce, then set aside. Boil potatoes or pasta while steaming chicken or fish. A few recipes found on the Hub that would be good for this are Chicken Satay with Vegetables and Rice, Salmon and Pesto Spaghetti, and Creamy Chicken Fricassee with Rice. 
But, before I got into the layered approach, I decided it would be best to schedule a complimentary demonstration with Cooking Pal's, Chef Jamie Foy. We connected through my iphone using google meetings (I think) in a virtual cooking class that Chef Foy provided along with the demonstration. With wedding season in the near future, I chose 'Marry Me Chicken'.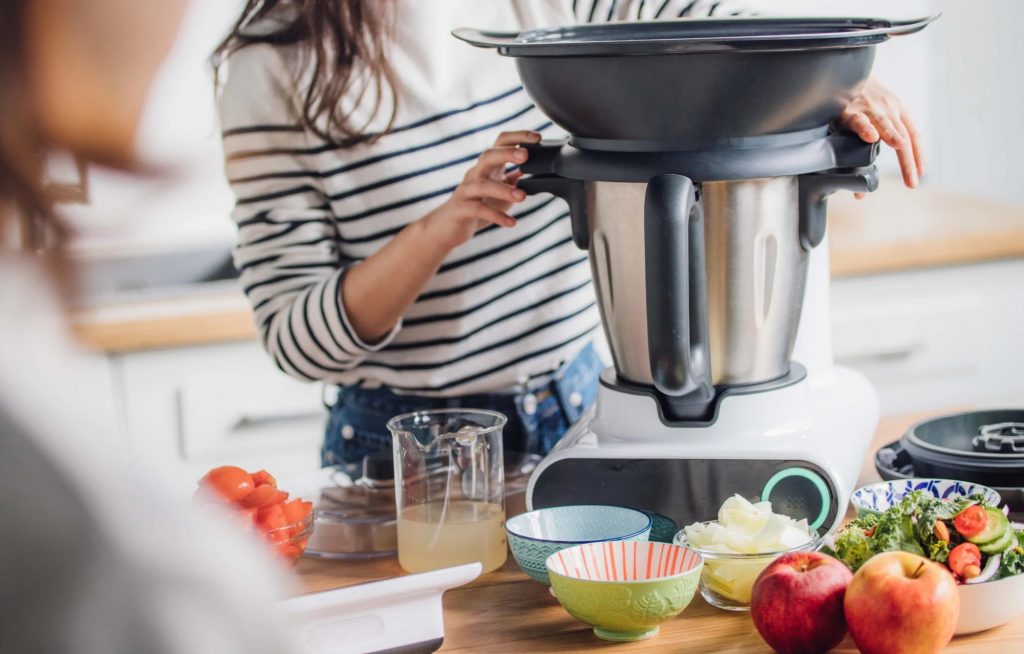 Chef Foy has a streamlined kitchen, looks like a chef's kitchen on a cooking tv show. He was operating out of Hong Kong (so, keep any time changes in mind when you schedule). For me, it was evening. For chef, 6 am. Which, brought our conversation down to earth while he sipped on coffee and I a glass of wine.
Chef moves quickly, as I am sure he is booked with client's around the globe, with two Multo's going at one time. But, he was thorough throughout the process.  He knows his equipment. He knows his recipes. And, I was able to navigate the Hub and unit without any problems. So, we made 'Marry Me Chicken' together and the process was easier than anticipated. Chef Foy was friendly, helpful and seemed sincere in his desire to help me understand the process and equipment. In fact, it was a lot of fun. And, the final dish was pretty "tasty", as my 4 year old said.
I've made a few dishes since and have been pleased with the results. As with all new kitchen devices it will take some time to master, but the process so far has been fun – looking forward to see how far I can take Multo!
Breaking It Down
Currently, the Hub is solely for operating Multo and browsing their collection of recipes, which is nice. But, it would be fabulous if we could also schedule appointments and enjoy virtual cooking classes. And, the Hub should be there for users to build cooking communities worldwide, who are interested in sharing recipes or getting together to make dishes. Also, Multo is an Intelligent Cooking System, relying on WIFI to function, so keep that in mind.
Of course, each user must explore all of the options the unit offers before truly mastering it, but so far I have not been able to teach Multo to produce crispy caramelized edges. Nor, will it achieve the sauces that require the scraping of brown bits for deglazing. For meals of that nature, I go with a more traditional method.
Is Multo going to revolutionize my way of cooking? Probably not. But, it is an extremely helpful assistant. It does save time. And, it does produce many "tasty" family meals, with much less time spent on the tedious side of cooking. Now, that I think of it, I am excited to test the bread kneading feature, which is another of those strenuous activities we bakers are not always up for.
So, Is Multo Really Bene?
Yes, I think it is.
What impresses me most about the device is the sleek design, the ease of moving it about the kitchen, and its overall user friendliness. Multo takes the place of the blender, food processor, kneading machine, steamer, sous-vide cooker, rice cooker and scale, which opens up much needed space in my kitchen. 
I imagine friends that live in small spaces (speaking to my NYC and Paris peeps) loving the fact they won't need 7 different appliances for cooking, thus saving time and space – something, so hard to come by in even average size apartments. For those with large, lovely kitchens, heated, marble-top counters, and expansive islands, this unit adheres nicely to the Louis Sullivan maxim, Form follows function.
It's also nice to be cooking without flame. Especially, when cooking with my little ones. And, I appreciate the ability to cook starch and protein at the same time. With Multo I've had full meals going safely, while I tended to other matters – like assisting with my son's art projects, or picking up Ninja Turtles. And, I'm going to say it again, because it bears repeating, I absolutely loathe grating cheese. 
It took me a whole year to get fully acquainted with my Kitchen Aid and Multo has many more features, so I am excited to be cooking alongside my new assistant (aka HAL), having fun preparing meals by myself or with family. 
Finally, and not to be overlooked, the Self Cleaning Mode is seriously a strong feature. Usually, when I am through with a meal, pots, pans, mixing bowls, and utensils are everywhere. With Multo my husband is very happy to have less clean up (Ha!). And, when we have a really sticky mess we just go to Multo's second, more powerful, Deep Clean Mode.
Overall, Multo is attractive, convenient, easy to use, and full of fun cooking possibilities.  
$999 USD