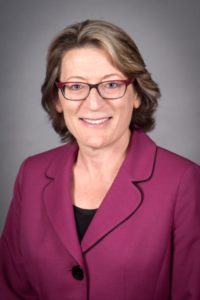 The YMCA of Metropolitan Detroit has named Helene Weir as its new Chief Executive Officer, effective February 1, 2019.
In her new role, Weir will be responsible for building the Y's capacity to ensure the future of its mission and to respond to emerging needs.
"During our search for a new CEO, we vetted candidates from throughout the country but Helene stood out," commented David Allen, Search Committee Chair. "Her energy and vision for the YMCA of Metropolitan Detroit is exactly what we were looking for in a leader. With Helene's experience in philanthropy and large YMCAs and passion towards the core values of the YMCA, we are convinced that the YMCA of Metropolitan Detroit will have fantastic leadership for years to come."
Weir comes to the Y with 35 years of experience in the non-profit world, most recently served as Vice President, working within the Large YMCA Resources department of the YMCA of the USA. She and the Large YMCA Resources team were responsible for supporting YMCAs so that they could maintain long-term sustainability, evolving relevance and community impact.
"I look forward to joining the YMCA of Metropolitan Detroit team and to the next chapter in its rich history," said Weir. "I started as a YMCA program director and am proud that my YMCA career has allowed me to merge mission and philanthropy to impact communities."
Prior to the YMCA of the USA, Weir served as President and CEO at YMCA Calgary, CEO of the Westport Weston Family YMCA in Westport, CT, and Senior Vice President of Operations at the Valley of the Sun YMCA in Phoenix, AZ.