We all want to look our best for the holidays but, let's face it, with all the opportunities for cookies and cocktails it gets hard for a young woman to maintain her best self. In preparation for the gauntlet of celebratory activities it's wise to fall back on the basic; fruit, vegetables, proteins, exercise, sleep, and water, water, water, water.
But, if you have it within your means this season it helps to utilize one or more of these finds …
Nebulyft | Holiday Sale Going on Now!
Months ago, I picked up the nebulyft R1 Multipolart RF Anti-Aging Device and have used it regularly. The product came beautifully packaged and included the Nebulyft beauty device, two 1.7oz tubes of botanical soothing gel, and an easy to follow instruction booklet.
According to the manufacture, Nebulyft is "like having an aesthetician in your pocket – stimulates collagen regeneration and tightens skin contours". I recommend that you take a look at nebulyft's website for a detailed explanation of the science and technical information to see if the product's specifications are right for you. That is well beyond my ability to do for each reader. What I am able to do, however, is share my personal experience with this product.
The Process:
Cleanse the face, then pat dry. Apply Nebulyft Botanical Soothing Gel to the RF head of the device, then start your daily treatment – Forehead. Right cheek. Left cheek. Upper lip. Chin. Neck.
Nebulyft Recommends a 10 minute session, starting with the lowest setting.   
My Experience: 
I prefer saving skincare treatments for night time, when skin has optimum time for regeneration. However, one must fit their regimine into their life the best they can, so do what works best for you.
Nebulyft feels like a gentle, warm iron smoothing my skin; like a relaxing 10 minute home spa experience. After testing Nebulyft for 8 weeks, I noticed a subtle difference in my skin's texture; specifically, it felt more firm. However, I wasn't certain how much my skin had improved until I took a break from the treatment. I thought by not using Nebulyft, I might understand what I was missing. During my break, I continued my normal routine; cleansing, then following with a basic anti-aging moisture. Turns out, my skin was better when using Nebulyft.  So, I went back to the device. After 4 more weeks of treatment I realized how much better my skin appeared and felt. It was more hydrated, glowing, and firm. So, now I'm back to using the product and once again experiencing positive results. 
I'm with my two little sons all of the time. When I'm away on a trip without them I'll notice upon my return how much they seem to have changed. That is what my time was like away from Nebulyft – I didn't realize just how great my skin was during the process, until I stepped away from the process.
Shall I quote Cinderella? "Don't know what you got till it's gone". 
We live, we learn.
Nebulyft has a fantastic sale going on for the holidays so give their website a view  www.Nebulyft.com
Zundora
Zundora's proprietary nutrient complex features Verisol hydrolyzed collagen peptides, which are clinically proven to improve the health of hair, skin, and nails, reduce fine lines and wrinkles, and increase skin elasticity. Zundora also includes potent ingredients from multiple superfoods that further help, protect, nourish, and smooth skin.
Zundora joins the Zurvita brand line of award-winning, natural, and clean products, including Zeal For Life, an all-in-one nutritional drink mix with essential nutrients and superfoods in one simple solution.
"As the public realizes the power of the collagen supplement, there is no wonder why this market is exploding. However, all collagen supplements are not equal," says Jay Shafer, Founder & CEO of Zurvita. "Every product we create is developed to be a healthy solution for modern families to achieve their goals, deliciously and affordably."
For more information on the ingredients and science please take a look at Zundora's website.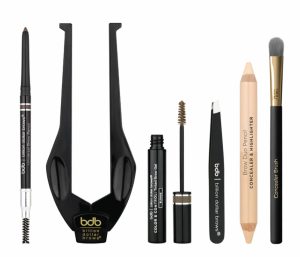 Billion Dollar Brows
The eyebrow frames the face. Proper attention to these often ignored features can provide a great lift or make your brows look fierce, depending on your mood. Lately, I've been playing with Billion Dollar Brows "Ultimate Brow Bundle" and have been pleased with the product.
I rediscovered BDB after reading an interview in this publication on lingerie designer Chloe Pearl, who apparently had all of her models walk the runway in NYFW '22 with brows finished by Billion Dollar.
The Ultimate Brow Bundle includes all the essentials you need to shape, lift, fill, and set your beautiful brows. Everything in the package feels like quality but it is the tweezer that is especially well made. Lightweight, thin, its construction makes it easy to hold and maneuver when shaping the brow. But the key to this tool is its flat, angled tip, which provides a better grip to more effectively remove each elusive brow hair.
In my opinion, this is a great Beauty Mark! gift idea for those women in your life, be they friends, lovers, family, or friends.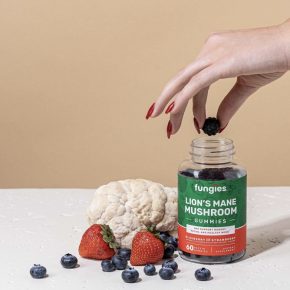 Fungies
Everyone's talking about mushrooms and Lions Mane and gummies. So the boys at Fungies got together and said, violà! Lions Mane Mushroom Gummies!
We picked up a few bottles for The Met and have been using Fungies regularly over a couple months to see if we can help ourselves not forget those things we had previously forgotten. So far so good. Studies say Lions Mane may help to support clarity, focus, a healthy mood, and overall cognitive performance. And, what's more beautiful than a healthy mind? Plus, these gummies taste like blueberries and strawberries, and those are two of the sexiest berries on the planet. So, that is why I've included this product in Beaty Mark!'s Holiday Gift Guide – because this season, apart from wishing for World Peace, I'm hoping we all take better care of inner health! And, there's no need to write to Santa for this gift, as we've included a link to the website right HERE!
St. Jude Children's Research Hospital
And, finally, just a gentle reminder that while Christmas is a celebration for many there are others who are in need. Of course, you probably already know that. If, however, you are undecided as to where you're going to donate this year I ask you to consider St. Jude Children's Research Hospital.
It is my understanding that, "The mission of St. Jude Children's Research Hospital is to advance cures, and means of prevention, for pediatric catastrophic diseases through research and treatment. Consistent with the vision of our founder Danny Thomas, no child is denied treatment based on race, religion or a family's ability to pay."
I'm sure every little bit helps. So, whatever you can afford will be welcomed.
Thank you for reading The Metropolitan.
Happy Holidays!