FOOD | Pete's Broadway Cafe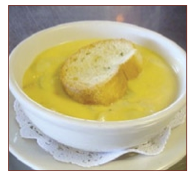 "On Canadian Cheddar Cheese Soup (and how it started an evening off right!)"
What is it about cheddar cheese that makes my heart swell with happiness? It is simple, yet it can become complex. It is a comforting familiar, but can be innovative at the same time. A prime example of this is the Canadian Cheese soup at Pete's Place (also known as Pete's Broadway Café) in Ferndale.
There I was, with my mother and sister, preparing for a fine meal at a café that many would overlook whilst passing by, much like a simple block of cheddar, and much like the humble offerings of a cheesy soup as a starting course. I was not hungry to begin with, but the allure of both cheese and soup in one blissful concoction seemed to stir up some room in my stomach. And then the food arrived.
Sure, my mother and sister had selected a fine assortment of dishes from their menu, (and all were exquisite and lovingly presented) but the cheese soup was all I could focus on. A creamy broth, with hints of cheddar, made for a perfect base, giving support to the broccoli, cauliflower, and other vegetables within.
Familiar but innovative; it was the start of what turned into a fine evening of Broadway musicals. I can't help but feel that I would not have enjoyed myself so much had it not been for that soup.