If there's one thing that defines the beauty and fashion industry, it is always looking to stay ahead of the latest trends. As of late, technology is dominating the industry, with innovative state-of-the-art products being constantly released. Case in point: Japanese online fashion retailer Zozo Inc. recently launched skin tone measuring glasses to make ordering cosmetics online easier, eliminating the collective pain point of identifying one's shade through the screen. Zozoglass is set to be a game changer for consumers worldwide.
An amalgamation of tech and beauty to improve the online buying experience for consumers everywhere, Zozoglass was engineered to detect a person's skin tone when scanned with a smartphone. Traditionally, you would have to head to a store and try out the product in person to determine whether it matches your skin. Zozoglass was created to replicate that very experience through technology, giving the consumer the confidence to buy cosmetics online.
When paired with the accompanying app, the augmented reality functionality will allow consumers to visualize how the makeup will look, allowing them to make better purchasing decisions. It will be initially limited to foundation at first, but it won't be long until the company expands to cover other product lines. Thanks to products like Zozoglass, consumers will be able to overcome some of their reservations about purchasing beauty products remotely.
See Zozoglass Video Here: https://www.youtube.com/watch?v=03xbxyEqz60
It's not the first time AR and fashion have collided in this manner. Beauty giant Sephora also released a similar service as Zozo Inc. called Virtual Artist, where customers can try various makeup shades and combinations using their front-facing camera on their smartphone. Small players like Wanna Kicks and Tenth Street Hats also used AR technology to give their consumers the chance to see how accessories would look on them before they reached the checkout.
This kind of game-changing technology is made possible by the hardware implanted in smartphones and wearables. The reason why AR is able to be so successfully embedded into these devices is thanks to the latest PCBs (printed circuit boards), that are getting smaller and more complex. Today's PCBs are designed to fit into unconventional shapes, such as the Zozoglass. Fashion companies like Michael Kors have also utilized the latest PCB technology in their products, most notably in the Michael Kors Access Runway smartwatch. With the implanted chip inside, the wearers can personalize the size, shape, and color of the face, dial, and band of their watch, and enable notifications from their smartphone apps for easy access.
With these innovations, it's becoming more and more clear that the fashion industry at large is already beginning to understand that it's slowly gearing towards a shift to AR. Not only does it improve the buying experience altogether, but AR solutions can also help both small and larger businesses boost their conversion rates. Currently, adoption is still slow due, but as more innovations are put forward to enhance the customer experience, AR in fashion and beauty is likely to increase in no time.
______________________________________________________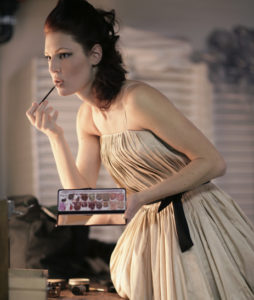 Jeanette Frost is a professional makeup artist with a penchant for chocolate. Find her on facebook for beauty tips or the recipe for her chocolate torte.