Évian-les-Bains, or simply, Evian, France. Just the name conjures up images of serene lakeside beauty, luxury, and a touch of old-world charm. But, there's more to this place than picturesque landscapes and extravagant hotels. Evian has a story, a history that's as intriguing as the water that made it famous.
In the 19th century, a natural spring was discovered. But this was no ordinary spring; it was water with supposed healing powers, a bit like the fountain of youth. People from all corners started flocking to Evian to take a sip of this miraculous elixir. And just like that, the town became a hub of health seekers and wellness enthusiasts.
The Belle Époque era swept through, bringing with it an air of elegance and sophistication. The rich and famous started to frequent this idyllic haven, seeking refuge from the hustle and bustle of city life. And what did they need? A place to rest their heads, of course. That's when the Hotel Royal Evian Resort enters the scene.
The resort was built by the Société des Eaux Minérales d'Evian, the company responsible for bottling and distributing the famous Evian water, and was strategically located near the source, allowing guests to enjoy its health benefits during their stay. It became the playground of aristocrats, writers, artists, and even royalty. They'd come for the water, yes, but they'd stay for the opulent accommodations, the breathtaking views of Lake Geneva, and the impeccable service that made them feel like true royalty.
The hotel's walls have seen it all – whispered secrets, grand celebrations, and maybe even a scandal or two. But hey, what's a luxury hotel without a touch of scandal, right? It's said that the Hotel Royal Evian Resort was also a favorite haunt of some of the world's most glamorous supermodels. Now, I won't drop names, but let's just say that they reveled in the exclusivity and privacy of this hidden gem.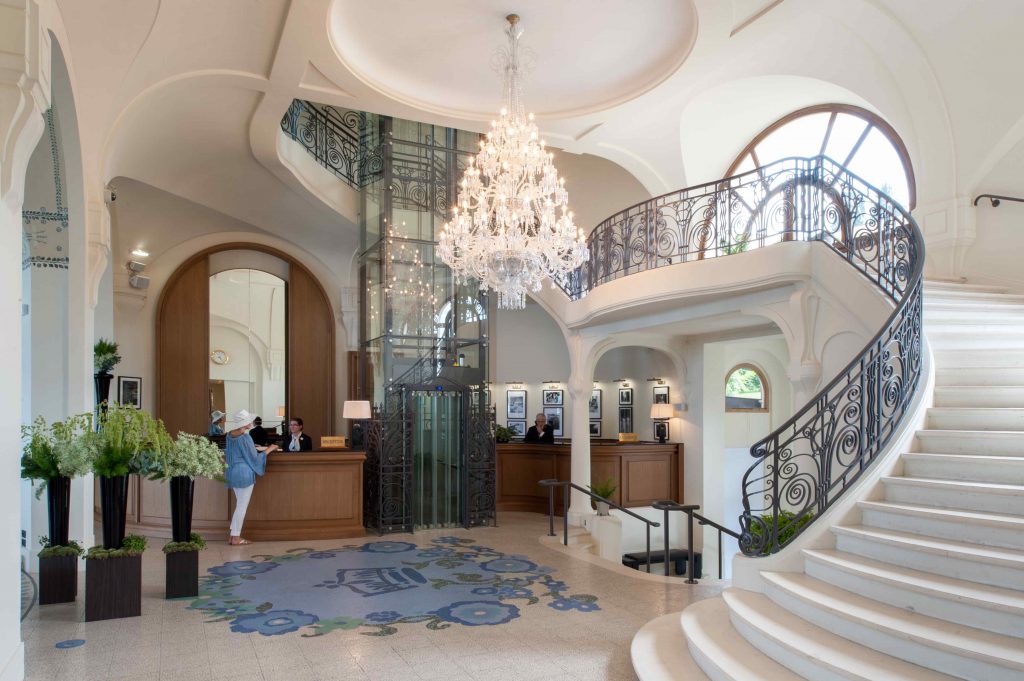 The Splendor, The Grandeur 
Nestled in the stunning embrace of Lake Geneva, the Hotel Royal-Evian Resort blends stylishly and innovatively within the mountain peaks of Haute-Savoie; this place oozes beauty. Established in 1909, it has been a sanctuary for the discerning traveler for over a century, a true testament to refined elegance.
The hotel has seen its fair share of renovations, expanding its opulence while keeping intact its old-world charm. It's the kind of place where you walk in and instantly feel like you've stepped into a timeless world of indulgence. Today, it stands as a five-star luxury resort, offering impeccable service, top-notch amenities, and breathtaking views.
Now, let's shift our focus to the culinary delights awaiting you at the hotel's Les Fresques dining room. The panoramic views from the terrace and magnificent frescoes by Gustave Jaulmes that adorn the ceiling are just the atmosphere one expects from a Michelin-starred (since 2018) restaurant that has been awarded the 3 macaroons of the Ecotable label.
Beginning with selections from Champagne Lombard, KRUG, and other effervescents, Les Fresques extensive Champagne and Wine list is impeccable. And, there is nothing like bubbles to put you in the right frame of mind for what's to come. Chef Patrice Vander, 1* Michelin since 2018, a master of French cuisine, crafts dishes that embody the marriage of tradition and innovation.
Michelin Suggests
Ecrevisses, royale de foie gras, écume parfumée à la verveine du Potager (Crayfish, royal foie gras, verbena flavoured froth).
Filets de Perches du Lac, servis sur un galet fumant, pommes rouges et réduction de cidre
(Perch from the Lake, served on a warm stone, red apple, reduced cider).
Poularde de Bresse, le suprême clouté au foie gras, fines herbes, la cuisse confite, vin jaune (Bresse chicken, supreme studded with foie gras, fine herbs, leg confit, vin jaune).
---
The Surroundings?
Lake Geneva itself is a dazzling expanse of sparkling blue, inviting visitors to embrace its waters or simply bask in its serene beauty. The picturesque towns and villages dotting its shores, Yvoire, with its medieval allure, will transport you back in time as you wander its flower-lined streets.
Explore the enchanting "Jardin des Cinq Sens" (Garden of the Five Senses). This unique garden offers a serene natural experience with beautifully landscaped areas designed to stimulate each of the five senses. Enjoy the fragrant plants, touch the various textures, taste the herbs in the medicinal garden, and listen to the soothing sounds of nature. An ideal spot to relax and immerse yourself in tranquility. In the other direction of the hotel, Chillion Castle, sits steeped in centuries of history, sure to captivate your Avatar's little Renaissance heart. 
Further still is Montreux. Renown for its annual jazz festival its also the place Freddie Mercury – frontman, singer/songwriter – of the band, QUEEN found creative solace. And, the folks here know how to pay tribute. You'll find a statue of Freddie along the lakeside, a reminder that this place inspired some of Queen's greatest hits. Fans celebrate Freddie Mercury Day each September 5th to mark the legend's birthday.
For those seeking a hidden gem, directly across the lake from Hotel Royal, located in Lausanne, is the haven of coffee, pastry, and art, L'Atelier. Tucked away in a charming alley, this café is a secret oasis for those seeking a sensory experience. You walk in, and immediately you're enveloped by the aroma of freshly brewed coffee and the sight of local artwork adorning the walls.
And, they have a really cute bathroom!
Things To Do in Evian
Take a ride on the Funiculaire d'Evian – your backstage pass to the town's charm. It's not your usual commute; it's a vertical journey that spills secrets as you ascend. As the tracks crawl uphill, Evian-les-Bains reveals its layers, from hidden alleys to lake vistas. You're not just riding; you're peeling back the town's layers, one altitude at a time.
Take a leisurely stroll along the Quai – that's where Evian's heartbeat comes alive. You'll catch glimpses of architectural marvels like the Palais Lumière, by architect Ernest Brunnarius. This elegant belle époque beauty stands tall, just waiting to be admired. And, while you won't directly spot the Casino d'Evian, an architectural masterpiece by Charles Garnier, from the Quai, it's worth a short detour to witness its grandeur.
Casino d'Evian & Theatre – Opened in 1911, its ornate halls saw royalty, artists, and tycoons gather. The likes of Coco Chanel graced its tables. Yet, the real show was in the games: roulette, blackjack, and baccarat. From big wins to bigger losses, let the chips fall where they may. But the casino stood tall, a silent witness to fortunes forged and dashed; history woven with luck, luxury, and intrigue.
The theater staged legends like Edith Piaf and Ray Charles, filling the lavish Belle Époque room with timeless sounds. During World War II, the Casino d'Evian's theater played a covert role as a sanctuary for priceless artworks. Behind the curtains and under the spotlight, precious pieces of art found safe haven. It's a tale of resilience and preservation, where culture found solace amidst turmoil.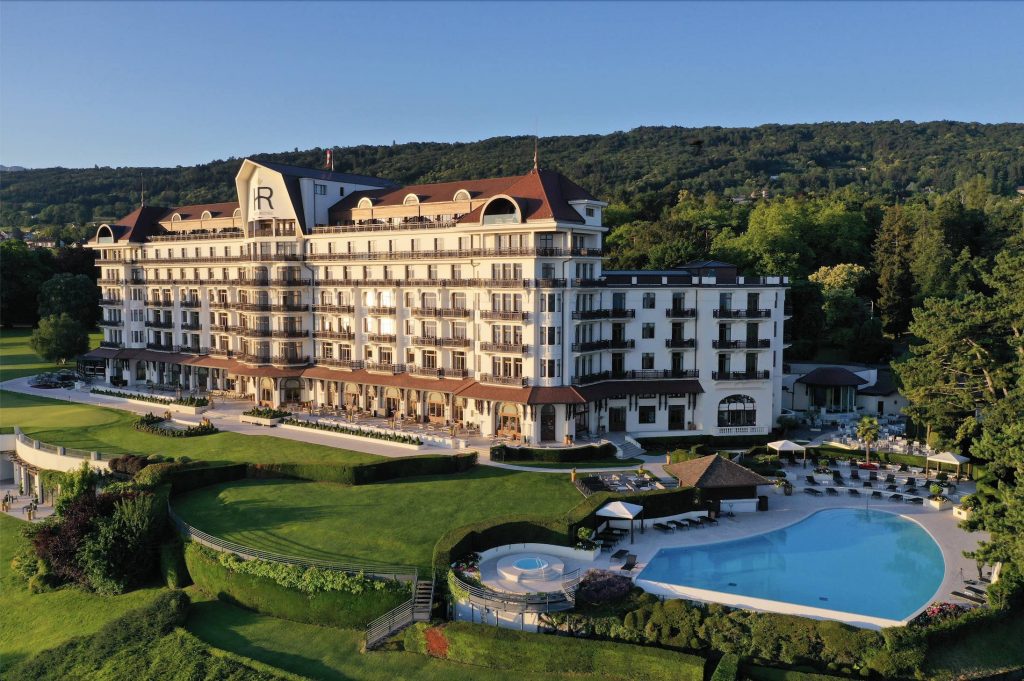 How To Finish The Day
The spas here aren't just pampering; they're rooted in history. Back in the 19th century, folks flocked for the healing mineral waters that promised a cure-all. Today, those ancient remedies meet modern luxury. Spas like the Nature Spa offer treatments that'll turn anyone into a believer – from soothing massages to mineral-rich baths that'll have you feeling born anew. It's not just relaxation; it's tapping into a tradition where healing waters meet 21st-century indulgence. The Spa experience includes heated indoor and outdoor pools, hot tub, sauna, steam room, hydro-circuit gym, and hairdressing salon.
Or, bring your spiritual and hedonistic side into Le Bar. Today, bar manager Davide Trupia and his team draw upon the great cocktails created by the Chef Barman of the Royal, who between 1977 – 1999 developed a menu of Evian based dietary elixirs, rich in fresh fruit, vegetables, and herbs and spices. Now, they are complemented with the world's finest spirits. Davide admits The Bar is know for a variety of cocktails and feels confident that his guests will not be disappointed.
The Hotel Royal-Evian Resort and its surroundings are a tapestry of history, luxury, natural beauty, and culinary delights. It's a playground for the senses, where one can immerse oneself in the elegance of Lake Geneva, indulge in exquisite cuisine, and discover hidden gems that awaken the spirit of adventure.
Be well.
___________________________________________________
Photography
Hotel Royal Evain © Jérôme Mondière
Chef Patrice Vander Plat Collection © Pascal Reynaud
Le Bar © Nicholas Jacquemin