by Harry Onickel
Rather than dissect July's Temple Mount terrorist attack and worldwide reaction, as I said I was going to in our first exciting chapter, let's examine some of the more frivolous episodes of my Jerusalem visit.
First, let's discuss Google Maps and the fact that Google is not exactly reliable in navigating Jerusalem. Every set of directions (which I copied on paper to avoid roaming and data charges) came with the following warning: "Use caution – may involve errors or sections not suited for walking."  What? But you're Google! You can track me through my phone. You know where I am even when I don't! As the psalmist wrote (even though it wasn't about you):
"Whither shall I go from thy spirit?
      Or whither shall I flee from thy presence?"
And yet, there I was wandering the streets, lost in an unfamiliar neighborhood, looking for a grocery store. I found it on the second try. Considering this was my second day in Jerusalem, and most of the streets do not meet at right angles, and some of the streets are barely marked, and some are not much more than alleys or enlarged pedestrian walkways, and that I had to recall enough of my childhood Hebrew lessons to suddenly remember that "melech" means "king", that's not too bad.
I did find a grocery store on my first try, but it wasn't the right one. I bought stuff anyway. Then I bought more stuff at the right one.
Then we learned about Machane Yehuda Market, aka – the Shuk, and who cared about grocery stores anymore? Think of the shuk as Jerusalem's Eastern Market, but bigger, making Detroit's Eastern Market look like the Royal Oak Farmer's Market (nothing personal, ROFM). You have aisles and aisles of butchers, bakers, candlestick makers, and lots of other stuff. I can't say it's fun, but it is much more personal than picking items off of a shelf in a warehouse. After shopping we could have relaxed over a sushi or a burger dinner before setting off for home. The shuk was also wonderfully easy to find. We just had to follow the light rail tracks from the Damascus Gate stop until we got there. Or, as we did when we didn't feel like taking a 20-minute walk in the hot sun, hop on the light rail.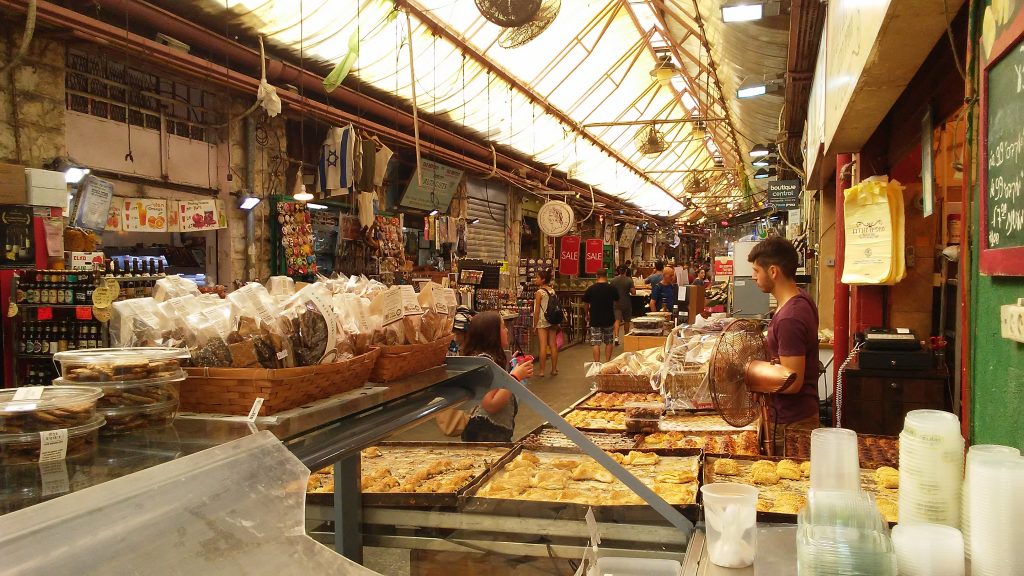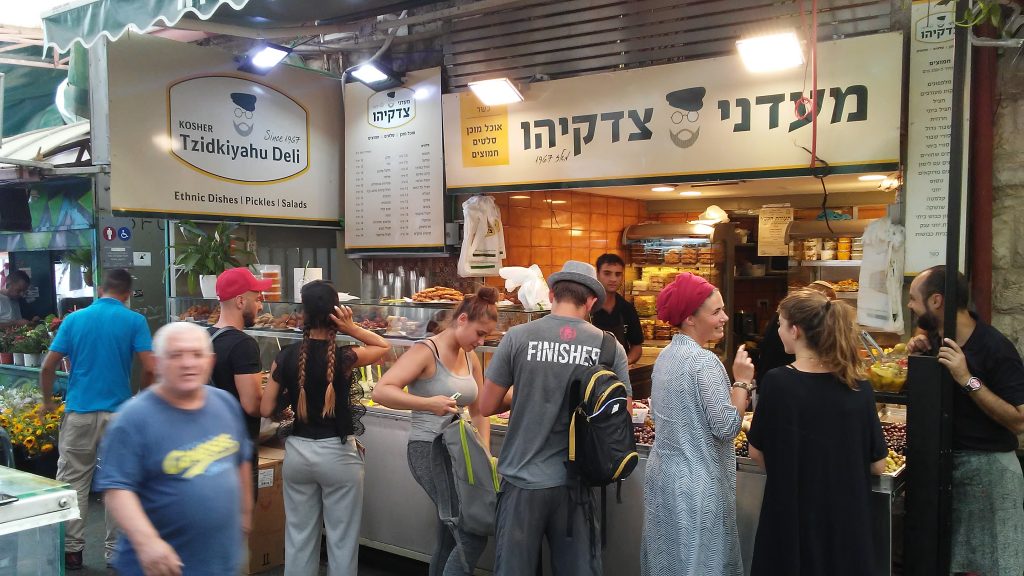 Another Jerusalem marvel we explored was Hezekiah's Tunnel. The tunnel was built during the time of the first Temple (8th century BCE) in order to divert the city's water supply deep underground to safeguard it from invaders. It's 1750 winding feet long, and it was carved out of solid rock by men with hammers and chisels. There is no light down there, but there is water – flowing from the Gihon Spring. We bought flashlights for our walk.
In order to get down to the tunnel, you descend through other tunnels and enclosed stairways. That wasn't so bad. As you prepare to enter the tunnel, it curves so that you can't see very far ahead. There is also a warning sign that some portions are only 40 cm (almost 16 inches) wide. And you'd better watch your head through some of the low stretches. Men with hammers and chisels deep underground apparently don't always maintain consistent proportions. My claustrophobia began rising. I considered turning back or going down the alternate, shorter, lit tunnel. I fought against hyperventilation. Then recalling drunken Bob's advice from my bartending days, "Be brave," I followed my wife and our guide into the darkness for a thirty-minute walk through the bowels of the earth.
On the one hand, it was nice and cool down there and we were able to get our feet wet. On the other hand we were 20,000 leagues under the – well, we were pretty far underground. We stopped at one point so my wife and our guide could check out the tunnel's acoustics by singing a hymn. I was patient, and I was breathing evenly. We stopped again further on and turned off our flashlights in order to see absolute darkness. This was actually calming, as I couldn't see the enveloping rock. When I finally saw the light at the end of the tunnel I declared a mental victory over myself. Drunken Bob would have been proud.
Then we had to climb back up – outside, in temperatures that even Israelis were saying were unusually high.
It was a long walk back up to the Old City.  We noticed a tour bus had stopped about half way up this thin, steep road. Cars were parked on both sides. One car was sticking out into the street. A normal sized Israeli car could have easily navigated past, but not a tour bus, nor could the normal sized Israeli cars stuck behind the tour bus. The driver had gotten off the bus to assess the situation. It didn't look good. We kept trudging upward.
Besides learning to navigate Jerusalem and exploring its history – top to bottom, I had a larger purpose for this trip: coffee.
Before going to Israel, I'd heard stories about the splendor of Israeli coffee. I'd read that Starbucks tried, but couldn't compete against the local vendors. They opened and then quickly closed some stores.
I had to assess for myself the alleged superiority of Israeli coffee.
We had also heard, once we started talking to people who knew more about Israeli coffee, that most Israelis just drank instant at home. Sorry, not these coffee snobs.
We knew that our Jerusalem abode came equipped with a coffee press. As we weren't sure if we were going to be able to get out for coffee our first morning in Jerusalem, or even figure out where to buy it, we brought a bit from home. Later, we bought a half kilo at the shuk.
There are many coffee bars and restaurants on Jerusalem's streets. I tried as many as I could. I alternated between espressos and macchiatos. Both were delicious. They were strong and unapologetic. They were powerful without being bitter. They were thick and passionate. They – well you get the idea. 
Strictly in the interest of science, and because they were my introduction to fancy coffee drinks back in my bartending days, I had a cappuccino. I stopped ordering them at home because it seemed that except for Chazzano Coffee in Ferndale, cappuccino meant coffee-flavored milk. My Israeli cappuccino was different. The coffee did not back down. It was assertive and balanced the milk nicely – as proud coffee should.
The funny thing is that as satisfying as the coffee was from every Jerusalem joint I tried, a Chazzano cortado is still for me, the crowning achievement of coffee brewing. And drinking.
I learned much in Jerusalem; about finding my way around a strange city, the limits of Google, Middle Eastern history, and most importantly, finding the best that coffee has to offer. I can't wait to go back.
I'm Harry Onickel. I am a reader. I always have been. I like to think that between reading for all these years, fiction and nonfiction, high and low culture, classics and trash, the acceptable and the dangerous, and just being around for a bit, I've learned one or two things and perhaps gained a bit of perspective. In addition to learning, reading makes me wonder. Lately, I've been wondering – what lies behind the mask? My blog, occasionally updated, is The Teacher That Exploded.