A mother daughter getaway is what I proposed to beat our end of winter blues. We hadn't been on a ladies trip together in years, so one was long overdue. Petoskey, a beautiful coastal town in northern Michigan, is one I've passed through many times but have not been able to check out. So, we decided to make Stafford's Bayview Inn our weekend home, as we finally found time to explore.
It takes roughly 4 hours to get to Petoskey from Metro Detroit. We were making good time along I-75 when a billboard for Iva's Chicken Dinners, another location that has eluded me for years, lured mom and I with what looked to be Down-home Cooking at its Finest. Intrigued by the sign's kitschy goodness we decided it was time for lunch.
Iva's is only 2 miles off I-75. And, you know it's legit when cattle crossing signs are at the exit. Pulling up front had that same feeling of visiting grandma's house for dinner … and, it did not disappoint.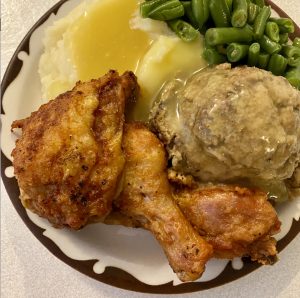 Since 1938, Iva's has been serving up family style chicken dinners and chicken plates, with choice of Southern Fried (young chicken rolled in flour, pan fried and steamed in an iron skillet) or Stewed Chicken (a mature hen boiled tender, topped with gravy, not fried). We ordered the Chicken Luncheon Plate; Southern Fried Chicken, which came with cabbage salad, real whipped potatoes, dressing, golden chicken gravy, vegetable and biscuit. Aside from the green beans, which I was fairy certain were canned, the rest of the meal was outstanding! The chicken, well seasoned, had a crunch that juxtaposed the creamy goodness of whipped potatoes and dressing, which fulfilled our savory desires. Drop biscuits, served with honey, were flakey and buttery wonderful. $12.95 Mixed Chicken, $14.50 White Meat, $13.50 Dark Meat. Also, must mention, Ida's has super clean restrooms (it does matter).
Back on the road, mom and I reminisced about family trips up north, along with our favorite pitstops – the cheese shops of Pinconning, Freeway Fritz (now closed), the Turkey Roost – both agreeing that Iva's was now at the top of the list.
Two hours later we arrived  
A lovely Victorian, with views of Little Traverse Bay, await those seeking a grand Bed and Breakfast experience. End of winter in Petoskey is cold. Ice cold, in fact. And snowy. Though lovely in its own right. There is something special about visiting a great Inn this time of year.
Inside Stafford's the chill was quickly shaken off by the warmth of an antique fireplace. Is an Inn really an Inn without a fire burning? A cozy sitting area invited guests to relax. I felt the historical charm of the space rather quickly. If I were staying with my husband the Inn would support a romantic getaway. Since this was a ladies weekend, however, I'll say it exudes charming elegance. Like a fine Grand Dame, she wears many hats. Stafford's is tastefully refurbished with contemporary amenities yet has succeeded in maintaining the building's historic roots.
In 1886, Mr. J.W. Howard established the Woodland Avenue House; a Victorian wood frame boarding house with 16 rooms, a 50 seat dining room and a modest kitchen. After operating the inn for three summers, Mr. Howard renamed the inn "Howard House". The original stained glass name plate above the front door still greets guests as they enter today.
Mr. Howard made several improvements to the Inn in 1892; increasing the size of the dining room, adding tennis and shuffleboard courts to the back lawn, implementing indoor toilets, a barbershop, and in the basement a darkroom for amateur photographers – which, must have placed the resort in exclusive company for its time.
During the summer of 1958 Stafford C. Smith became the summer desk clerk at the Inn. He was also attending Northwestern University. In the spring of 1961, Stafford purchased the Inn and at age 22 became the youngest hotel operator in west Michigan. Stafford then married Janice Johnson, whom when not studying to be a teacher at Florence State University of Alabama, was the dining room hostess. 
During the past 58 years, under Stafford and Janice's direction, the inn has been under continuous restoration. The exterior walls on the first floor were removed and replaced in 1962 to include the present day sunroom, bar and a larger dining room. The team also replaced the Inn's foundation, which was originally made of cedar stumps.
We stayed in room #7
The Astor Suite, as it's called, is comprised of two rooms and a bath. The sitting room has a raspberry pink, pullout sofa facing a small fireplace. An accent wall, featuring wallpaper adorned with ornate china plates, support a large dresser. One can also access a private balcony with a view of Little Traverse Bay from this part of the Suite.
French doors divide the sitting room and bedroom. A chartreuse headboard popped nicely off the bed's soft white linens – a bed that proved super comfy; not too firm, not too soft ( I guess we'd call it medium). And, the room was also filled with a blend of fun, eclectic furnishings, like white pineapple lamps, with black and white striped shades. Ornate drop ceiling tiles above and sculpted pattern carpet in shades of olive below.
The bathroom is beautiful, with large marble floor tiles, granite vanity top, black and charcoal damask like wallpaper, and a huge two-person jacuzzi; which could be romantic with your significant other, but as I said falls under charmingly elegant when traveling with mom. Equally inviting is the walk-in marble shower.
And, on our bed we found two Bay View Inn Cherry Pecan Cookies waiting for us – something, we would discover, happened each day. After getting acquainted with our room, mother and I set out to explore Downtown Petoskey.
Dating back to 1875 the City Park Grill is one of Petoskey's oldest buildings. The bar was also a local haunt of young Ernest Hemingway. During Hem's time (1920's ish) the building housed a bar with dining and entertainment, known as the Annex. One of Earnest's favorite places to sit was the second seat from the end of the bar, where he would write ideas for short stories and books. The short story, "Gentleman of the World" makes mention of the Annex. Hemingway just happens to be my favorite author. But did I get to sit in Hem's seat at the bar? No, the place was packed. There seemed to be an Outdoorsman in Hem's seat though, so that's good. And, the atmosphere and meals were so enjoyable that we decided this night we'd be back for another round. So, maybe then, I would sit in the seat that Hem sat.
Prior to ordering, a server dropped by and dropped off a couple drop biscuits and butter (see what I did there?) – a warm welcome indeed. We shared appetizers and soup; Meatballs, served with side of marinara, Blue Cheese Stuffed Mushrooms with balsamic reduction, a crock of rich Baked French Onion Soup, and a bowl of Turkey Vegetable, which was surprisingly hearty.
A large restaurant, CPG is separated into three rooms, each with high, ornate ceilings. There is a lively pub atmosphere that works for couples, singles and families with little ones, alike. And, the historic mahogany bar is a work of incredible craftsmanship.
Back in our suite we took turns relaxing in the jacuzzi. To avoid a comical I Love Lucy moment, be sure the jets are well below the water line or prepare for a surprise blast in the face. Even after my mother gave warning I made the same mistake. So, head's up! Regardless, we both resolved the issue and had a really fine soak – mine, with Herbal Bath Grains, provided by Stafford's Hospitality.
Afterward, we laughed at ourselves by the fireplace. And, we enjoyed a good mother-daughter conversation. Which, really, was the point of the weekend. Then, mom turned in; leaving me time to read The Nick Adams Stories, by the rhythm of her sawing logs.
---
"It was a warm, delicious, breakfast hug!"
Roselawn Diningroom is elegant in white and shades of blue. White wrought iron chairs. Don't know what you call that style of chair but they look like seashells. Big windows look out to the snow covered garden with a view of the bay. We sipped coffee and watched the snow swirl and dance across the lake, foreshadowing the deep cold I was to later encounter.
After a friendly greeting, the server asked if either of us had dietary restrictions (allergies, gluten, vegan etc). I was impressed with the Inn's attention to dietary needs. The menu selection is short but varied. And, by the look of the items presented to neighboring tables we understood Roselawn favored quality over quantity. Which, is not to say the portions were small, because they certainly were not. But that the kitchen offers fewer selections, done extremely well, rather than an abundance of average items.
Breakfast: Inn baked Cherry Cinnamon Bread French Toast, dusted with powdered sugar. Served with local Michigan maple syrup from the Korthase Brothers in Boyne City and Cherry Butter from Rocky Top Farms in Ellsworth. Choice of thick smoked bacon or sausage links. For kicks, we ordered a side of home fries, and they were delicious – well seasoned and crisp. A silver carafe filled with good, hot coffee was served to each table. I wish more restaurants would return to the day of a coffee carafe at table.
For a moment, plates before us, we were silent. The French toast was so pretty. I couldn't decide if I wanted to use cherry butter or maple syrup? So, I went with a little of both and was quite pleased. It was a warm, delicious, breakfast hug. More of a fine dining experience than I had expected. But, then there were clues. Despite being off-season, for example, the room was busy. Clearly, the Roselawn is a destination for locals as well as travelers. Usually, a good sign.
And, though the room was busy the environment was serene. Guests held conversations in quiet tones, music played softly in the background, while the winter scene on just the other side of the pane glass inspired curiosity. Mother and I discussed the beauty of the winter garden while imagining the colors and fragrance of the coming spring. As we settled into conversation over our meal the feeling that we might be experiencing one of our finer breakfasts fell over us.
The Roselawn Diningroom is open for breakfast, lunch and dinner through summer. However, they serve only breakfast during off season. Guests of the Inn receive a $28 voucher for breakfast based on double occupancy ($14 per person).
I planned to photograph the bay after breakfast only to discover it was a near arctic experience. Wind ripped across the ice. It hurt my face. Fingers, numb. And, my camera stalled with every click. As it turned out, the brutal winter is much more peaceful to watch from the warmth and comfort of the Roselawn. Still, it is a sight to behold – clean, fresh, white.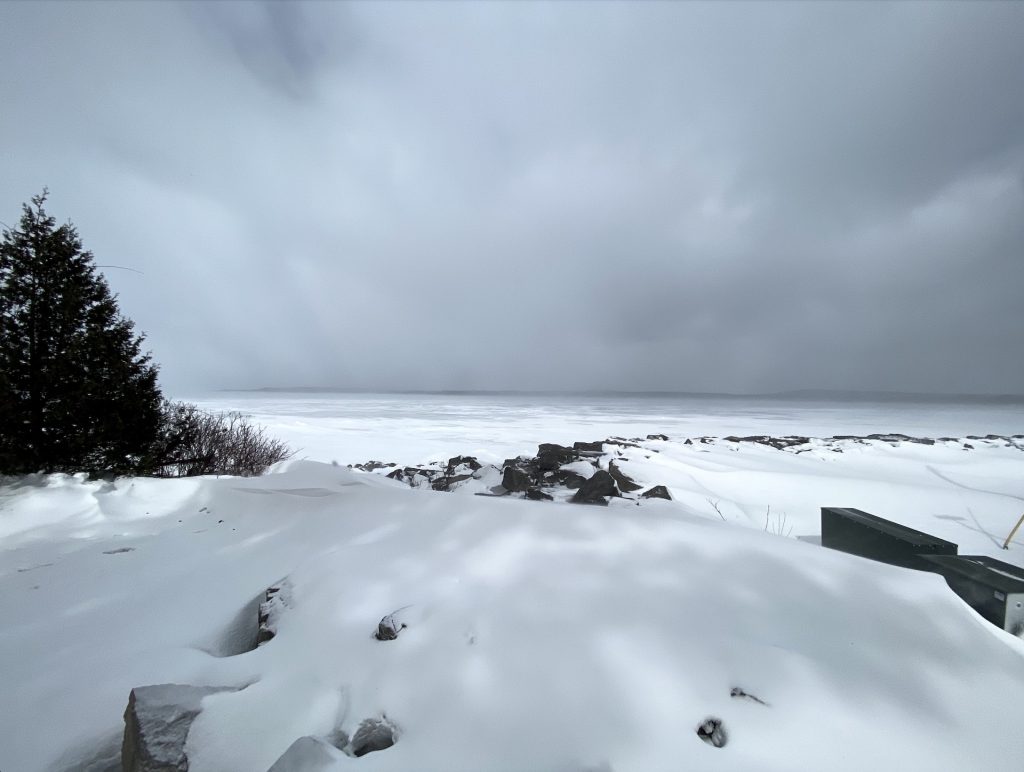 Local Art and other Boutiques
Indian Hills Gallery has been Indian owned and operated since 1971. From Stafford's it's just a 3 minute drive north on 119. Little Traverse Bay has long been inhabited by indigenous people. In fact, the name Petoskey comes from the Odawa and means, "where the light shines through the clouds." It's a lovely description of this part of the world. Unfortunately, we didn't get to go inside because the gallery was closed for Spring Break. We did, however, see an "open" sign at a little jewelry hut on the same property, so we visited there.
Baker Metal Works specializes in custom designed and handcrafted jewelry. As of our trip, the business was open, but while browsing his pendants and rings owner Walter Baker was politely turning away custom orders, on account he is retiring. We each purchased beautiful natural stone pendants to remind us of this special trip together. Mother chose a gorgeous green amber with silver backing and a dark blue moonstone. Mine, a large sky blue turquoise with silver backing. After wishing Mr. Baker a wonderful retirement we set fourth to the downtown gaslight shopping district.
Petoskey is loaded with one of a kind boutiques like Petoskey Cheese, Lavender Hill Farm Town Shop, Symons General Store and Wine Cellar, and Rocking Horse Toy Co. The town's ability to preserve and maintain its historic buildings is impressive. We were admiring the lovely architecture of a church when we realized it was actually an art center and gallery. Founded in 1971, Crooked Tree Arts Center features galleries, a theater, a dance studio, class rooms, and a culinary arts kitchen. Art galleries are free and open to the public.
After a frigid day of exploring, mom and I returned to Bay View Inn and warmed up with hot tea in the Sun Room. Lined with large windows that provide great natural light, hence its fitting name. White wicker furniture with yellow plaid cushions, navy walls and carpeting, are accented with white and blue china lamps, urns, and floral window treatments. Facing M-31, with views of adorable Victorian homes that look like life size dollhouses, The Sun Room is a great place to enjoy a glass of wine, cocktail or cup of tea.
The manager of Stafford's, Corey, explained that the people who owned the homes are a part of the Bay View Association and have agreed to not stay in the cottages through winter. The residency period for cottagers being May through October. The community is comprised of over 440 cottages and 30 plus public buildings, most built before 1900. Evelyn Hall is known to be one of the finest examples of American Victorian 'Steamboat' architecture.
Mom and I sipped tea, discussed architecture, our finds, and the interesting history of the area. Both of us happy to discover what a neat town, Petoskey. We also discussed trying another restaurant for dinner but after our experience with City Park Grill we were compelled to return. Perhaps, the ghost of the Annex called us back, as it did our dear, Hemingway.
For our second evening we split the Smoked Slow Roasted Steak Sandwich on ciabatta roll, with melty Swiss cheese, served with a horseradish aioli. We also added a side of Sweet Potato Fries. Once again, someone was seated in Hem's seat. We had the feeling the secret was out. I thought about asking the gentlemen if I could sit on the barstool for just a moment but mom said that type of request might be misinterpreted. So, we moved forward with our meals. I raised a Maker's Mark and in my mind gave thanks to Earnest for writing true sentences. Feeling satisfied, mother and I agreed that another evening of soaking in the beautiful tub was in order. So, off we went.
In our Suite we bathed, reminisced over family trips, and discussed trips yet to come. It had been awhile since I spent a weekend alone with my mother. And, I am very glad we did. It was a much needed new chapter in our relationship. We both agreed that Stafford's was the perfect home for such an occassion. The entire experience will last a lifetime.
After our final breakfast, which was identical, except that we switched bacon for sausage, we reluctantly checked out of our room and loaded the SUV for a long drive home.
But, not until we made one last stop.
Kilwins Chocolate Kitchen is where the company's sweets empire began. Established 1942. The shop and candy making facility is massive. And, it offers tours. But, we didn't have any time for that. We came for business. Just give us the chocolate. Kilwin's staff was exceptionally friendly, however, offering free samples of fudge and other chocolaty delights.
Who doesn't like that?
And, after sampling our confections all the way home I feel comfortable in recommending the Dark Chocolate Sea Salt Caramels – which, btw, paired nicely with their Chocolate Peanut Butter Fudge.
Looking forward to all the high intensity training to counter the effects.
Story and photographs by Jeanette Frost