La Bohème, a small piece of Parisian philosophie and an ode to the 1896 Italian libretto, recently opened to the public in Detroit's West Village.
What is the elephant in the room? It is my own initial reservations about this place – namely because I was told (before ever giving it a chance) that it was a French themed café that just so coincidentally opened up in one of the most popular neighborhoods around. The social connection here, et les préjugés, is the widely unspoken yet strong personal supposition that the place was merely an all-too-often seen variant of contemporary Midwest romanticism.
I imagined some stuffy lady in the corner, with bright red lipstick and blush for days, bejeweled lanyard and a primary colored beret, holding up a giant fleur-de-lis shaped menu whilst yammering "Ah…Paris" over and over again. One table over from her I envisioned a tall gentleman with oval glasses and a blue argyle sweater showing off his subpar skills of reading basic French words off random wall décor to whomever was unfortunate enough to have said yes to his blind date.
But I was wrong; all of my unfounded conclusions were a farce. This place, upon first glance had a wonderment of warm neutrality. Wooden tables, chairs—the air as still as the china in the cabinets – as if it had always been here and I had just missed it somehow.  After a quick once over, I jumped into the sunniest and smallest table I could find and set upon reading my literature—the latest New Yorker and Oneita Jackson's Letters from Mrs. Grundy.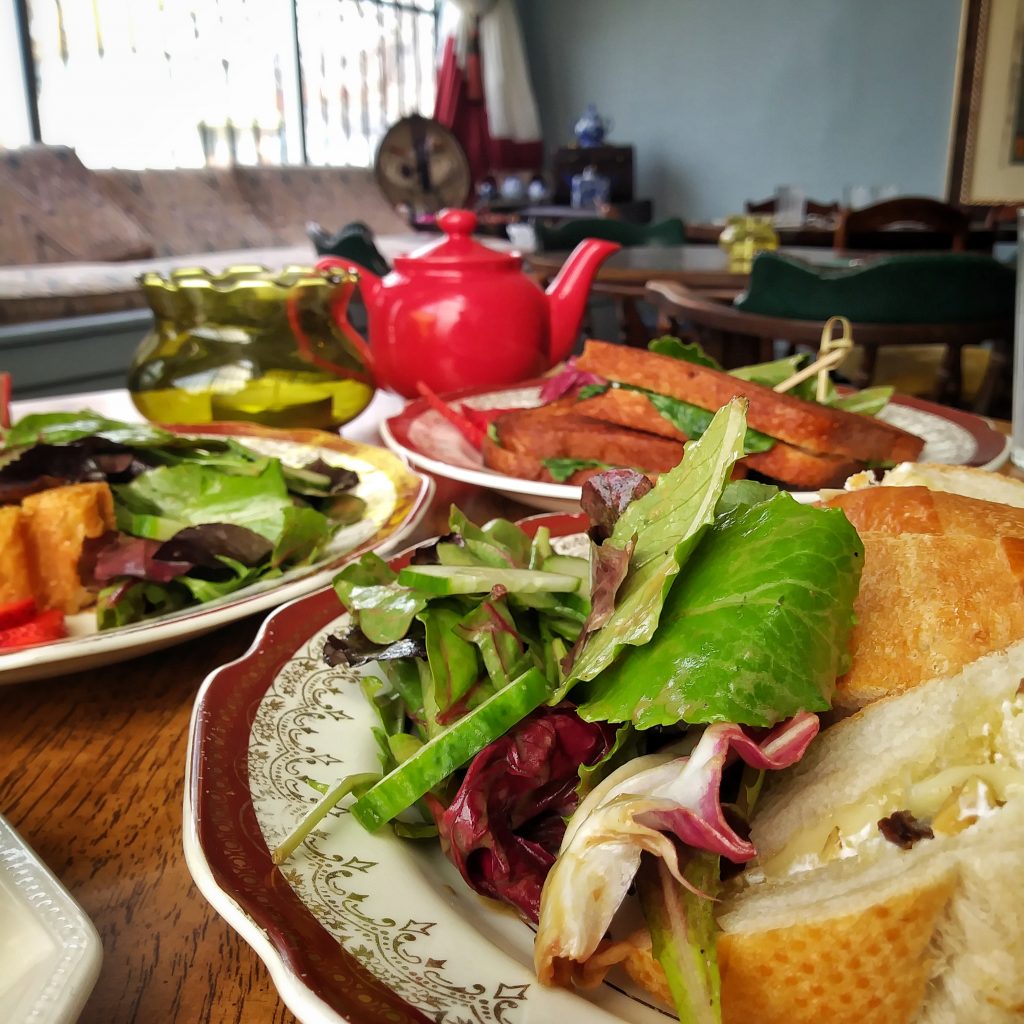 It was in this quietude of reading, then pondering, that I began to study the persons and layout around me – their unique arrangement in time and place. It felt reminiscent but still oft distant. As if I was actually tucked away on an ivy-strewn side street in Paris. In that moment, the server brought out my teapot of Thé des Lords – their version of Earl Grey. The menu and spatial design had an American persuasion but still gave the impression of a Parisian tisanerie – though I didn't see any herbal teas on the menu. As far as tea is concerned, in general, they carry traditional blacks and greens of an all organic line – Le Palais des Thés.
The space itself seemed comfortable and small, that is until you discover the secret gallery in the basement. A clean and earthy atmosphere, staged with gentle photographs that are framed in juxtaposing thick industrial metal – of which Ève de Castro, the congenial co-owner and French novelist, who floats about the front of the house in an animated fashion, will be glad to invite you to browse.
In France, as well as around the world, le philosophie that circumferences much of tea culture – is the awareness of the breath, the solitude found in the groupings of steeped bubbles, the slits of faded textile in the ripples of the curtain and the peculiarities of language. It is the sense of sensing – to be in both deep reflection but also intuitively linked to the present. With this encapsulated feeling, I perked up in even gratitude when the food come out.
I had ordered three large plates, with side cups, saucers and spoons, which ended up completely filling the table and was far too much food. However, not one of my four visits, since then, has been anything short of delectable.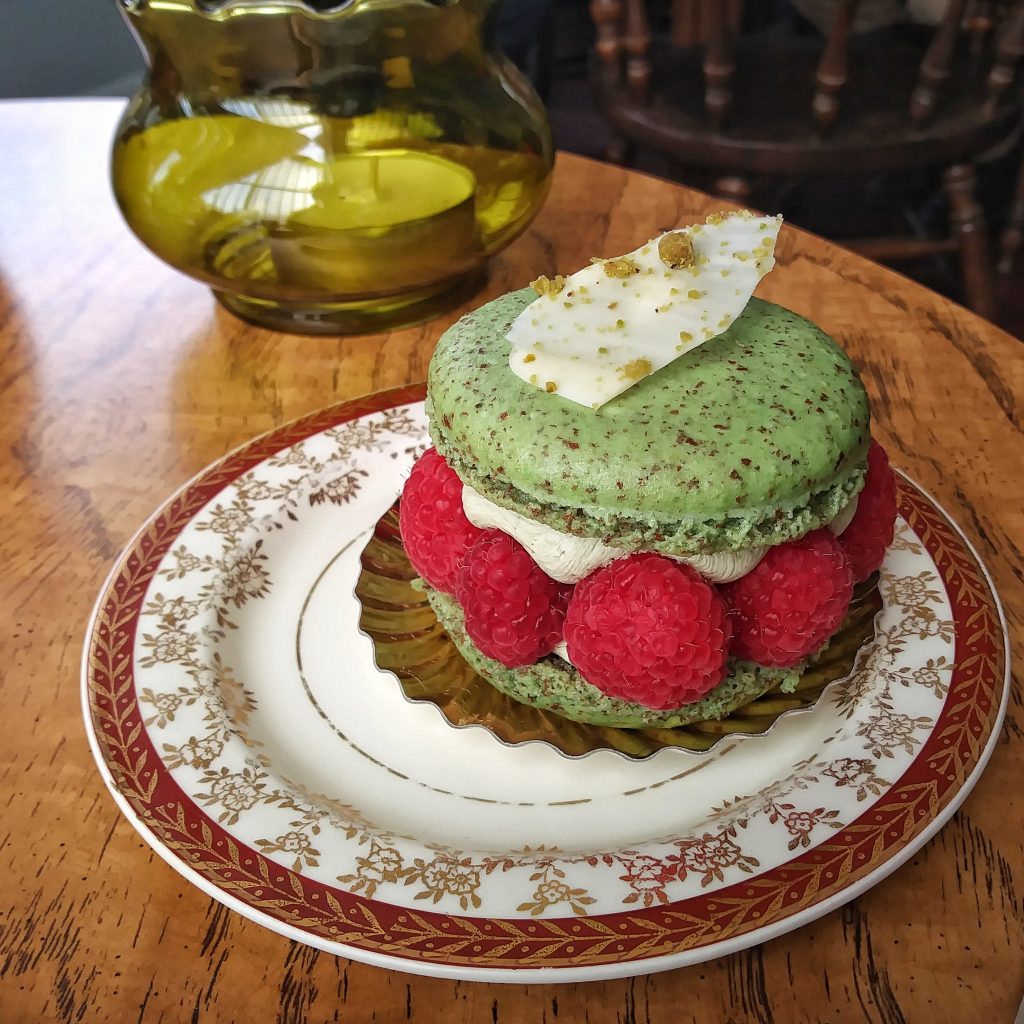 Lunching on the Croque Veggie, Quiche Leek and Brigitte all at once is not something to take lightly. It is downright indulgent, which is why after taking just a few bites of the quiche I hastily made two more rash and untimely decisions. To start I ordered more tea – some Japanese Genmaicha which was drier and more cutting than the floral counterparts. I followed this order with not one but two pastries – Marie Antoinette and the Nain Rouge Framboisier. My reason for this uncouth gluttony? I've recently been intrigued by this hotshot baker from Birmingham, monsieur Matt Knio, who trained at the Academie de Versailles, owns Golden Wheat Bakery in Hamtramck and Cannelle Patisserie in Birmingham and noticeably has his baked goods, some of which at this very café, all over the place.
Let's back up. La Bohème's food is not a daydream. Why don't you lean back whilst I serenade you with loving words of rich layered, fruit-topped and decadent edibles – scintillating bite after bite. This food is amazing; it does everything you want your taste buds to do. But it doesn't need to be only conceptualized while you sleep, or eaten just on screen, or even romanticized to warrant a visit, because this little hodge-podge café does what ought to be commonplace, good food.
La Bohème is arguably offering the most non-couture aliments of quality breakfast and lunch French cuisine – that is rarely part of our food ecosystem. Ce n'est pas magnifique! This concept of commonplace, simple from-scratch food is a big part of Castro's reasoning to be here in Detroit. She didn't come to Detroit to bring us fine wine and high-caliber dining and she isn't spewing preach. She came not only to take part in what is happening here, as she put it "the Renaissance of Detroit" but also to directly give something back – to add her own spice to a curry of spices that holds not one single origin or flavor. And I commend her creative independence and assured tenacity and I welcome outsiders with such heart and favored philosophie de la vie.
So next you are in the area, make a point to stop in, slow way down and enjoy a good cup of tea, sans your smart phone.
à la prochaine