Finding the best lobster rolls in Maine takes time, money, and a certain amount of panache. Something, we at The Metropolitan do not have.  So, we decided it would to chat up friend of The Met, Mark Smith, aka "Smitty" (by those on the court or field), who seems to be everywhere all the time, for his perspective on the east coast Lobster Roll.
Harraseeket Lunch and Lobster Company
A family operation, serving lobster and other seafood delicacies for over 50 years, Harraseeket Lunch and Lobster Company is located just off the highway in South Freeport, Maine.  En route to Waterville for business, Mr. Smith and his girlfriend scoured the internet for Lobster Rolls and came up with this little joint, open May through October.
"We pulled in at 1:30 and it was lined up 12-15 deep; chaotic, but we decided to give it a whirl," said Mr. Smith. "We wound up sharing a picnic table with a couple from Big Rapids, Michigan; which, was nice."
While Smitty did not say so directly it felt like the Michiganians may have usurped more than their fair share of space at the table. Of course, I could be misinterpreting the tonal inflections left over in Smitty's voice from growing up in Brooklyn, but I don't think so. Especially, when you include the situation regarding the French fries.
"The guy said he didn't take em'," Smitty explains. "What are you gonna do? I guess it was a seagull, or something."
A connoisseur of Lobster Rolls, Mr. Smith describes the Harraseeket lobster roll as being "more of a lobster salad roll; a bit tastier than others but also a bit smaller". While the location is in the harbor, Smitty says it's also right off Main Street, where there is a lot of activity.
"It isn't bad, just a different vibe, "Smitty says. "They do corn on the cob, they're steaming lobsters, and like I said, there is not a table to have by yourself; it's all about the Roll – a lunch grab n go."
Food: 4/5   Experience: 3/5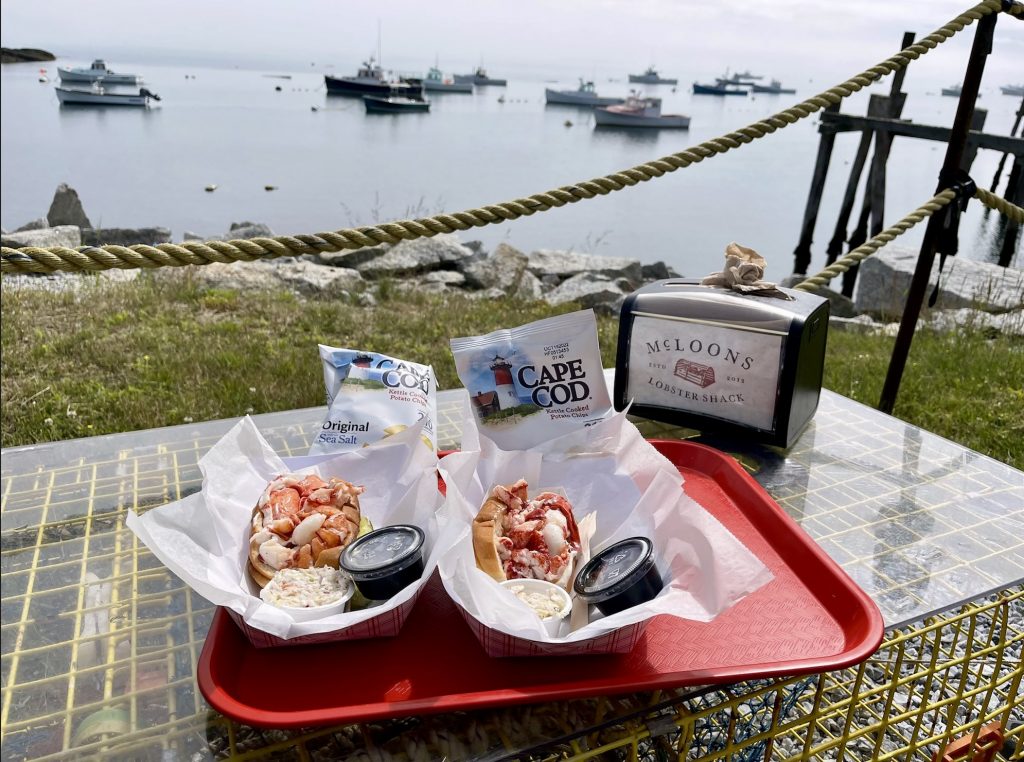 McLoons Lobster Shack
"Every time we go somewhere we try the local stuff; whatever they're famous for," says Smitty. "Because we were in Maine, it had to be Lobster Rolls."
Mcloons Lobster Shack is a family owned lobster shack located on picturesque Spruce Head Island, where local lobstermen work each day in the harbor.  On this trip, Smitty and his girlfriend took a lovely summer drive along Maine's coastline and were pleased to see such a gorgeous setting.
"It was beautiful," said Mr. Smith. "The harbour, the fog sitting right over water, a lighthouse in the distance; if you're going to eat a lobster roll this is where you should do it."
They arrived at 11am and had their choice of seat right on the water. They were basically alone, with about five other customers there at that time. "We had the smell of the sea, the boats, great seating, and were able to walk right up to place our order," said Smitty. "The place was just what we were looking for."
But, the roll wasn't excellent.
"It was really good; until I had another one," said Smitty. "It had great big pieces of lobster but I have to say it was a little bit chewy. We took the option of butter but it was still a little bit chewy. Chunks of lobster, though."
Overall, Smitty and his mate were pleased with the whole experience. They loved the drive along the island and would certainly recommend the trip to anyone on a lobster roll.
Food: 3/5  Experience: 4/5 
As our conversation came to an end, Smitty offered the following on Lobster Rolls: "Had a Connecticut lobster roll six or seven years ago, dipped in melted butter, and it was my favorite so far. For the life of me, I can't remember the name of the place right now but it was out of this world."
________________________________________________
Editor's Note: In an effort to make this reading experience interactive we have decided not to name the lighthouse in the featured image, and again in the Mcloons section, leaving that adventure to you, dear reader. But HERE you will find clues. Enjoy the journey!